Sunday, December 25, 2011
You know what? Screw this weather!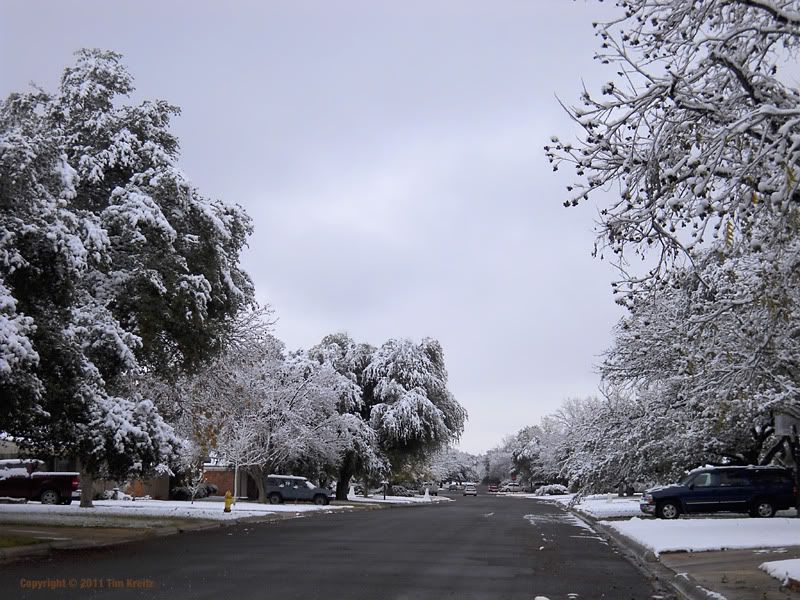 The picture at right is the street I live on in arid Midland, Texas. At least it's
supposed
to be arid. For the past few weeks it has been sleeting and snowing intermittently, with obviously lower than average temperatures. And today, Christmas Day 2011, is a white Christmas.
For most, that's something to look forward to, or so I've read and heard in song. The problem for me is that I'm never dreaming of a white Christmas, but rather a warm, sunny Christmas season when some of my time off can be spent having fun on two wheels. One of the advantages of living in the desert southwest, after all, is that we don't mothball our bikes for four months out of the year. We ride all the time, and the holiday season is usually no exception. Well,
except
this year.
But that said, after a year of the worst drought conditions on record in Texas (along with massive fires that destroyed millions of acres), I'm trying not to complain too much about the sogginess and cold we've been experiencing as of late. We need precipitation, and I'm glad it has returned. It just sucks to get all mentally prepared for the magic of winter riding in West Texas, and have your schedule reduced considerably.
All that whiney bitching aside, I will say that there've been a few bright spots this winter. We've managed a few really good day rides in very cool conditions where the use of full winter gear made for enjoyable journeys around West Texas. The picture below, from November, is a good example. It's me (pictured right) and one of my best friends, drummer Britt Parker from Dingo Sanctuary, standing on some railroad tracks between Crane, Texas and Rankin, Texas. It was a good riding day, that one, and I'll be staring at the pic fondly until another day comes when we can make it happen again. Stay warm everybody.