Tuesday, November 16, 2010
The last road trip of the year always seems to be the sweetest

We took our annual autumn ride to the Davis Mountains of West Texas a few weeks ago, and I can't seem to get the trip out of my mind. This picture I took as we rested by the side of State Highway 17 pretty much crystallizes the essence of the trip for me: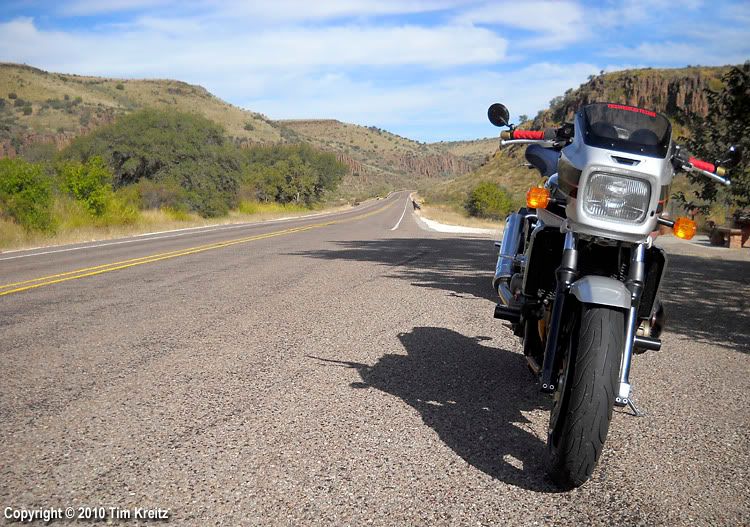 The weather here is now becoming more erratic as we move into the holiday season, with calm nighttime lows near freezing and windy daytime highs in the mid-60s. In another week or two, it'll be the time of year when all you can do is just grab the odd, sporadic day-ride when the weather cooperates. Though we do technically ride all year 'round down here in Texas, it gets cold in December, January, and February, and as of right now the sweet spot has passed. Riding Season 2010 is essentially over.
I guess that's why I can't get the last roadtrip out of my head. In my mind the weather was perfect, the roads were perfect, the smells in the air were perfect, and my bike was running perfectly. Yes, it was all flawless in memory. Of course, you never dwell on how bad the bugs were or on how cold the morning started off or on getting held up in Pecos because somebody's fuel card wouldn't work. This time of year, as you stare Old Man Winter® in the face, all you remember is how great it all was.

Sunday, November 07, 2010
Channeling the 1970s

Have you ever had one of those moments where you sort of jokingly wished for something silly, and then it surprisingly came true, giving you a nice chuckle? Well, it happened to me recently.
Coming back from Austin a few weeks ago, I stopped in for a visit with my aunt and uncle in Georgetown, Texas. My uncle followed my 1978 KZ1000 restoration project from beginning to end, and had been saving a little surprise for me; one of his old leather riding jackets from the late '70s which he had used during his years as an avid rider in California. Can you say "
Freakin' sweet!
"? Oh yes, I knew you could. I took these pics a little while ago:
As you can see, it's a very 1970s Wilsons leather jacket with a heavy liner. As you can also see, before everything was made in China, it was all made in Korea. In any case, it goes perfectly with my KZ in theme alone, and despite the fact that it's a little big for me, I'll wear it with pride.
But none of that is the point of the story, it's just the setup.
My wife and I were talking about the jacket last week, and I mentioned that it would've been too cool if there had been something interesting left forgotten in one of the pockets; perhaps directions to an old bike night or the like.
"Well?" she asked. "Did you check all the pockets thoroughly?"
Typical me, I just responded with a yes and we went on about our conversation. Then, at about 3 o'clock last Saturday morning after the getting home from the night's Dingo Sanctuary show, I sat in front of my computer cruising Facebook and trying to wind down for bed. Out of the corner of my left eye, I saw the jacket hanging on the door, stared over at it for a good minute or so, and decided perhaps one more search was in order.
Here's what I found in the arm pocket:
It's not exactly directions to a bike night, but is perhaps just as cool. It's the registration card to my uncle's 1979 Yamaha XS650E, which was then less than a year old. He had that bike for a long time, finally selling it during the '90s with who-knows-how-many miles on the clock.
I don't really have a rational explanation for why, but finding that old registration card filled my heart with joy. I guess it's just nice to know that I'll be returning a jacket that saw spirited rides on every canyon road in southern California to its intended use.
Or maybe I'm just sentimental.