Monday, May 31, 2010
Memorial Day 2010: Motorcycles, airplanes, and tanks -- oh, my!

Yeah, I know, that's a stupid title. But it pretty much sums up how Memorial Day 2010 went for little ole' me out here in sunny West Texas. It was a non-stop day of fun and remembrance. I saw things, man. Cool things. Very cool things.
I think I've pretty much gotten to a point in my life where Memorial Day Weekend is now my favorite holiday of all. I'll be honest, there are some Christmases when I wish the sun would just go ahead and explode. The same goes for Thanksgiving, only without the recycled fruitcake and Pagan symbolism. Halloween makes me nervous. Valentine's Day is for suckers. And Labor Day Weekend, well, it always confuses me. I mean, rather than celebrating labor by getting some real work done for once, everybody does the exact opposite and takes time off. It's all such a beating if I over-think it, which as you can tell, I often do.
Ah, but I have no such complaints on Memorial Day. There are motorcycle rides and air shows and barbecues and genuine moments of contemplation to be had. Not to mention that Memorial Day Weekend falls right at the beginning of summer when the sky is blue and the air is warm. It's the perfect occasion by which to set the tone for the rest of the season. I've honestly grown to love it, even despite the fact that I don't always agree with what some people attempt to honor by it.
So without further adieu, here's how I spent my Labor Day Monday, complete with pictures and video.
Ride to Remember 2010
I swear, this thing has got to be the biggest organized motorcycle ride in West Texas now. I wouldn't dare a guess as to how many bikes participate in this event. I'll just say, it's a freakin' crapload. The following pics don't begin to do the ride's magnitude of number any real justice.
Lookin' low, down a row: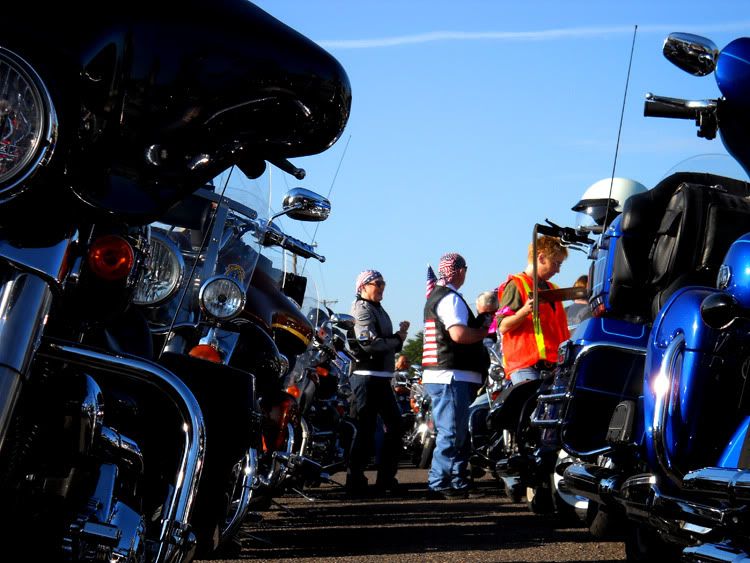 The front of my subgroup of about 100 bikes. There were at least 10 or 15 subgroups, so do the math: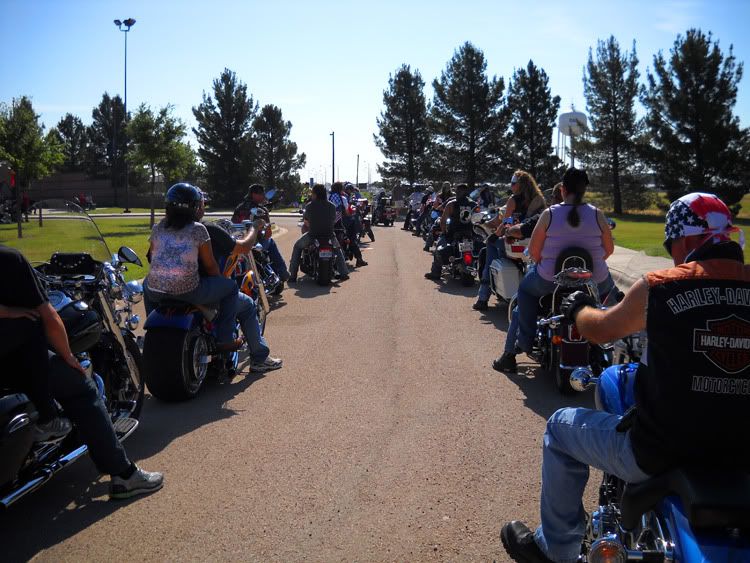 Motorcycles ahead of us in the distance as we waited to go: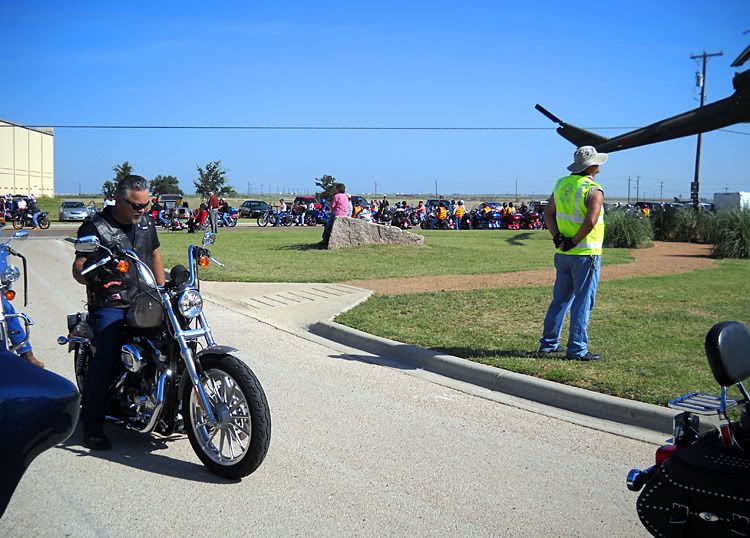 Hundreds more motorcycles waiting to leave: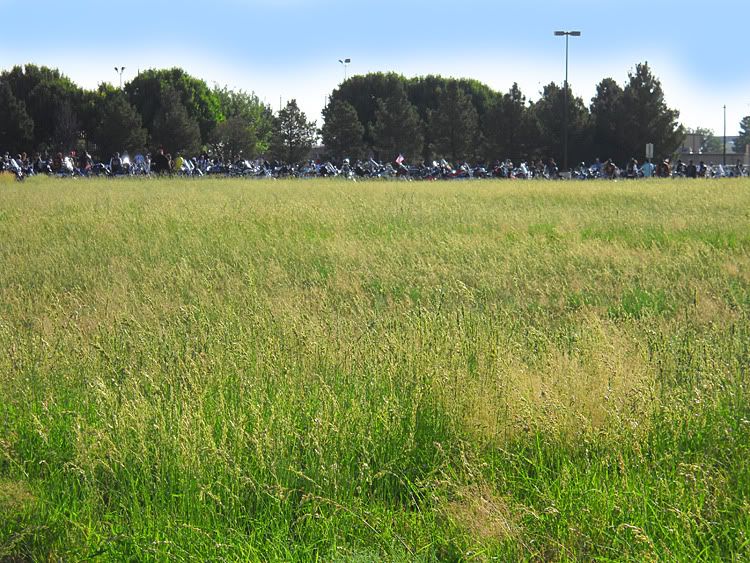 The ride itself went off without a hitch, at least from where we were positioned. My friends Britt, Rodger, Brandon, and I rode the first 45 of the event's 80 miles, then broke off to have lunch. Hats off to the organizers of the Ride to Remember. Heck, even the grammar and spelling on the instruction card was much improved over the ransom not they handed out last year. You guys did a great job. Kudos to all of you.
Commemorative Air Force Celebration
Afterward, everyone kinda broke off to ride in different directions, so I went home and picked up my wife. From there we went to the Commemorative Air Force's Memorial Day celebration. Significant at this year's festivity was the return to airworthiness of the CAF's "FiFi", the world's only flying B-29.
To celebrate, they towed her onto the tarmac and ran her new engines for the crowd:
Here's a poorly written sign in the main hangar, describing everything the CAF went through to get FiFi back into the air: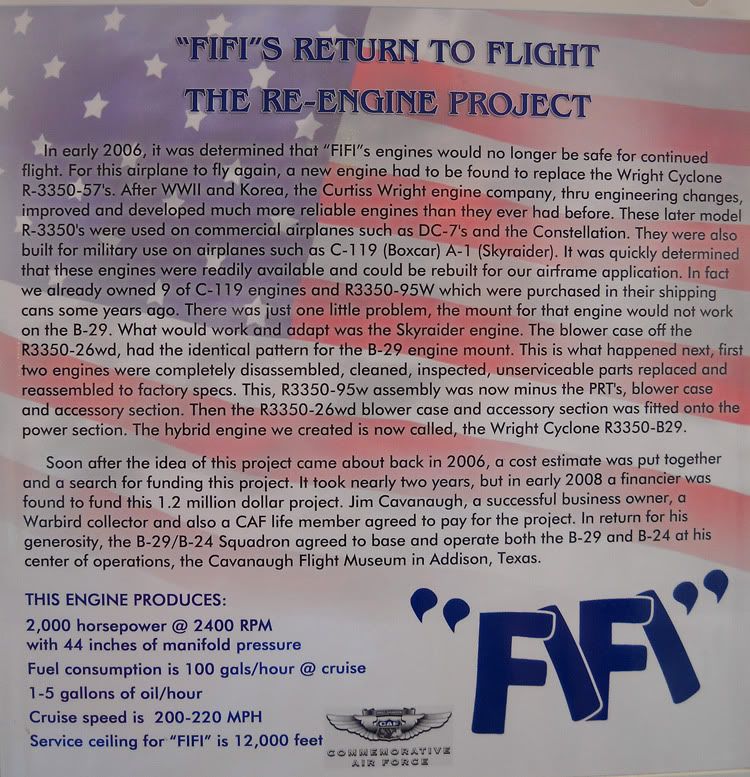 Here's an old B-29 nacelle, presumably housing one of the old-variant Cyclone engines: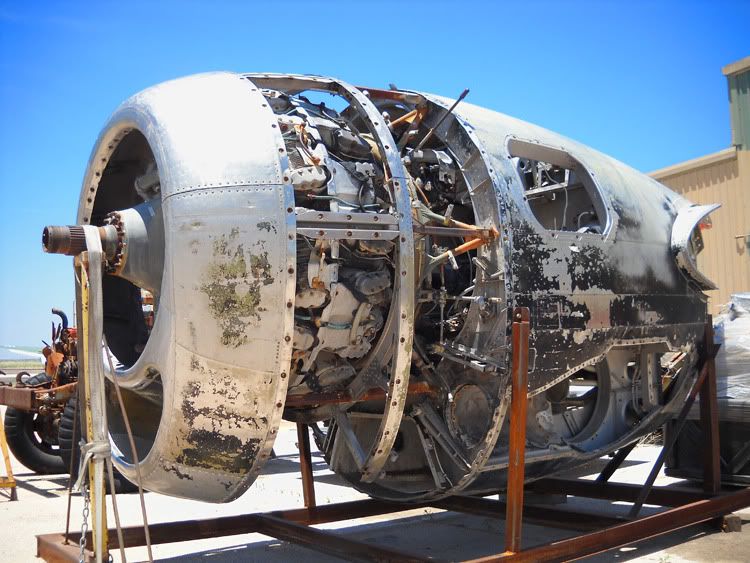 From there, we checked out the CAF's old C-46 Commando, which had been flying a few years ago, but is now quite obviously grounded: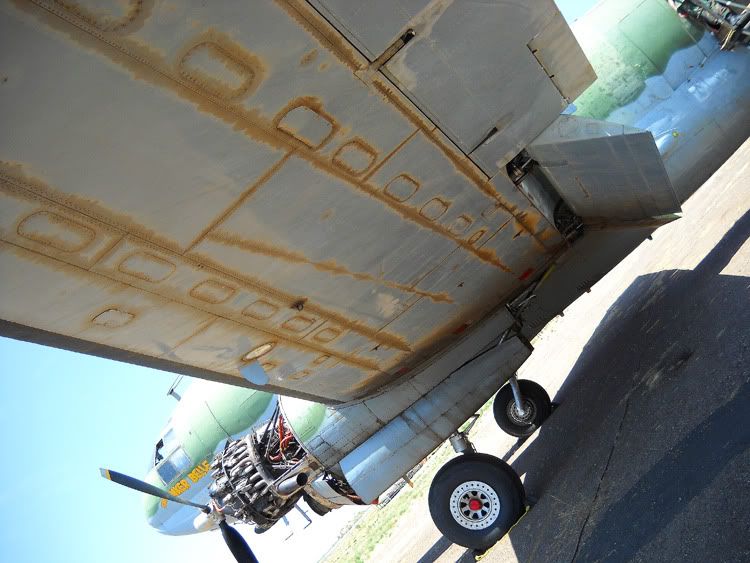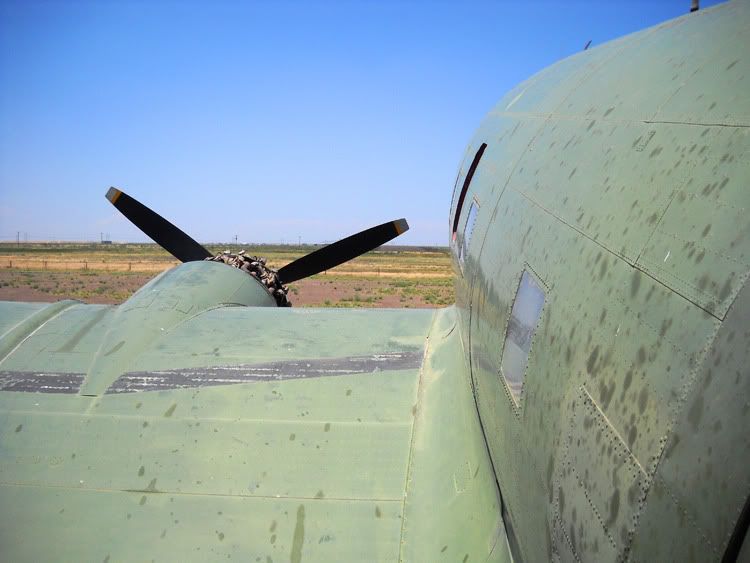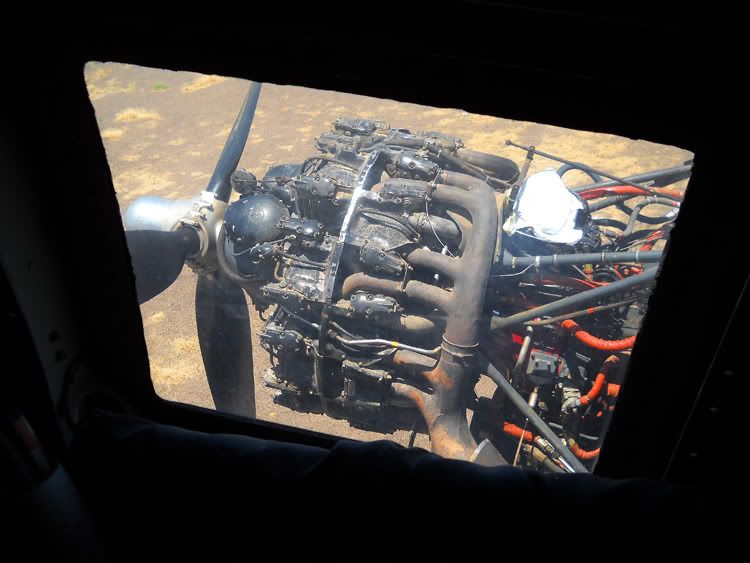 This is likely almost the exact same view new WWII pilots saw when they landed at Midland Army Airfield back in the day: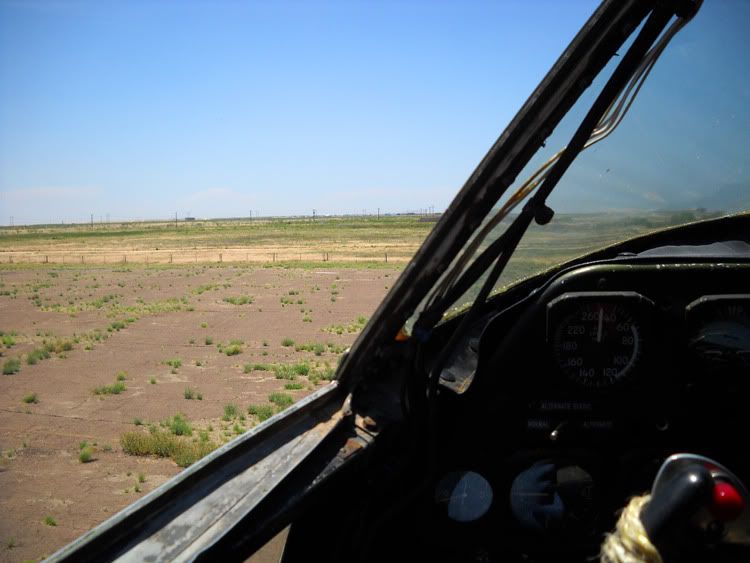 Next, we climbed into a much more airworthy C-47 (DC-3), painted in the very recognizable D-Day invasion stripes: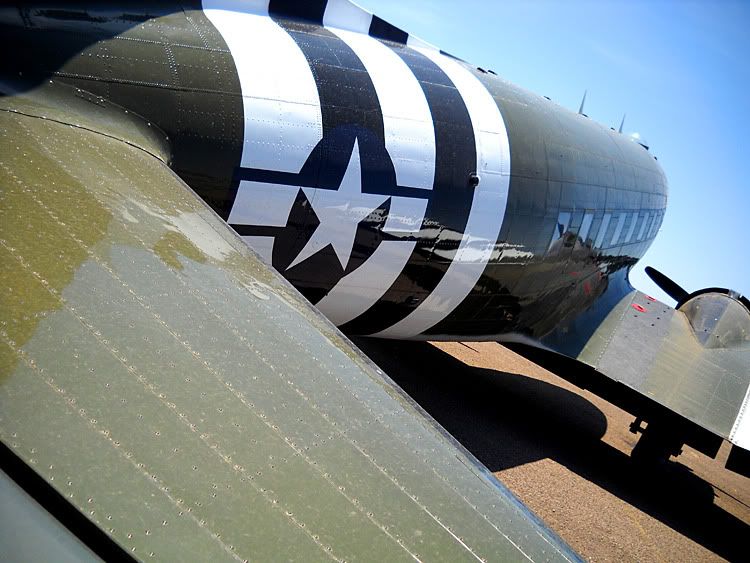 The view from the C-47's cockpit: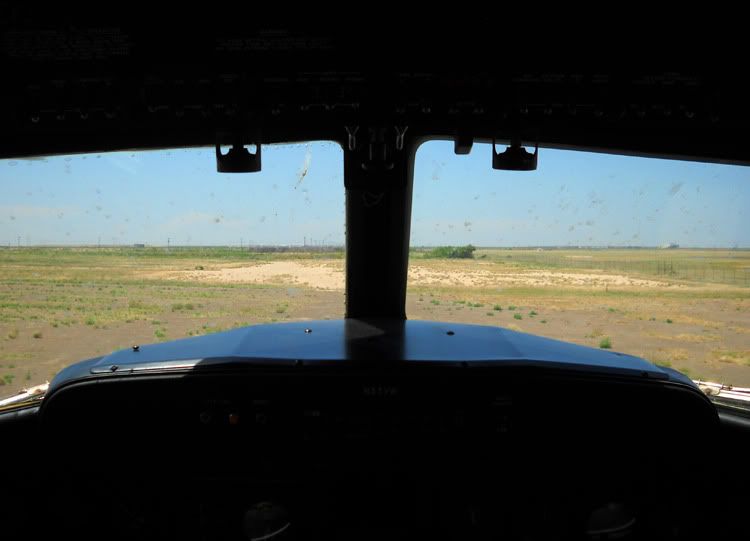 A wide variety of other aircraft were being flown or were on display: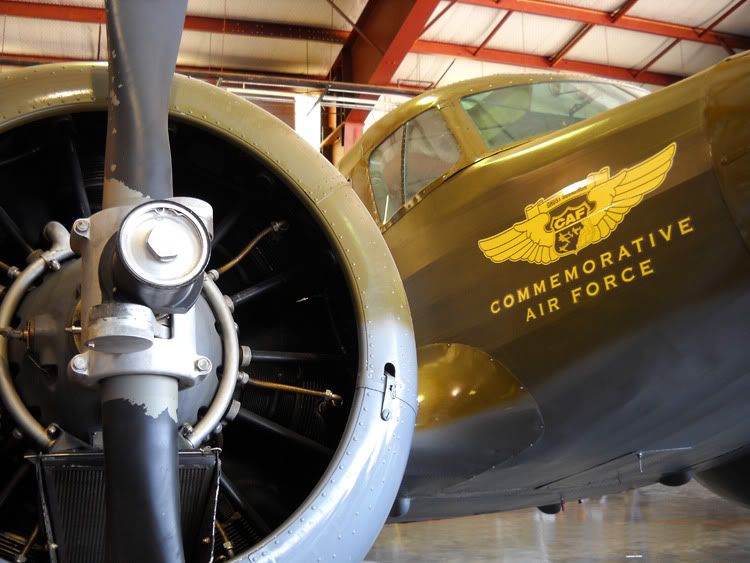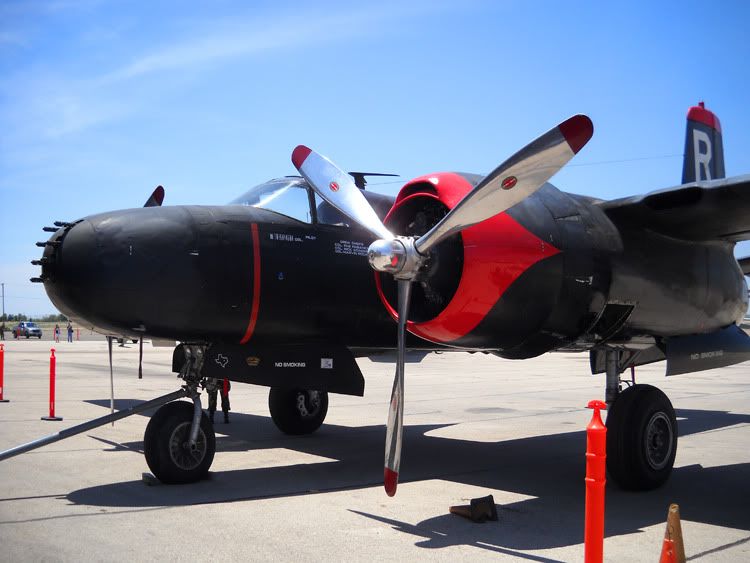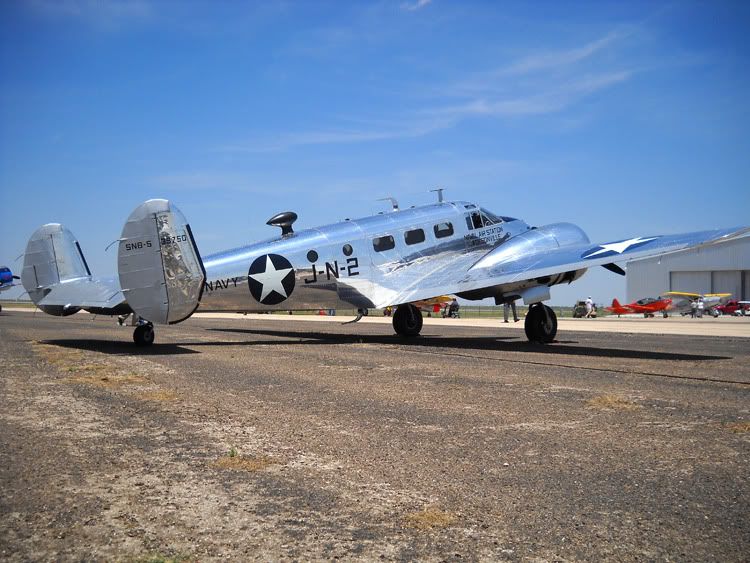 Dare me?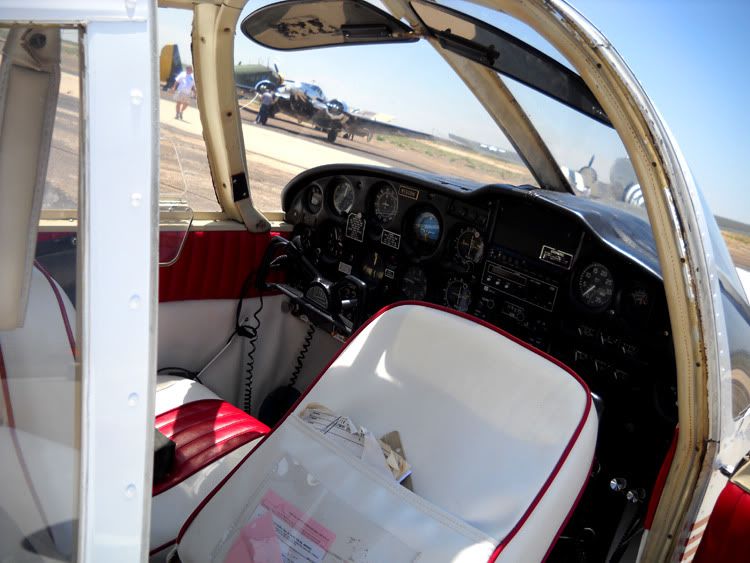 The view from CAF Hangar 2 on a perfect West Texas day: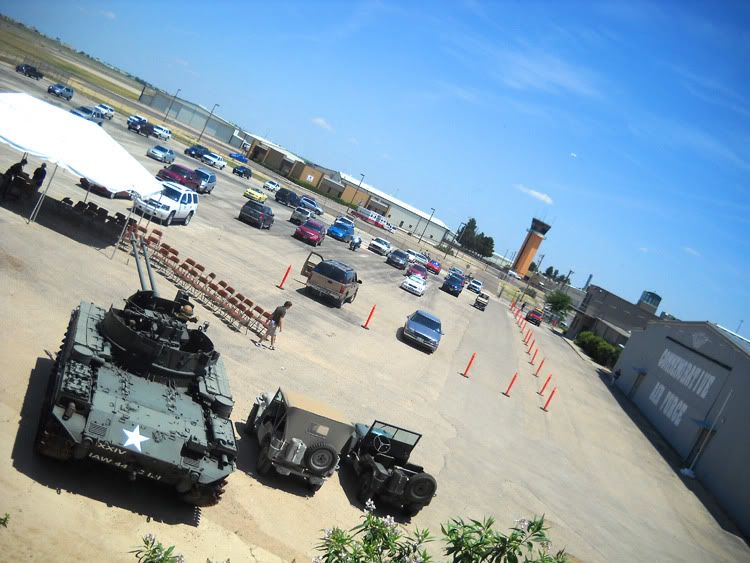 Me love Jeeps. These 'uns are my Wrangler's great-great-grandpappies: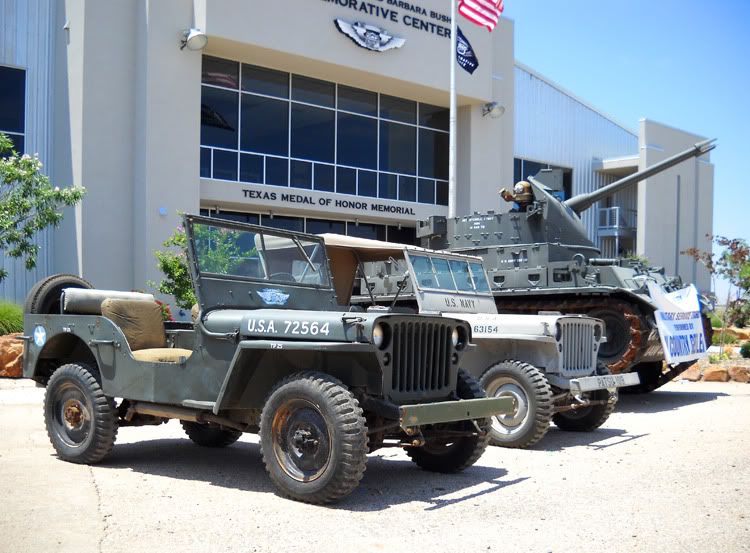 Dig the ID plate:
So after a day like today, is it any wonder that I prefer Memorial Day over any other holiday? I didn't have to buy any gifts, I didn't have to pay for an expensive dinner, I didn't even have to eat recycled fruitcake. It was just me getting to be around a bunch of the things in life I find to be extremely groovy; my wife, my friends, motorcycles, airplanes, jeeps, and tanks. So tanks a lot to everyone who made all this stuff possible today. Tanks a very lot. Everyone have a great week.

Saturday, May 08, 2010
Iraan Sportbike Rally 2010, ride report and pics

Despite a cold morning and overcast skies, the rescheduled Iraan Sportbike Extravaganza for 2010 went off mostly without a hitch today.
We arrived around 11 o'clock this morning, and when we got there, organizer Carl Peterson was directing riders into parking in his bright yellow hall monitor shirt: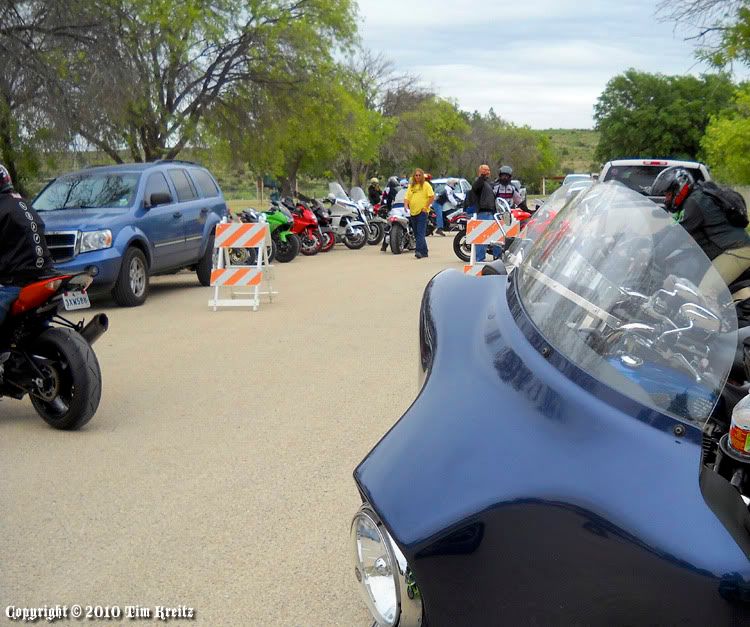 The turnout was smaller than in years past, likely due to the reschedule and weather, but there were still plenty of bikes and motorcyclists on the set: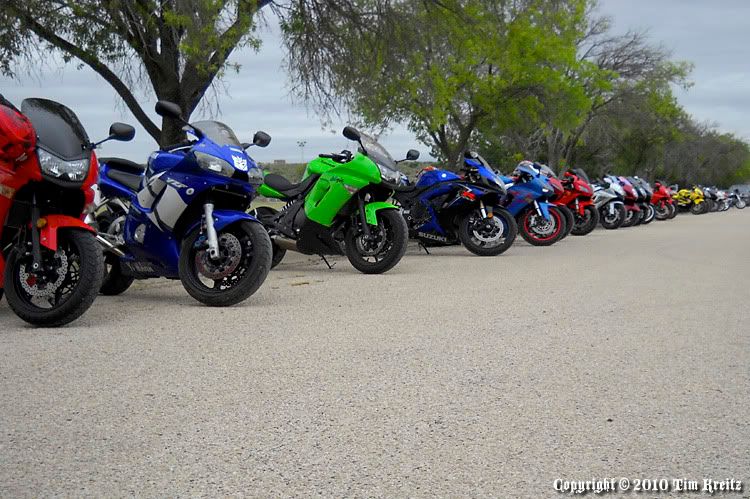 Look! An old-school ZX-7R! Tim Kreitz must be here somewhere: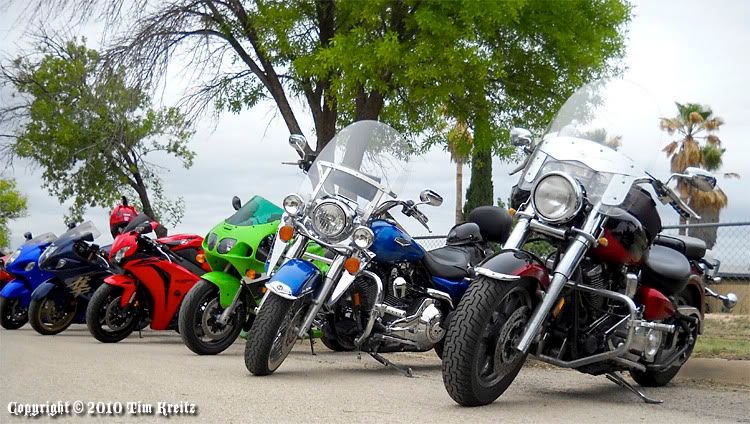 Heavy Bus Racing making a show of force: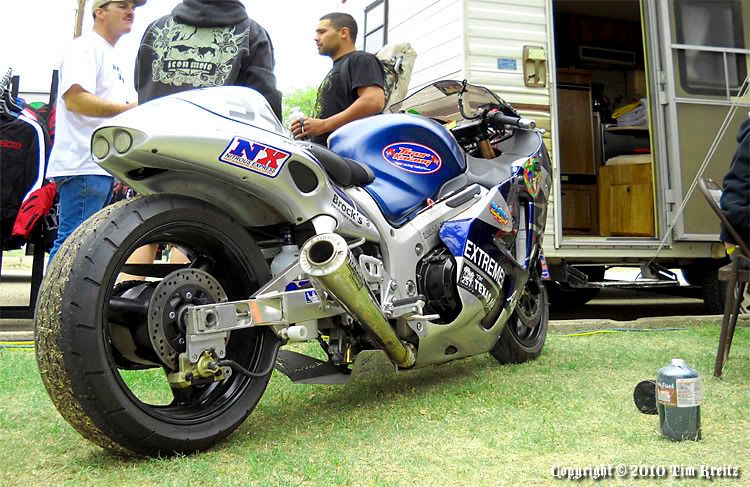 That great Texas band Dingo Sanctuary donated copies of their new CD to the charity raffle: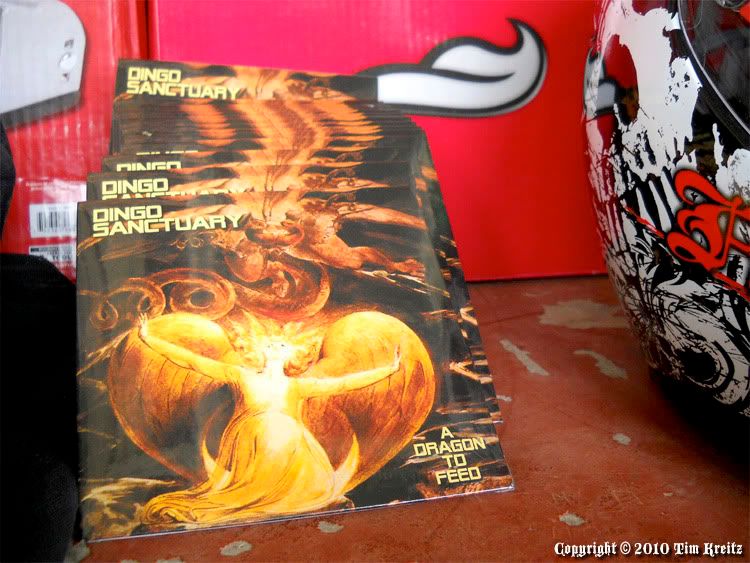 Bikes lining up for the top horsepower dyno shootout. I don't know who won, but I do know that an N2O-equipped ZX-10R was verified at 201 horsepower early in the day:
Prepping the dyno for a run:
A rather groovy, very stretched ZX-14 gets loaded onto the dyno: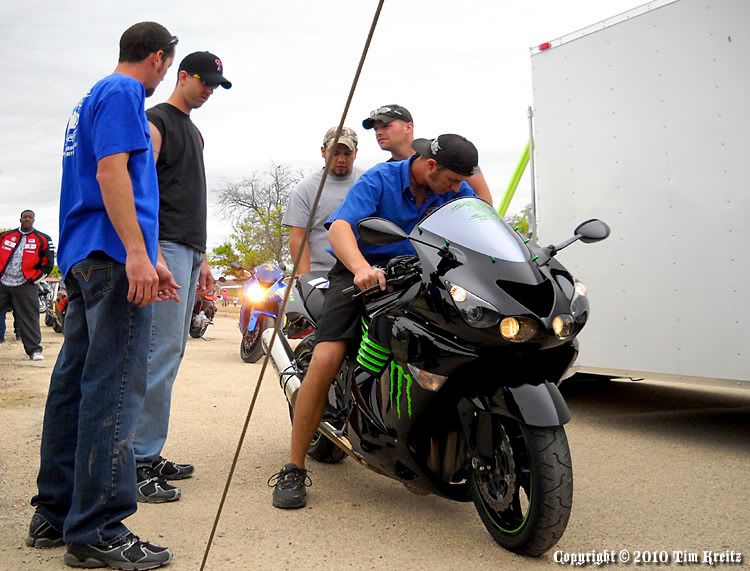 The stunt show featured some tandem trickery this year:
It was all fun and games until this happened. The guy being thrown into the air tried to leapfrog the approaching stunt bike on-foot and subsequently biffed the attempt. Don't worry, he was fine: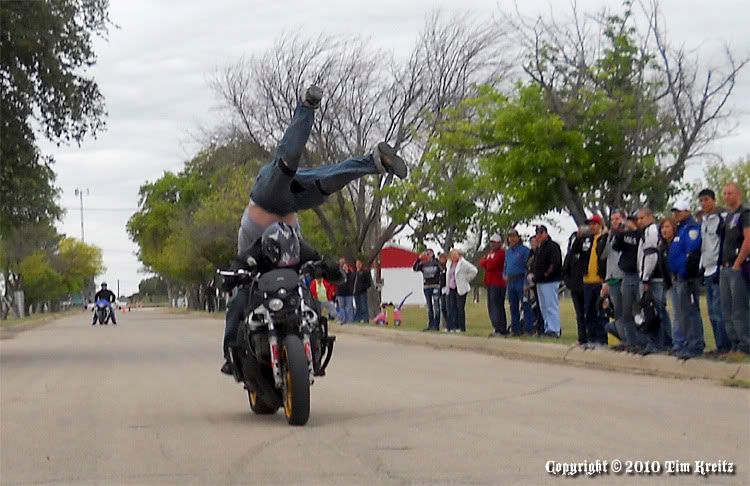 Good times. A big thank you goes out to all the sponsors and organizers. I hope to see more of you next year.

Saturday, May 01, 2010
TLC 'un-cancels' American Chopper

I found this while noodling around the Internet for news on the ongoing Teutul lawsuit:

GOSHEN — Orange County Supreme Court Justice Lewis Lubell issued an order on April 21, saying Paul Teutul Sr. has validly exercised his right to buy his son out of the Orange County Choppers.

The celebrity father-son duo also recently announced they'll be going head-to-head on a new season of "American Chopper," in which each will operate his own bike shop.

Since December, Lubell has been considering a suit filed by Senior asking the courts to appoint an appraiser to value Junior's portion of the company, so that he can purchase it. Senior fired Paulie in January 2009 and the two hashed out an agreement, including an option for Senior to buy his son out.

In November, Senior says, he exercised his right to buy Paulie's 20 percent of the company. Senior's suit claims Junior was obstructing attempts to purchase the shares.

But Junior's counterclaim says he wasn't given access to company records, which he demanded along with $10 million in damages and other restitution.

The judge granted Senior's request, saying that he validly exercised his right to buy the shares in November. But Lubell refused to appoint an appraiser to value the company, instead ordering a conference at which the parties will negotiate over a third-party appraiser.

The judge also barred either party from selling assets of Orange County Choppers until the suit is resolved. The Teutuls' next conference is slated for May 27.

SOURCE
The text of which I bolded prompted me to do a search which led me to this:
Paul Sr. and Paul Jr. haven't spoken in over a year, but their ongoing rift isn't stopping them from appearing in a new show that pits the warring generations against each other.

"American Chopper: Senior vs. Junior" starts taping in a week, and is scheduled to debut on The Learning Channel in August. Under the new premise-- the details of which have yet to be ironed out-- the original Orange County Choppers (run by Paul Sr.) competes against the offspring's Paul Jr. Designs business.

In what proportion will each business be featured, and how will the onscreen drama be treated? Executive producer Christo Doyle doesn't share his secrets, but he does tell the NY Post that "This is a very bitter situation that runs really deep -- at times I feel I'm a family therapist and not a producer."

As for the Teutuls, Junior says "I'm always hopeful for a reconciliation, but sometimes these things happen for a reason." In contrast, Senior claims that Junior has never approached him to reconcile, adding that, "I'm happy he's making an attempt to go out on his own, but I don't feel he's ever really followed through with anything in his life."

Ahh, family...

SOURCE
Oddly -- and I can't give a rational explanation for why -- I am interested in this. What is the dark voodoo magic these Teutul knuckleheads possess which makes me continue to watch?


Proof that literally any excuse to ride will suffice

One of the challenges the average motorcyclist often faces is in finding interesting new destinations within a well-beaten locale. Riding isn't always about hopping on a bike and going 500 or 1,000 miles at a stretch. Sometimes a motorcyclist simply wants to get out and roll for an hour or two and enjoy a short ride near home. The problem, as you might imagine, is that it doesn't take long before you've seen it all. Or does it?
One of the newish fads on Internet motorcycle forums right now is hunting VOR stations. VORs are navigation radars that are used by IFR-rated pilots. The
Two-Wheeled Texans
message forum is currently featuring a VOR hunt, and since I have a longtime interest in aviation, I thought I'd participate.
Here's my Z-Rex sitting in front of the MAF VORTAC between Midland (TX) and Gardendale (TX):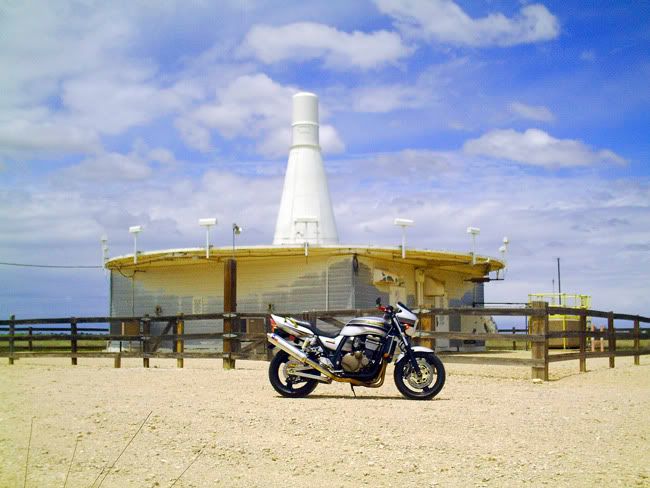 So I suppose the above evidence is just more proof that some motorcyclists will use literally any excuse to throw a leg over a bike, me apparently included.
If you'd like to participate in the Two-Wheeled Texans VOR hunt,
CLICK HERE
.