Tuesday, February 28, 2006
How fast can a sanctioning body implode? In the case of the AMA, pretty damn fast

I'm sure you're all keeping up with the Mongolian you-know-what that's happening over at the AMA right now, but just in case you haven't been, here are a few links of interest via Superbikeplanet.com:
1.
The new Buell: Legal for FX or not? Not!
2.
AMA Pro Racing Says The Buell XB12RR Is Legal For FX
3.
AMA Announces Sweeping Changes
4.
AMA Dissolves AMA Pro Racing Board
5.
Honda resigns from AMA advisory board
6.
AMA's "Response" To American Honda Release
7.
Vanderslice Resigns From AMA
Wow. This is like watching a train wreck.
And with regard to the Buell XBRR being allowed by the AMA into FX racing, even a half-trained monkey can tell you the bike doesn't meet class requirements. Allowing that thing into the series is yet another blatant AMA hypocracy amongst a recent gaggle of such that is chiseling away at what little credibility it has left.
Stay tuned. More nonsense is undoubtedly on its way.

Sunday, February 26, 2006
Troy Bayliss: Back on top where he belongs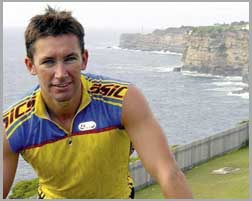 In anticipation of the WSBK 2006 season opener at Qatar, I went through my vast collection of recorded motorcycle races to revisit the 2001 World Superbike season and Troy Bayliss' awe-inspiring rise to dominance that year. After watching a few old races, I reasoned that with Bayliss returning to WSBK from MotoGP in 2006 to battle with Corser, Haga, and Toseland, this should be one of the most exciting seasons ever. If the first two races were any indication, I was right on the money. Bayliss is in the points lead with two podium finishes, but only by a narrow margin.
At any rate, there's no question that WSBK will be the best roadracing series to watch this year. There is an excellent bunch of racers on much-improved machines. Here's the grid:
1 - Corser Troy/Suzuki GSXR1000 K6
3 - Abe Norick/Yamaha YZF R1
4 - Barros Alex/Honda CBR 1000RR
7 - Chili Pierfrancesco/Honda CBR 1000RR
8 - Clementi Ivan/Ducati 999 RS
9 - Walker Chris/Kawasaki ZX10R
10 - Nieto Fonsi/Kawasaki ZX10R
11 - Xaus Ruben/Ducati 999 F05
13 - Iannuzzo Vittorio/Suzuki GSXR1000 K6
15 - Foret Fabien/Suzuki GSXR1000 K6
16 - Gimbert Sebastien/Yamaha YZF R1
18 - Jones Craig/Petronas FP1
19 - Pedercini Lucio/Ducati 999 RS
20 - Borciani Marco/Ducati 999 F05
21 - Bayliss Troy/Ducati 999 F06
31 - Muggeridge Karl/Honda CBR 1000RR
38 - Nakatomi Shinichi/Yamaha YZF R1
41 - Haga Noriyuki/Yamaha YZF R1
44 - Rolfo Roberto/Ducati 999 F05
52 - Toseland James /Honda CBR 1000RR
55 - Laconi Régis/Kawasaki ZX10R
57 - Lanzi Lorenzo/Ducati 999 F06
71 - Kagayama Yukio/Suzuki GSXR1000 K6
76 - Neukirchner Max/Ducati 999 RS
84 - Fabrizio Michel/Honda CBR 1000RR
88 - Pitt Andrew/Yamaha YZF R1
99 - Martin Steve/Petronas FP1
116 - Battaini Franco/Kawasaki ZX10R

Wednesday, February 15, 2006
The motorcycle noise issue and how it's being blown out of proportion

I just finished thumbing through my new issue of American Motorcyclist Magazine, and to be perfectly honest, I'm not totally sure I'll be renewing my AMA membership next time around. The reason: Hypocracy.
The entire Rights section of this month's issue is dedicated solely to motorcycle noise and how the AMA opposes things like aftermarket exhaust systems and straight pipes on bikes. "Loud pipes lose rights," they chant, cowering at the feet of an American public that is becoming more socialistic and totalitarian all the time.
But that's not where my gripe ends, because what do you think the very next thing I saw was as I turned the page? That's right, a gigantic feature spread on Daytona Bike Week that highlighted photo after photo of motorcycles of all types sporting straight pipes and otherwise modified exhausts. Whatever.
This ridiculous noise issue is another symptom of our very unwell country, one that is losing its way. America is slowly becoming a nation of spoiled brats with no perspective. Complaining about bike noise is what shallow, pampered people do when they don't have any real problems to deal with. Welcome to the lap of luxury in the land of softies.
If you want to experience a truly loud vehicle, situate yourself near a Ford Powerstroke diesel Pick-up truck the next time you're in traffic. As long as those things are allowed on the road, no one needs to bitch that bikes with aftermarket pipes produce too much noise. And the AMA should nut up and call this nonsensical social trend toward motorcycle discrimination for what it is, instead of pandering to idiot legislators and their stupid, unenforcable laws.
It's a loud, interesting, colorful world out there, folks. Learn to enjoy it instead of demanding that everyone live inside your movie.

Tuesday, February 07, 2006
Bombshell: New R6 DOES NOT rev to 17,500 as advertised

This just in from
Motorcycle Daily
:
"R6s have already begun arriving in dealers, and a few early buyers have had a chance to take them to the dyno. Anyone who has dyno'd a bike knows that the dyno can take its own RPM readout by means of a sensor clipped to one of the bike's spark plug wires. It seems that 'unbelievable' might have been a better term to describe the 17,500 RPM limit - the tach may say 17,500, but the dyno's RPM plot tells the real truth, and that is that the R6 is revving to somewhere around 16,200 RPM before hitting the programmed-in rev limiter.

"To confirm the truth of these claims, we turned to Yamaha Media Relations Manager Brad Banister. In a phone call yesterday afternoon, Banister confirmed that the 2006 R6 is definitely not revving anywhere close to the claimed redline - admitting that the tachometer is 'over 1,000 RPM off'."
Oy. This was the centerpiece of Yamaha's marketing campaign. Can you say 'public relations disaster'?
Wow.
Seriously. This is a bad thing.
UPDATE 2-14-2006:
Still don't think this situation is a serious deal for Yamaha? When was the last time you heard of a manufacturer offering a complete buy-back?

LEAVE A COMMENT
Thursday, February 02, 2006
How quickly can you unwittingly kill a motorcyclist? Watch this video...

Spring is on its way, and that means more motorcycles will be on the road. With that in mind, the members of my motorcycle group and I are starting an awareness campaign for 2006, aimed at educating drivers on the lower visibility and higher vulnerability of motorcyclists in traffic.
The following commercial was produced by the British government, which has much harsher penalties for drivers who negligently kill motorcyclists than we do here in the United States. It is startling and somewhat graphic to watch, but it's something American drivers need to see, because it vividly illustrates how a non-chalant attitude behind the wheel can ruin lives:
http://www.timkreitz.com/howclose.mpg
Please take the extra time to look for and accommodate bikers.
Additional reading:
http://www.amadirectlink.com/justice/index.asp"