Wednesday, October 20, 2004
Now that the 2004 racing season is over, here's my wish list for 2005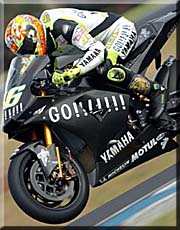 Wish #1: Anyone but Mladin in AMA Superbike 2005
I've made no bones about the fact that I'm not a Mat Mladin fan, so this wish will come as no surprise to anyone who regularly reads this weblog or my Usenet articles. I respect Mat's ability to win 5 championships, and I recognize and acknowledge the fact that he has dramatically toned down his assholishness toward fellow racers and the moto-media since mid-season, but my own admitted biases are driving this particular desire. Specifically, I want Eric Bostrom to finally win a superbike championship in 2005, but really anyone besides Mat will do. How great would it be for Jake Zemke to pull off a championship in only his second superbike year? I'd love it. It would be nice to see the ZX-10R wearing the 1-plate, as well.
Wish #2: Some MotoGP wins for Nicky Hayden
I'm not asking too much here, am I? It's not like I'm making unreasonable demands for a world championship or something, I'd just like to see the poor kid get onto the top of the podium once or twice. (It would also be nice if he'd stop hurting himself on his dirtbike.) I hope he does at least as well as my wish describes, because his bosses at Honda -- freshly shamed by the Rossi/Yamaha coup -- will undoubtedly be expecting much more than that.
Wish #3: An inline-four championship in FIM World Superbike
Chris Vermeulen came pretty close this year, and every time I start thinking about the possibility, these wonderful, nostalgic images of Scott Russell come to mind. For those of you who might not remember, Scott "Mr. Daytona" Russell took the I-4 powered ZX-7RR Ninja to FIM World Champion status in 1993. No disrespect intended to Ducati, but it'd sure be nice to see a four-banger do it again.
I could go on, but I seem to remember some archaic rule about not making more than three wishes at a time. Also, a lewd comment about having my wife rub my "magic lamp" would go great here, but I'll refrain.
Monday, October 18, 2004
More pocket bike madness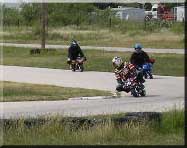 Some people say pocket bikes are silly.
And those people are right.
The sight of 20 or 30 grown men tooling around a small vehicle roadcourse at 32 miles per hour on pint-sized motorcycles was one of the silliest, most ridiculous things I've ever been a party to.
But you know what? It was extremely fun.
WTKA's
Rimrock Raceway
played host to the free pocket bike and miniGP track day yesterday morning -- a clear, warm Sunday that saw a great
turnout
.
Sessions got underway at around 10:15 a.m., with many of us making short order of the course in no time:
Pic
Pic
Pic
We all started thinking we were fast until Carl Peterson brought his
YSR50 onto the track
. He then proceded to run lap times on the order of 11 seconds quicker than anyone else.
Carl's wife then mounted the YSR and did a little pocket bike spanking of her own:
Pic
Pic
Pic
Crazy Dave tried to take attention off the YSR by
stunting
for the crowd.
When the bikes were done, the track owner and his son took their C12-fueled shifter karts onto the course. It's amazing to watch a go-kart accelerate to 75 or 80 miles per hour in less than one hundred feet. Everyone was so enthralled by it that apparently no one got a photo. We were all too busy standing around staring at the action:
Pic
Pic
Time for me to enjoy some fine Starbucks coffee:
Pic
Tanja shows off her Tribble bike, A.K.A. FURby. In the background, I demonstrate the ease of putting my pocket bike on it's centerstand:
Pic
By early afternoon, festivities were drawing to a close. No problem. After a yummy lunch it was time to find a lonely road and have fun with the big bikes:
Pic
All in all, it was a very fun day. Heat races start next week.
Wednesday, October 13, 2004
I am officially a pocket bike geek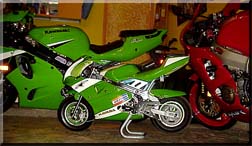 I just couldn't help it. They are so inexpensive, so fast, and so fun that I just had to get one.
This weekend, I'll be racing it
here
. It is a go-kart track that looks perfect for pocket bike applications. I figure a few test sessions and a heat or two will tell me what I need to do with the bike as far as gearing and tire pressure goes.
Everyone tells me to expect top speeds of around 30 mph from the 49cc two-stroker, and from what I could gather by ripping up and down my street on it this evening (much to my neighbors' discontent, I'm sure) I'd say that estimate isn't far off.
Details and race results to come.