Monday, August 30, 2004
Rest in peace, Indian Larry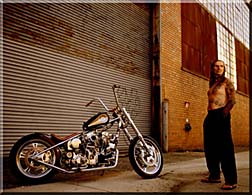 The motorcycling world has lost a true American original. Legendary custom bike builder Indian Larry died today.
Always one to look death in the face with a defiant grin, Larry passed from this world while performing one of his daredevil stunts for a crowd of thousands in
North Carolina
last weekend. May he rest in peace.
I know this post isn't related to sportbikes per se, but I felt compelled to acknowledge Larry for his contribution to motorcycling, not only as a craftsman, but as a true biker who lived life by his rules and his rules alone -- something I admired dearly about him long before pop culture and the Discovery Channel even knew who he was. Larry was seemingly never afraid to throw caution to the wind for the sake of his own happiness, never needed anyone's permission or approval, and always stayed true to what he believed no matter the cost. I wish I could say the same for myself.
God rest your soul, Larry. You will be missed.
Wednesday, August 18, 2004
To buy old-school or not to buy old-school, that is the question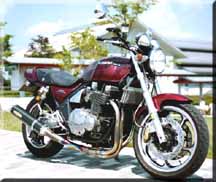 Thinking hard about adding a retro bike to the stable
Billy Lane once said motorcycles are like women, an analogy that's easy to understand. Given the means and the garage space, I'd soon amass myself a mechanical harem of two-wheeled conveyances so elaborate and excessive,
Mr. Barber himself
would be Kawasaki Green with envy. I'd have them strewn throughout the house like
Mojo Dave
, or have them packed like sardines into my garage like my good friend Rodger.
It'd be ridiculous.
Reality and practicality have a way of keeping things in perspective, however. Much like with women, having too many motorcycles can actually be a pain in the ass. There's maintenance, insurance, and atrophy prevention to consider -- not to mention custom accessories and matching gear. If you're like me and actually have to work for a living, there's simply not enough time to sufficiently ride and maintain more than one or two bikes at a time.
That said, I'm stubbornly thinking of adding another bike to my stable. I currently have
two bikes
, a 2003 ZX-7R and a 2000 ZX-6R, neither of which I'm willing to part with. But I'm thinking it might be groovy to have an older bike, perhaps a Zephyr 1100 or the like. I just can't decide if the joy of the third bike would outweigh the extra trouble and expense in the long run.
Final decision and details to come.
UPDATE (08.30.2004): I've made the decision that there will be no addition to the stable for now. Go figure.
Friday, August 06, 2004
Am I the only one who's ready for cooler weather?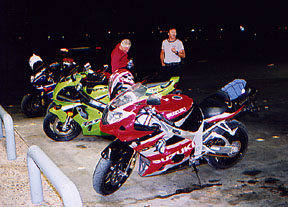 As yet another sweltering weekend approaches, I find myself longing for some cooler weather. Temperatures have been consistently near 100 degrees, which makes extended periods of motorcycle riding a bit of a beating unless it is done at night. Night rides have their disadvantages, but are generally safer than in other parts of the country, since we have no deer or big game to speak of in this area. It's fun, but temperatures generally stay in the 90s until well after midnight.
I'll be glad when fall arrives. But until then, we'll be rolling vampire-style.
See you next week.