Monday, December 20, 2004
Mark Neale's Faster is an instant classic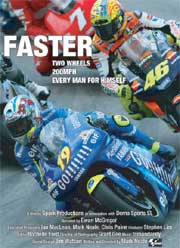 by Tim Kreitz
Every so often, a motorsports documentary comes along that captures not only the absolute ambiance of its subject matter, but a lingering zeitgeist that haunts us when we watch it again years later. Bruce Brown did it with
On Any Sunday
. Claude Du Boc did it with
One by One
. These films are more than just documentaries, they are time capsules that conjure within us the opening of mental portals into the past.
Now, director Mark Neale joins such elite company with his outstanding chronicle of the MotoGP motorcycle series,
Faster
.
Faster
follows the 2001 and 2002 racing seasons, intermingling interviews and commentary with heartpumping race footage. Narration is provided by Hollywood heavyweight Ewan McGregor, himself an avid motorcyclist and race fan. Current and former racers, including Valentino Rossi, Sete Gibernau, Max Biaggi, Gary McCoy, John Hopkins, Kevin Schwantz, Eddie Lawson, Wayne Rainey, and the late Barry Sheen (who succumbed to cancer last year) provide philosophy and opinion on the sport they love. Along the way, viewers are treated to a tantilizing taste of the triumphs, rivalries, dedication, and machinery that makes MotoGP the premiere motorcycle roadracing series in the world.
A significant aspect of the film is that it was made during an era that will arguably be viewed as one of the most important in motorcycle roadracing history. Bike design, tire technology, and rider talent have all reached dizzying new heights over the last few years, resulting in many broken records and bones alike.
All in all, the film is utterly brilliant and falls into the obligatory must-have category for any serious moto fan. Available now in a 2 DVD set that includes a short etude film and lots of extras,
Faster
does not disappoint.
Much like
On Any Sunday
and
One by One
, it'll be tons of nostalgic fun to watch
Faster
20 or 30 years from now.
[
TRAILER
]
Friday, December 10, 2004
Michelin kicked to the curb (no pun intended) as Ducati Austin announces it will use Dunlop Tires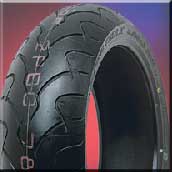 Ducati officially announced in a press release yesterday that it will race on Dunlop rubber in the 2005 AMA Superbike Series:
"The agreement means that the Parts Unlimited Ducati Austin pairing of Eric Bostrom and new signing Neil Hodgson will race their factory Ducati 999R machines on Dunlop tyres in the 11-round/18-race series...

...Ducati Corse would like to express its gratitude to Michelin, the team's partner for 2004, for their valuable collaboration which culminated in Eric Bostrom's pole position at Daytona, two second places at Fontana and a win at Pike's Peak."
The decision effectively squeezes Michelin out of the AMA Superbike series, with only a few privateers remaining on the French-made tires.
As a motorcyclist that rides on both Michelin and Dunlop street tires (D207s on my 2000 ZX6R, and Pilot Race H2s on my 2003 ZX7R), I'm extremely curious about the performance characteristics of the full race versions of these brands, and especially as to why Eric Bostrom never could seem to sort the Michelins out last season. I know there's no logical correlation or comparison to be made here, but I far prefer my H2s to my D207s.
At any rate, the addition of the Dunlop rubber, accompanied by the arrival of Hodgson to the American team should yield positive results. U.S. testing for Ducati Austin begins on January 3rd at Daytona.