Sunday, March 29, 2009
Imperial Reservoir ride report and pics

Continuing our mission to make as many West Texas day-rides as possible before the summer heat sets in, we saddled up for a little-known spot just south of Grandfalls today to see some very green water in large quantities: Imperial Reservoir.
As a native West Texan, I feel somewhat ashamed to admit this, but I had never been to Imperial Reservoir before this ride. The reservoir is located between Imperial and Grandfalls, smack-dab in the middle of nowhere:
On our way, we stopped at the southern end of the sandhills region, took a quick break, and snapped some pics: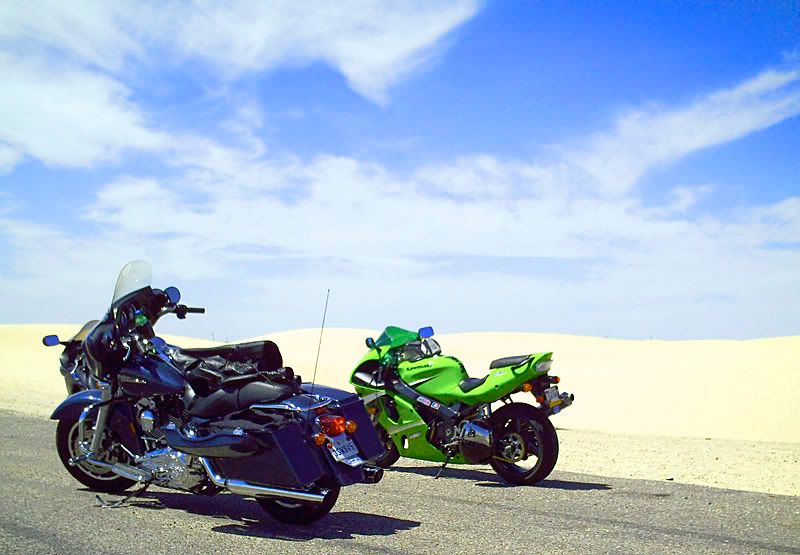 Artsy-fartsy version: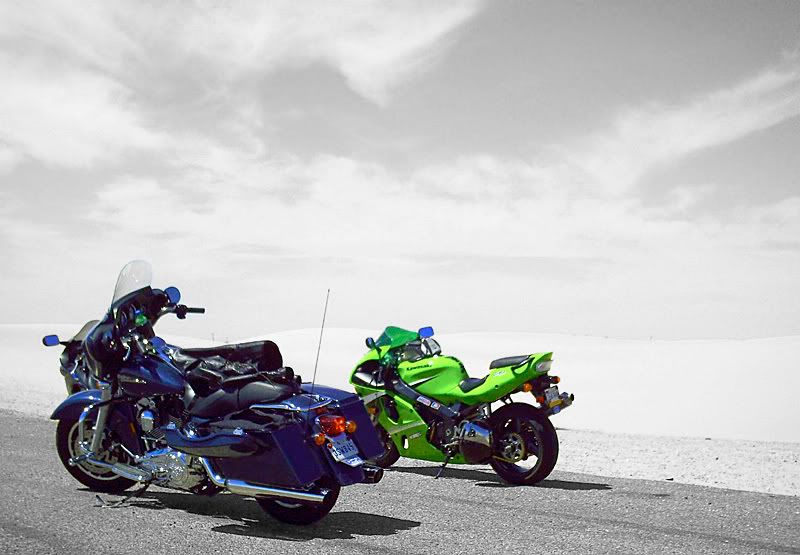 I know I've said it before, but oh how I love the savage beauty of West Texas: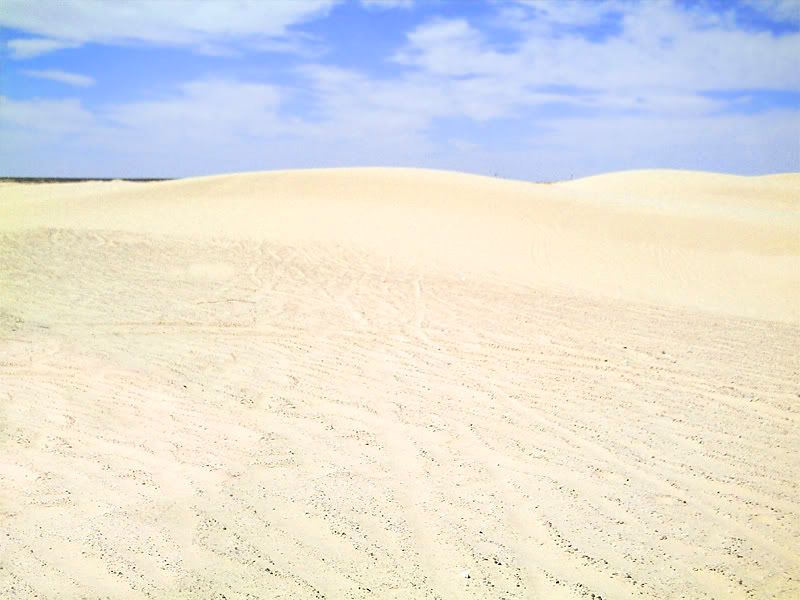 We arrived at Imperial Reservoir to find that it costs ten bucks to get in:
Yeah right, like we were gonna un-*** 30 dollars to ride our bikes around in the dirt. Not happening. So instead, we stuck to the perimeter of the park and took a few more pics.
Yes, the water really is this green: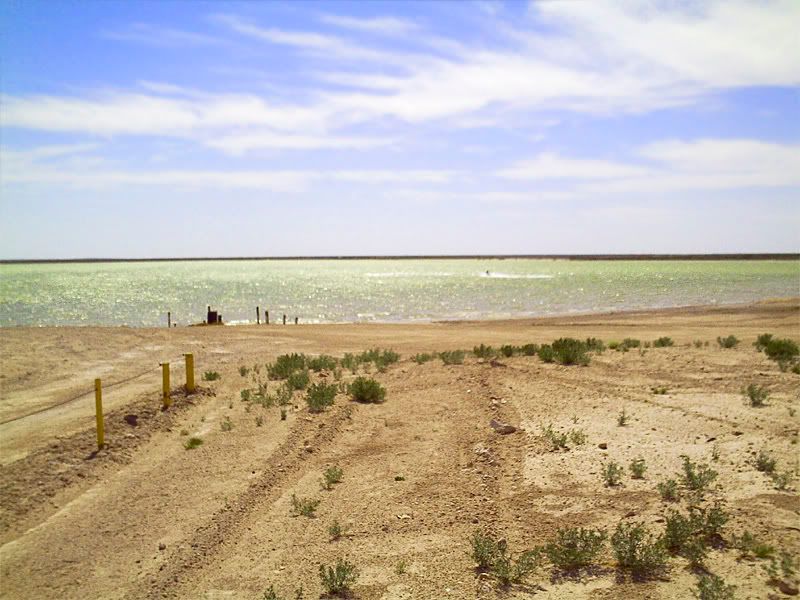 Looking toward the southwest:
That, my friends, is what we call a chaw: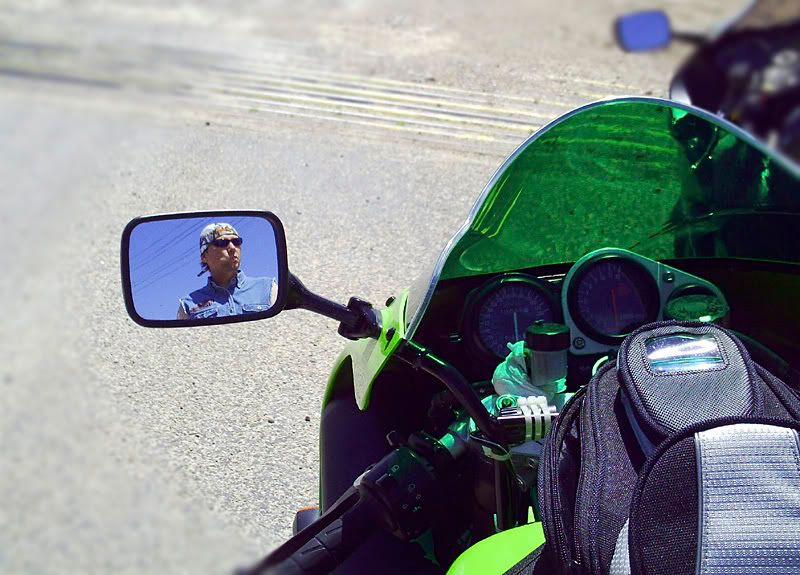 After 130 miles of riding, we needed fuel, so we headed into Grandfalls and hung out for a while at the epicenter of town activity, Allsups: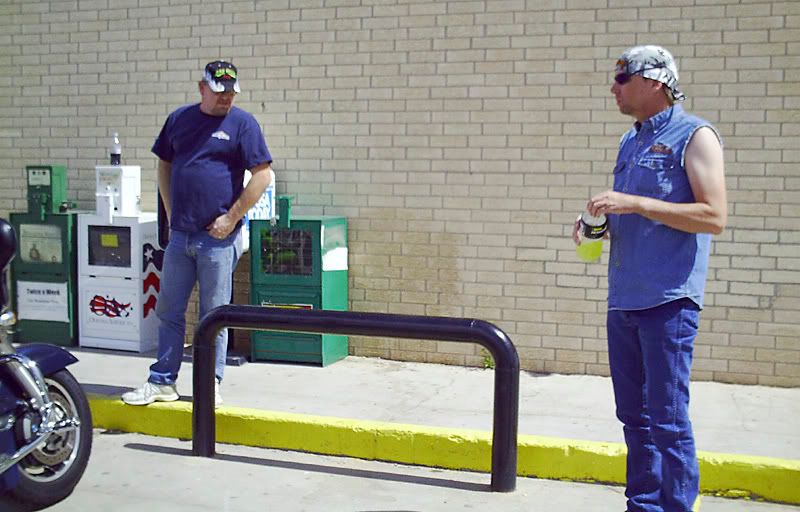 Behold Grandfalls in all its glory: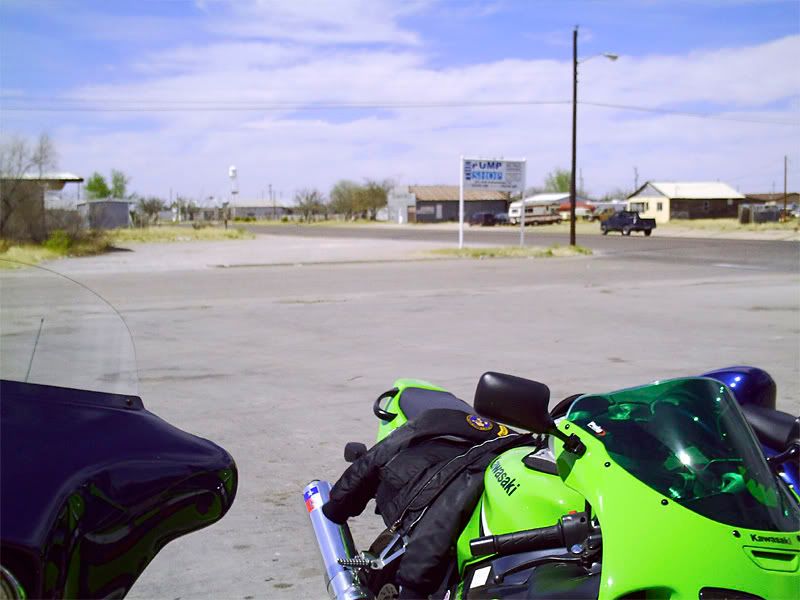 By the time we were ready to leave Grandfalls, we were all hungry. In fact, I hadn't eaten anything all day, so Britt suggested we head into Monahans and grab an early dinner at the West Texas legend, Fermin's:
Again, this was a brand-new experience for me. Somehow or another, I had never made an effort to have a meal at Fermin's, and boy am I glad I finally did. I highly recommend the restaurant to anyone who's willing to make the trip to Monahans for dinner. You won't be disappointed.
Dig the simple, old-school interior. I love these kinds of places: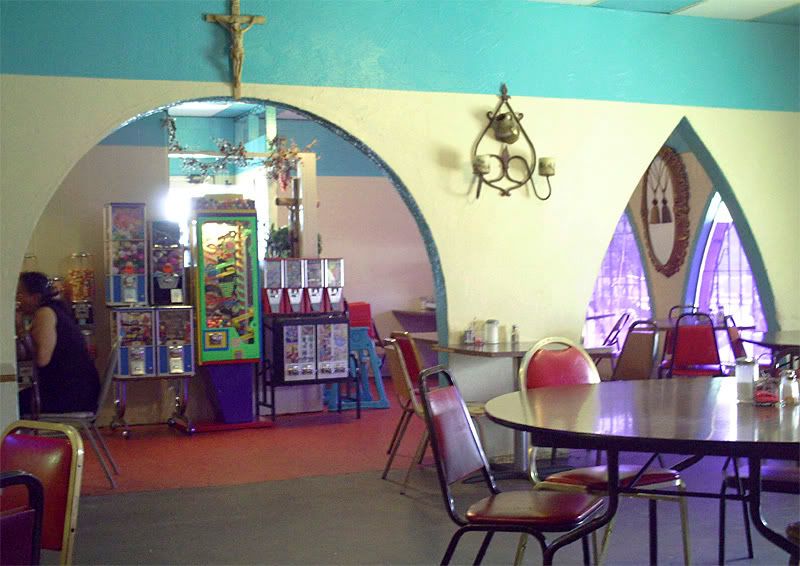 After an excellent dinner, we dropped by the Monahans Milllion Barrel Museum to find it closed. Decades ago, the "Million Barrels", as the locals once called it, was an experimental, open-pit, oil storage facility that didn't exactly live up to its engineering expectations and was eventually turned into a museum. Unfortunately, it isn't accessible on Sundays, so I stuck my camera through the gate, took a few more pics, and we were on our way: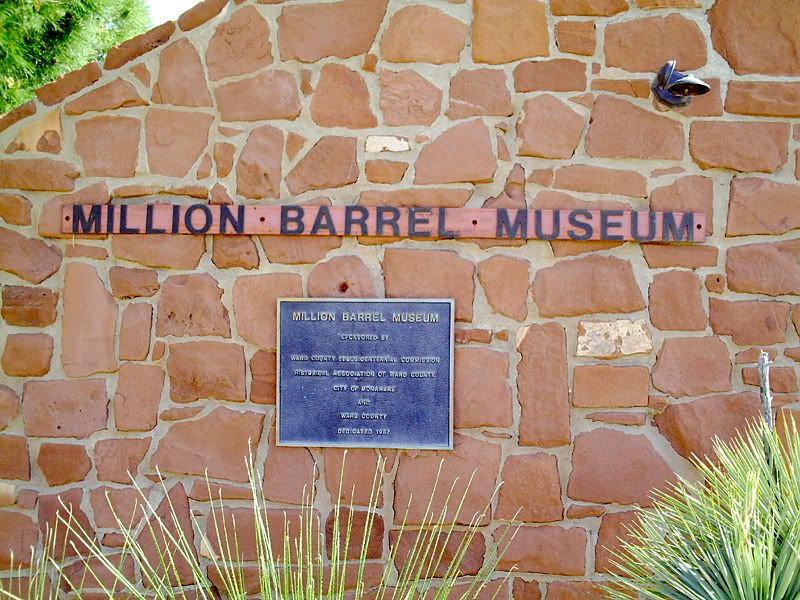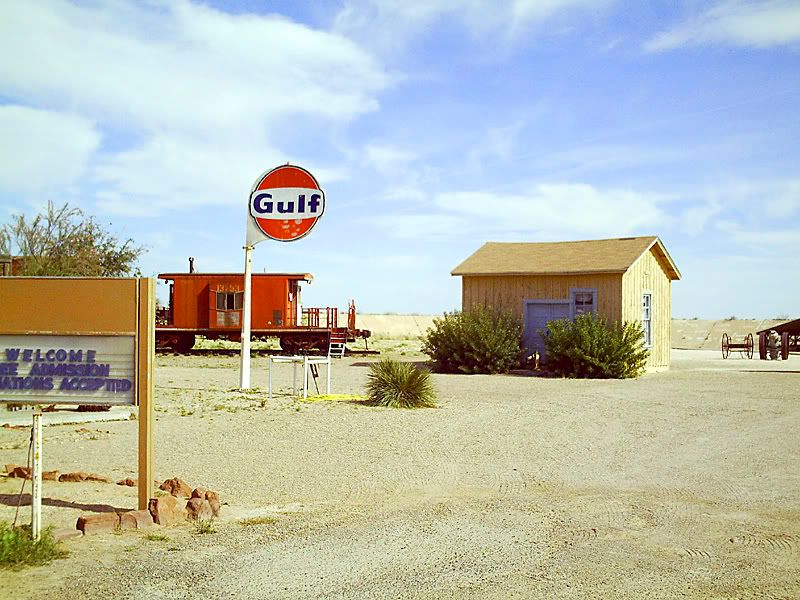 We got back into to Midland around 5:30 or so, having clocked approximately 250 miles for the day. It was a bit windy, but the dirt stayed down, so the ride was still very enjoyable. There is a lot to discover in West Texas, and adventuring by motorcycle makes it that much more fun.
Have a great week.

Sunday, March 08, 2009
King Mountain and Ft. Lancaster ride report with pics

We made a slight change in our original plan to ride around King Mountain today, instead skirting the eastern border of Castle Mountain, King Mountain, and Square Top on our way to Iraan, Sheffield, and Ft. Lancaster.
I got us off to a half-hour late start by flooding the ZX7R like a dumb***, and then practically running the battery down trying to get it started. So we left Warfield at about 11:50 and headed south.
We never got very close to the Castle Gap, but I did stop at the Iraan Highway turnoff and took a photo if it out in the distance: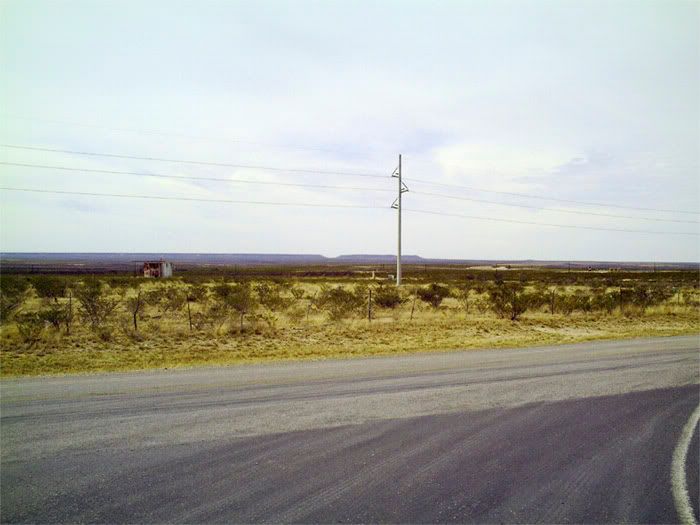 Our first stop was at the old location of Camp Melvin, where we took a break and snapped some pics: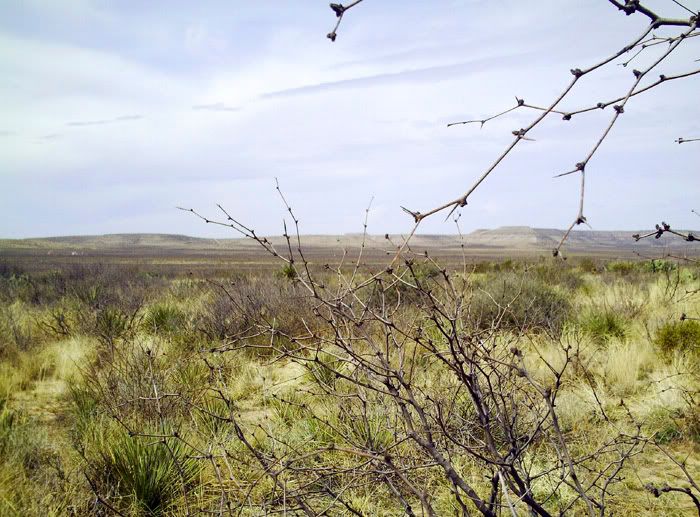 Britt can't find a radio station. Welcome to the middle of nowhere: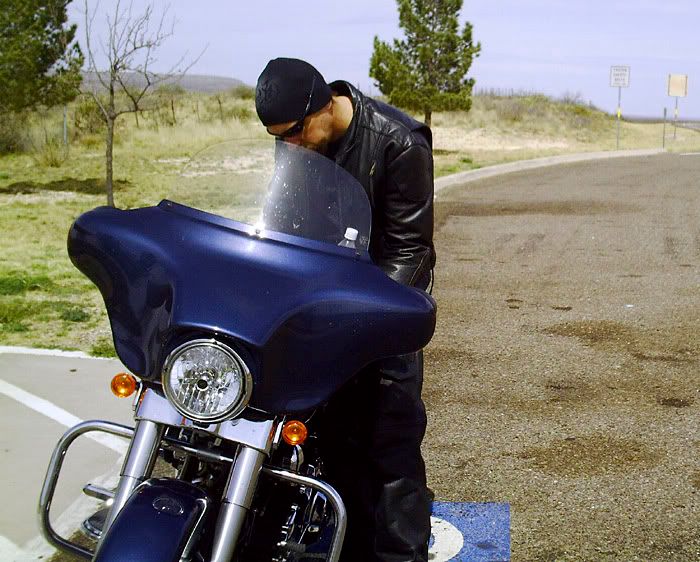 The cool bikes, basking in the sunshine on a perfect day:
We stopped for lunch at our buddy Dana's barbeque place in Iraan. He's a fellow biker, and hosts the Iraan sportbike rally every year: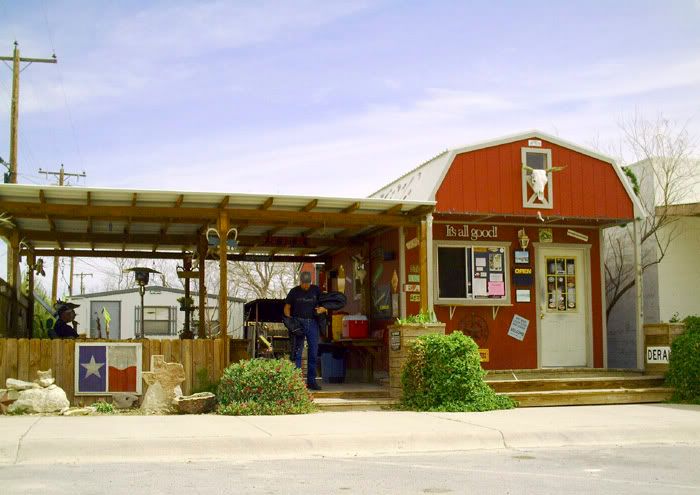 This was lunch. Not a bit healthy, but pretty dang tasty:
As we were leaving, something in the window of the restaurant next door caught my eye:
Upon a closer look, my eyes were not playing tricks on me. They serve "espersso":
But wait, there's more. They also serve "cappaccino":
After a few minutes of belly-laughter, we headed south, through Sheffield and out to a place I had never been before, the ruins of Ft. Lancaster: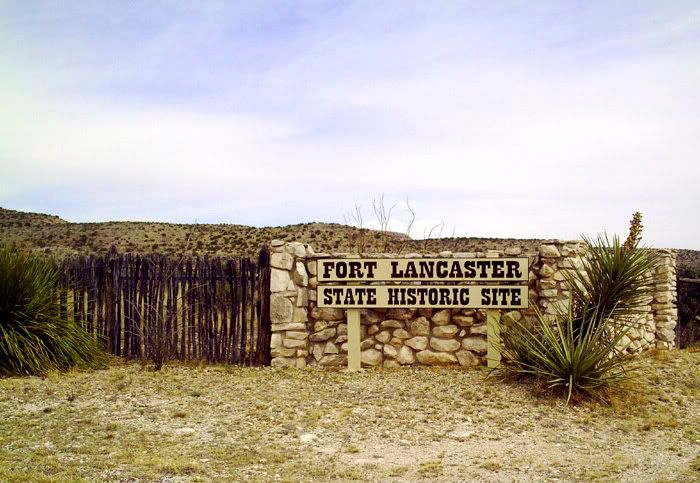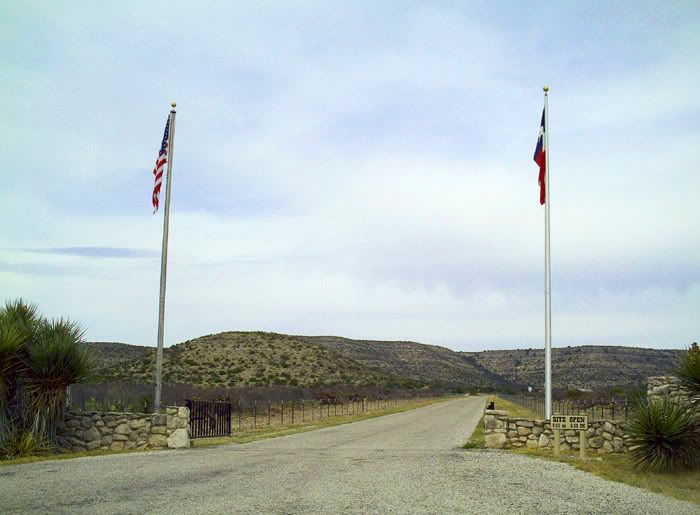 For the bargain price of two bucks (6¢ in Year 1900 U.S. dollars), we got to tour the mini-museum and ruins: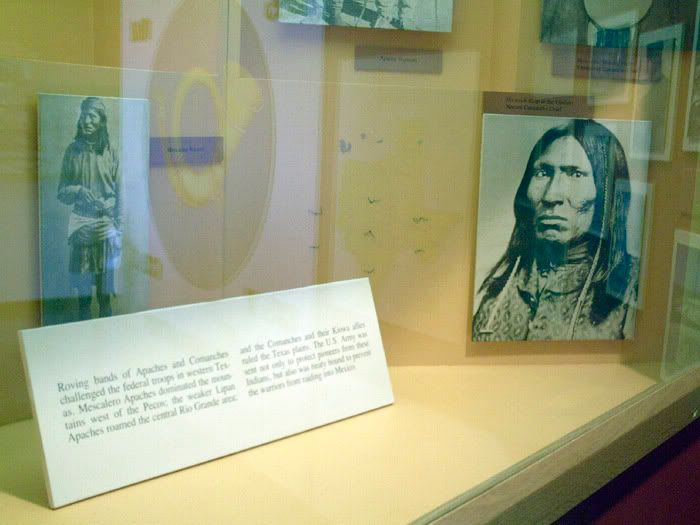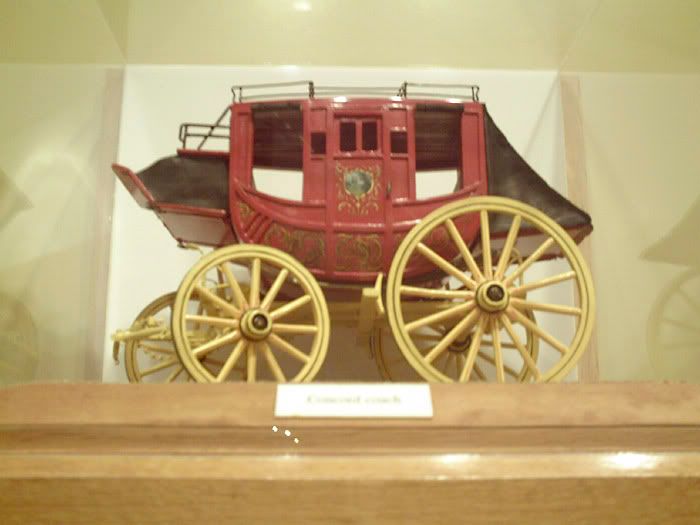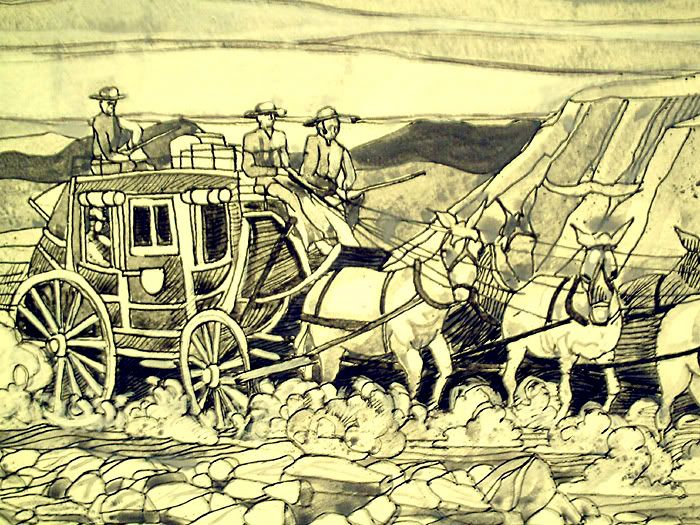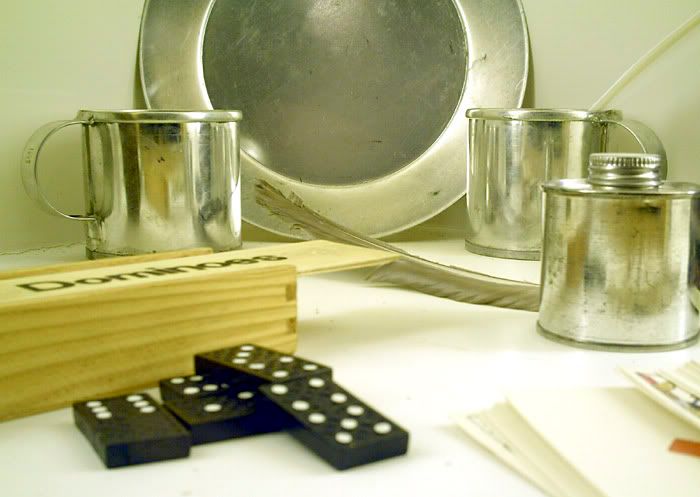 Keep off the ruins. We wouldn't want you to ruin them: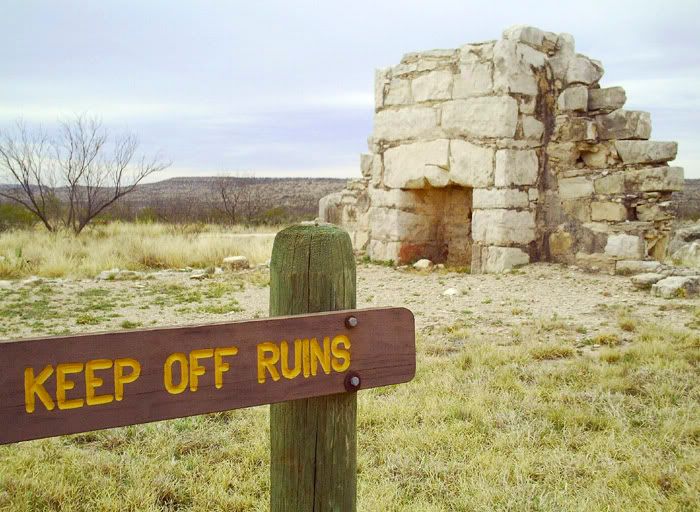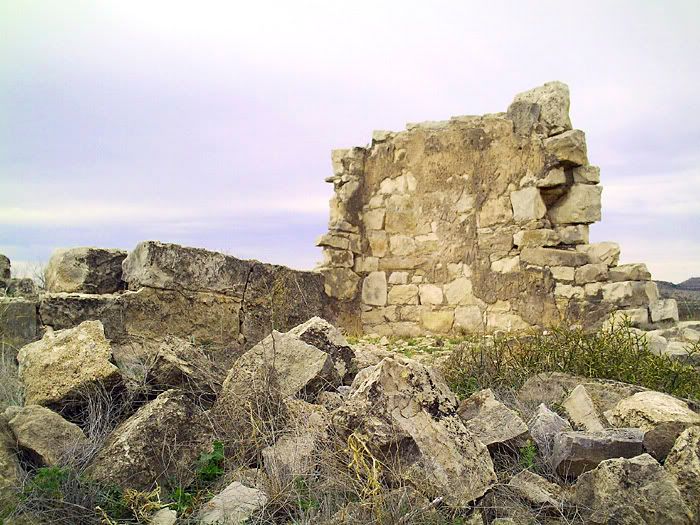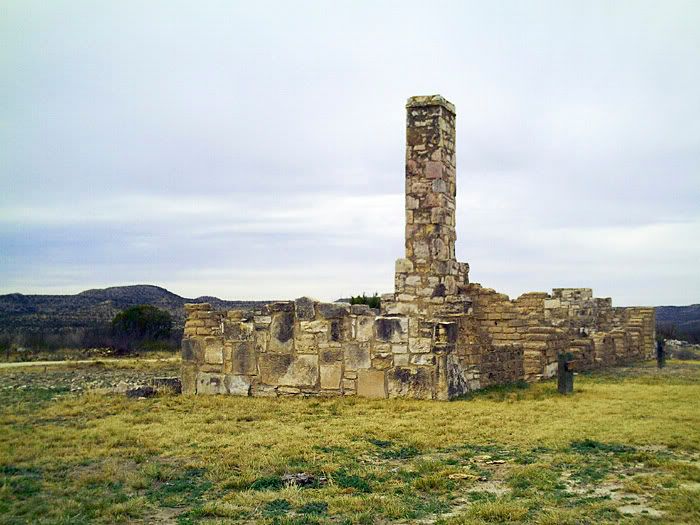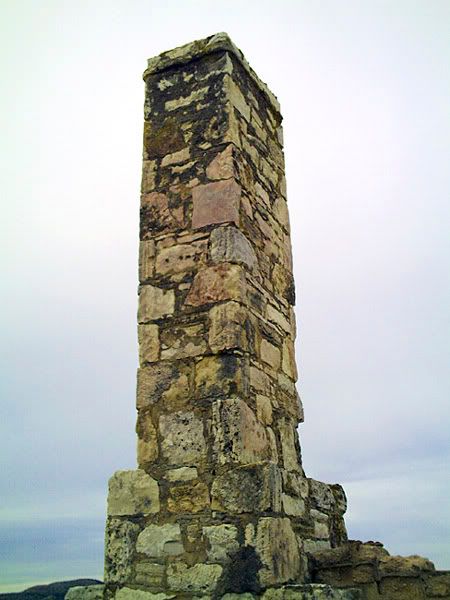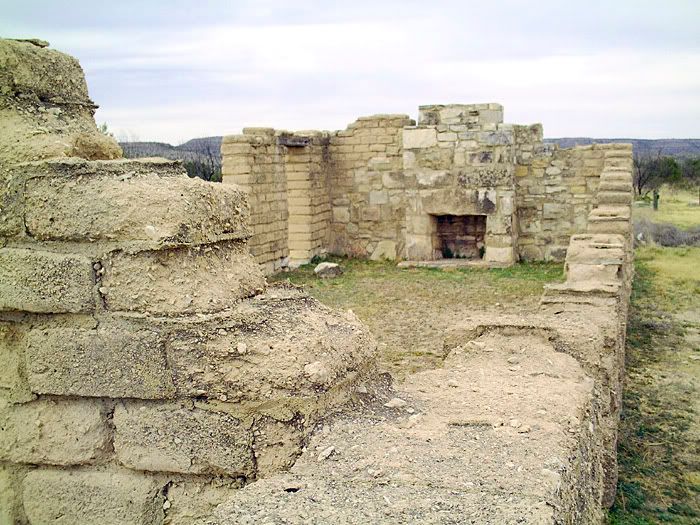 This flagpole has been erect since 1855. Now that's what I call stamina:
After Ft. Lancaster, we headed for the observation point at the top of the mountain to the north: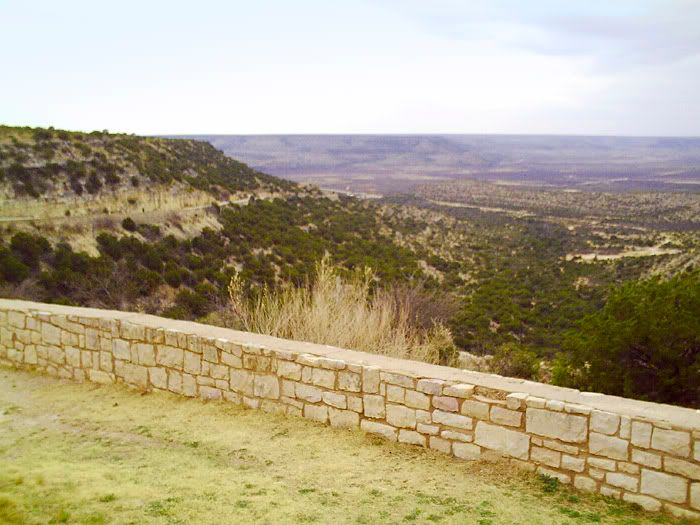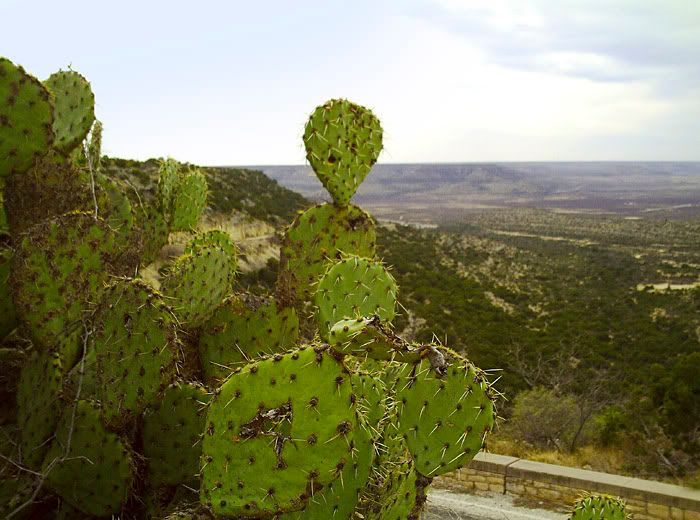 "Pardon me, sir, but I'm not getting any closer to the edge":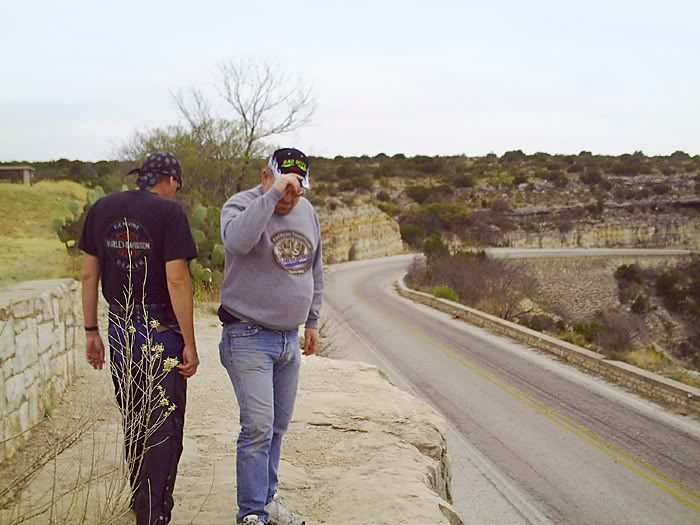 By that time, mid-afternoon was upon us and it was time to head back. We stopped on the old truss bridge that spans the Pecos between Ft. Lancaster and Sheffield. Surprisingly, the Pecos has a considerable amount of water in it right now. Don't ask me how, because all of West Texas has been dry as a bone for months: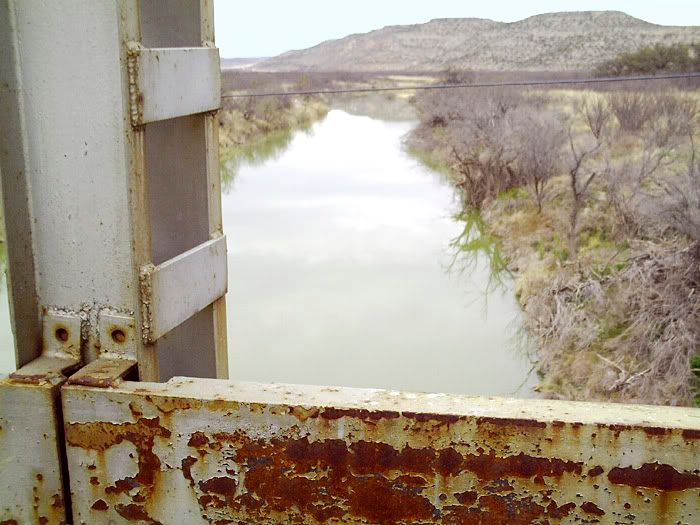 Today's mileage total was 256 -- and that's not counting the 4 trips up and down my driveway to get the 7R started. I hope your weekend was as fun as mine. Best wishes and safe riding.

Sunday, March 01, 2009
Ruins of Rattlesnake Bomber Base (Pics & Ride Report)

My good friend Britt (drummer of Dingo Sanctuary) and I had been talking all week about making a ride to a spot in the heart of the West Texas badlands where neither of us had been in years, the ruins of the WWII-era Pyote Army Airfield, otherwise know as Rattlesnake Bomber Base. Today, the weather cooperated, and despite the facts that it was a little cool and we were a bit tired from performing all weekend, we -- along with our friend 'Busa Dave Hardy -- decided to make the ride.
I was excited about seeing the old base again, mainly because exploring ruins of any kind is something I absolutely love to do. But more so with this particular location because of the significance of its history. Just a few examples aside from its importance during the war: Rattlesnake Bomber Base was the place where Enola Gay was mothballed before being sent to the National Air & Space Museum for preservation. Also, it was the filming location of the character Truman's skydiving school in the 1985 cult-classic movie
Fandango
, which is one of my all-time favorite flicks. Our plan was simply to wander around and take pictures, so imagine our disappointment when we discovered that the gate was welded shut and displayed this sign: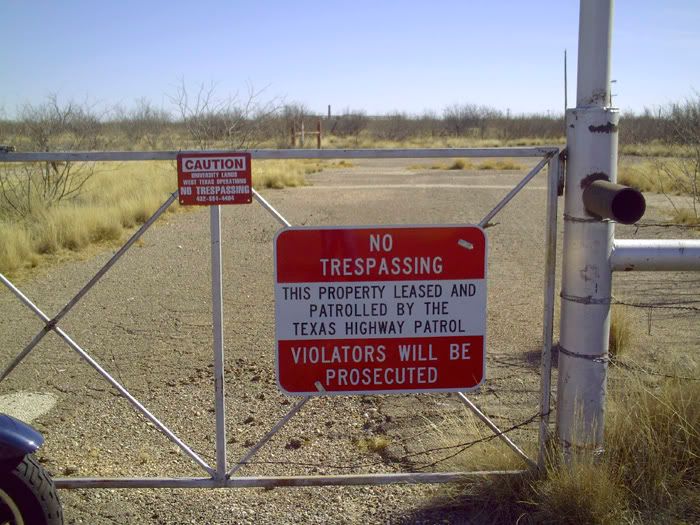 Pissed off like you can't imagine (I mean seriously, think about me and my politics, then just picture how I reacted at the sight of that sign), we decided we would go ahead and trespass anyway, but only if we could find a back way in, where the bikes wouldn't be sitting on the roadside giving us away. Unfortunately, we rode around a few times, and apparently all the entrances have been either closed off or are secured. The "West Texas State School" (fancy wording for "Youth Prison") borders the eastern edge of the property, and is crawling with guards. So we decided to ride along the prison's outer perimeter road and look for a photo op. This was the best I could do, because I didn't have nearly enough lense:
A bit dejected, but still having fun because we were riding motorcycles, we decided to cross over to the north side of the Interstate and check out the original entrance to the base. Much like everything else in Ward County, the location is in total ruin. Still, I always try to find the beauty in these kinds of relics, and I think there was definitely some there: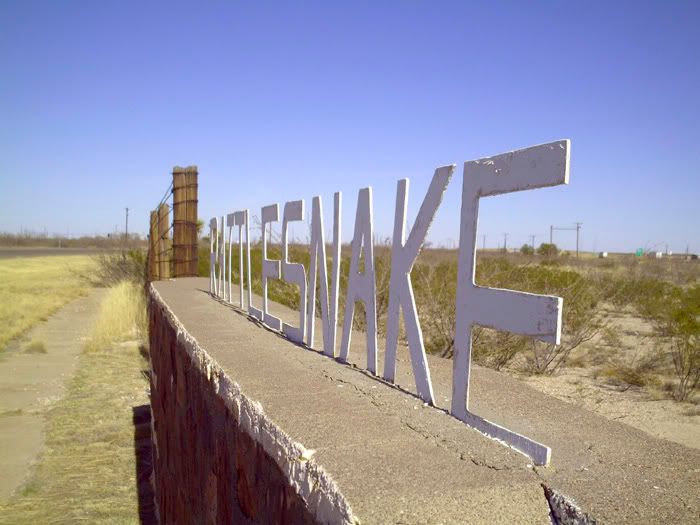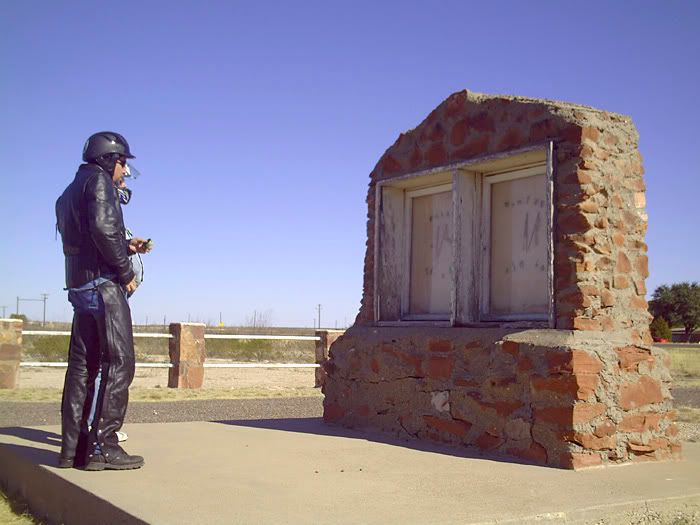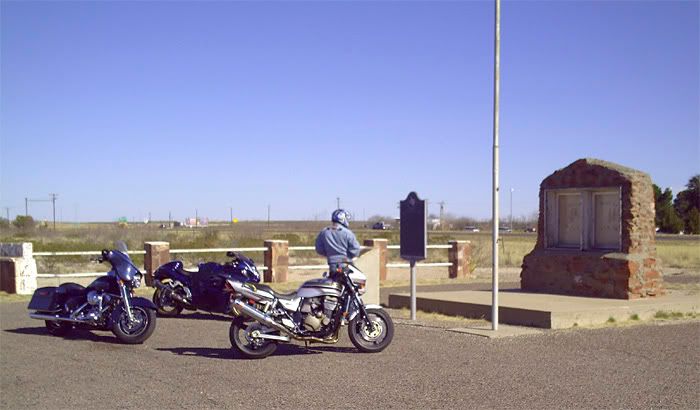 It's a far cry from what the entrance looked like in the 1940s. By the way, that lamp post is still there: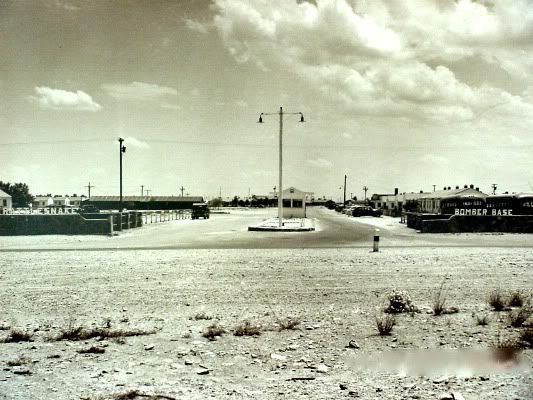 We had arrived into Pyote from the north, having traveled from Midland through Odessa, Kermit, and Wink. On the way back, Britt suggested that we go through Wickett and Monahans because he wanted to show us something. Naturally, we were game, so Britt led us to a lonely spot just northeast of Pyote, still in Ward County, that came as a total surprise to me. It was an old, decrepit cemetary where many of his relatives are buried: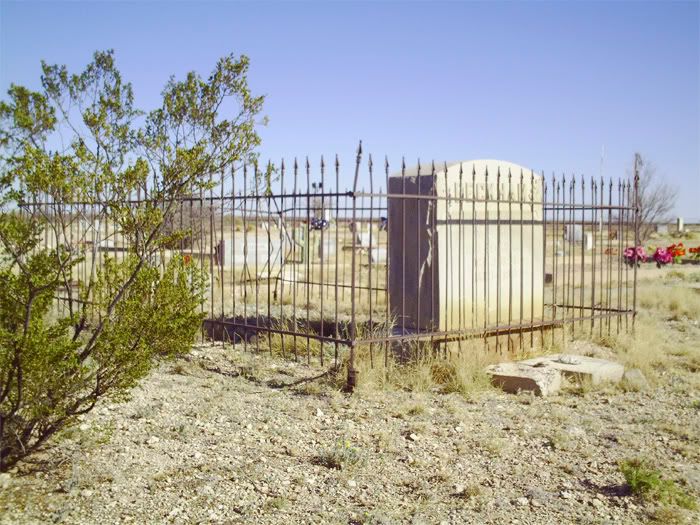 Britt's family ties in West Texas go back to just after the Civil War. This is the grave of his grandfather, who was the Sheriff of Ward County. He died long before Britt was even born:
Every other grave in this cemetery belongs to one of Britt's relatives or ancestors: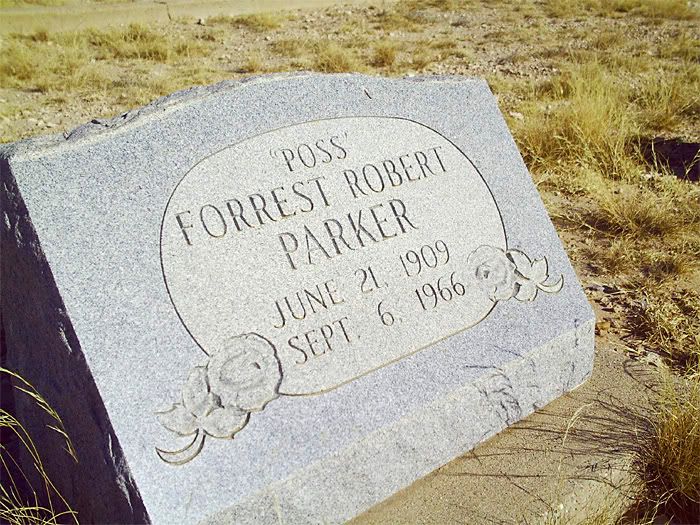 Some of the graves are almost a century old, and their gothic fencing and plots are in advanced decay:
Believe it or not, this is someone's grave marker: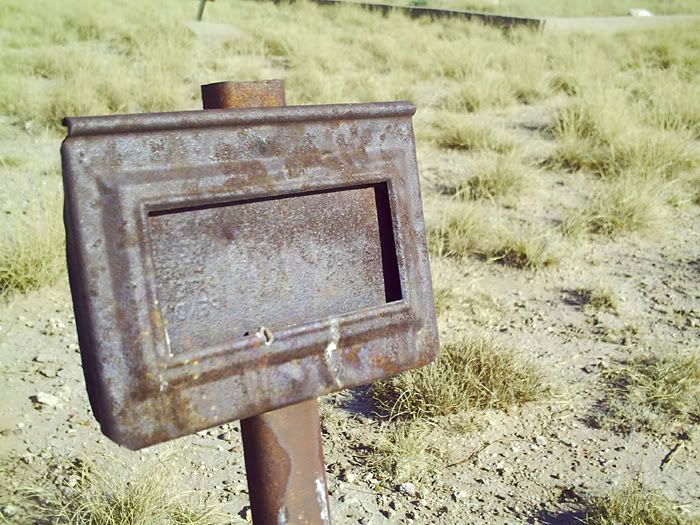 The cemetery's supply building is likewise in a state of ruin. We had a look around, but there was nothing but trash inside: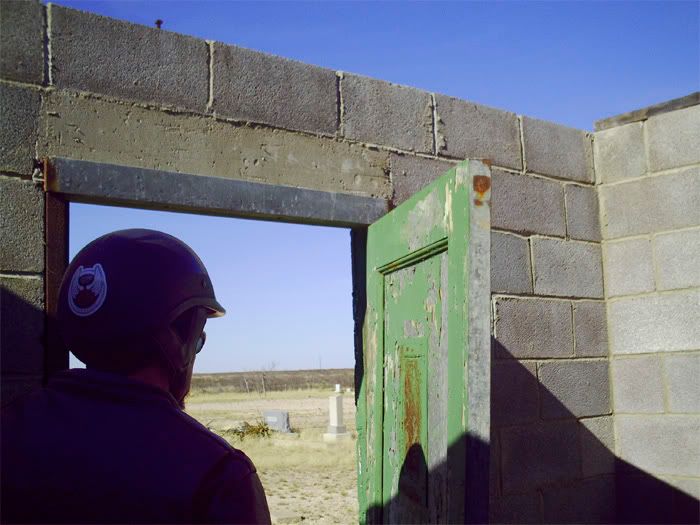 Again, I always try to find the unlikely beauty of these kinds of places, and as I walked out the door, I saw this: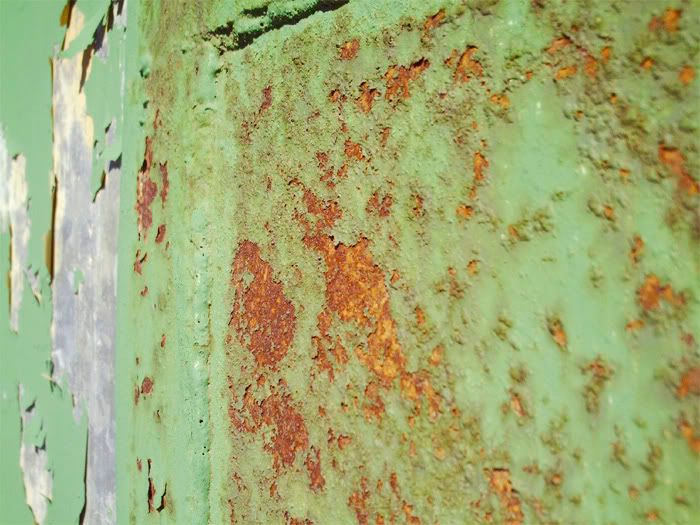 Later, I saw this: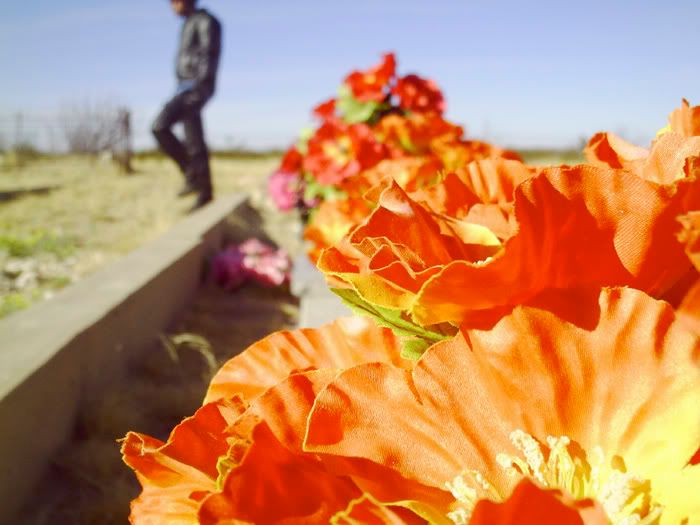 And this: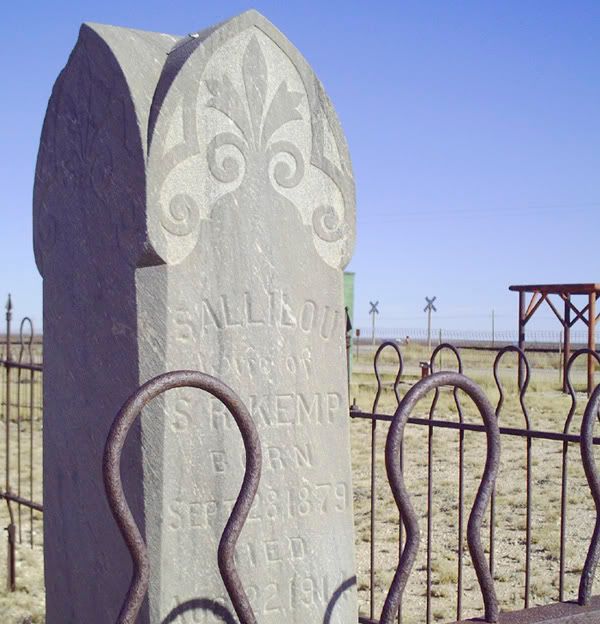 By that time, the temperature was starting to fall pretty rapidly, and we decided to head back to Midland-Odessa. We made haste, with only a short re-feuling stop in Monahans: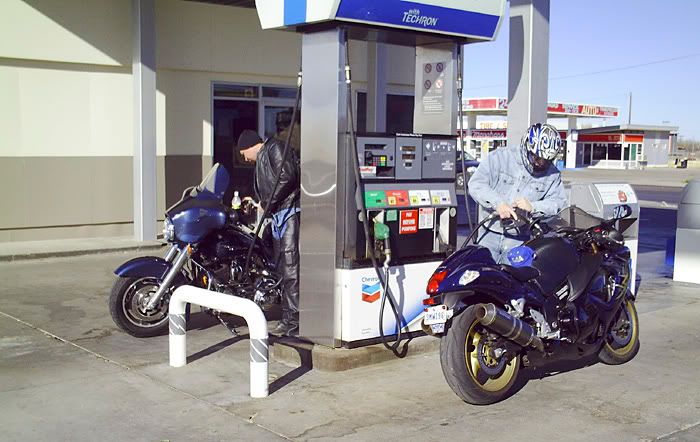 Obligatory shot of my Rex: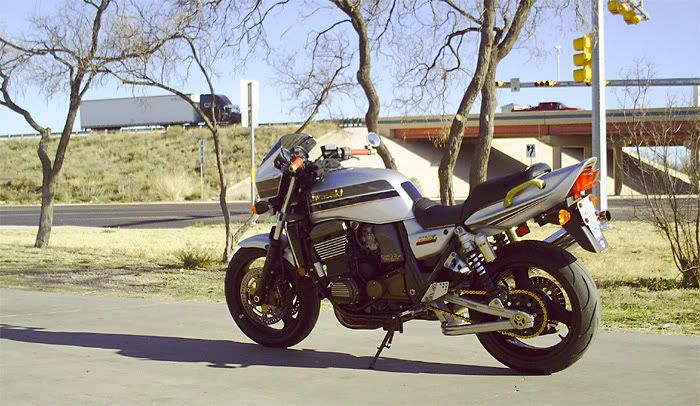 I was back home around sunset, having put a little over 200 miles on the clock. Aside from not being able to get onto the base, it was still an excellent day. I wish I could figure out a way to make a good living by just riding around and looking at stuff on my motorcycle. Man, that'd be sweet.