Friday, July 30, 2004
Z1: The Movie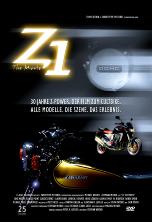 Immortalizing Kawasaki's great contribution to motorcycling
By Tim Kreitz
Since first reading about it on the Internet several months ago, I had been trying my best to get a copy of
Z1: The Movie
, the much lauded, 64-minute German documentary, but to no avail. None of my local video outlets could get their hands on it, and I couldn't find a German distributor that would ship to the United States. Though a difficult pill for a Kawasaki nut like me to swallow, I eventually gave up.
Then one day a few weeks ago, as I was reading through a copy of
Motorcyclist
Magazine, a shining light of hope and joy jumped forth from one of the pages. It was an advertisement for a company that was exclusively distributing
Z1: The Movie
on DVD in the United States. Before the magazine had even hit the table, I was placing my online order. And boy, am I glad I did.
Make no mistake, this video is an absolute, unquestionable must-have for the Z bike enthusiast. It chronicles the complete history of Kawasaki's groundbreaking literbike from a uniquely German perspective, beginning with the arrival and uncrating of the very first Z1 at Hamburg Harbor in 1973 and continuing in detail through the complete range of models to the bike's latest incarnation, the awesome 2003 Z1000. Along the way, many beautifully restored and original examples of the bike are featured and ridden through striking European settings. Technical specifications, performance data, and restoration philosophy are also covered. Attention is likewise given to the Z1's 650cc siblings, the Lawson replica, and the turbo version.
But you don't have to be a Z1 aficionado to appreciate and enjoy this movie. Any reasonably involved motorcyclist will find
Z1: The Movie
both interesting and educational. The Z1 paved the way for modern literbikes, and this film illustrates that fact in enthralling detail. The photography is excellent, the information is useful, and the historical value is more than significant.
For me, one of the most entertaining aspects of watching a film like
Z1: The Movie
is the reminder that things really haven't changed that much over the last three decades. The basic engine design of modern inline fours is still the same, as is the basic sound and feel. They just make a lot more power these days and handling is better than most motorcyclists can use -- a ponderous thought when one considers that there was a ridiculous and unsuccessful political push several decades ago in the U.S. to slow motorcycles down because they were "too fast."
Beautifully shot in digital and featuring an excellent soundtrack,
Z1: The Movie
was well worth the $24.99 I paid for it. Extra features include a "making of" compilation, additional riding footage, German and English language versions, stills, and music tracks.
Available at
http://www.americanclassix.com
Monday, July 26, 2004
Problems with Honda's new 1000?

I was rather surprised by Miguel DuHamel's opinion that it was likely a
catastrophic engine failure
that caused him to crash out the Sunday Superbike race at Mid-O:
"I think the (engine) seized on the crank," said DuHamel at the Honda truck after the race. "That's about as rare as seeing a comet no one else has ever seen before and calling up NASA. It's really unlucky."
I'll say. If so, this is a significant event for American Honda. I'm talking serious bad news here. In case you were wondering, modern 4-cylinder Japanese engines simply don't blow up -- at least not in the way DuHamel explained it. To completely lock one of these motors at the crank, something has to've gone terribly wrong internally. And we're probably not talking about a bent valve or broken cam chain, either. One has to wonder if we might be talking "gee, maybe we shouldn't haved shaved down the internal parts so much in a n effort to save weight" problems.
Let's hope for Honda's sake (and for the sake of modern motorcycle engineering as a whole) that such a failure is not what happened.
Friday, July 23, 2004
Is Nicky on the verge of his first MotoGP victory?

He's been showing up on the podium and racing very well lately. Now, he's gotten his first
provisional pole
in MotoGP. It would seem that a certain amount of team momentum is building for the young Kentuckian.
Granted, provisional poles don't mean much in the grand scheme of things, but this has been a year of many firsts for Hayden, and it's not unreasonable to expect that he could end up on the top of the box before the season ends. We'll see.
Everyone enjoy the weekend. I'll see you Monday.
Tuesday, July 20, 2004
Street stunters: Motorcycling's great scourge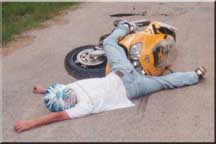 Q: What do you get when you cross a highly inexperienced, 18 year-old stunter with a cutting edge, 10,000-dollar hypersport motorcycle?

A: Why, you get lots and lots of road rash, of course -- along with broken bones, the occasional dead newby, and higher insurance premiums for everyone else on the road.
I always get cranky around the middle of summer -- or as I like to call it,
the peak of squid season
. It's that precious time of year when all the idiot parents of the world have either purchased, or allowed the purchase of, high-performance motorcycles for their bonehead teenage children. If they haven't already killed themselves by July or August, these little darlings have had just enough time in the saddle to start thinking they know how to ride. So with less than a thousand total miles of experience and no formal rider training whatsoever, our young squidlies suddenly decide that they are ready to perform skitches, wheelies, stoppies, nac-nacs, and all kinds of other complicatedly trite, outrageous stunts. These stupid tricks are accompanied by outrageously fast speeds, applied in all the wrong situations. All, of course, to be done on the street and with motorcycles that have the power-to-weight ratio of Trident missiles. The results, as I'm sure many of you have seen for yourselves, are often disastrous. In the process, there is plenty injury, death, and a mountain of totaled motorcycles, the repercussions of which are felt by every responsible rider on the street to one degree or another.
Someone please tell me, what exactly goes through the minds of parents who decide that it's a perfectly reasonable idea to buy their son or daughter a motorcycle that can reach speeds between 175 and 190 miles per hour? Hell, they haven't even had time to become experienced drivers yet, much less responsible, pro-active motorcyclists. I just don't get it. The first street motorcycle I rode on a regular basis was a 250cc single, and that was after years of mini-biking and dirt biking. What I wanted was a 900 Ninja like
this one
, but thank God my parents were smart. They would've literally laughed me out of the house had I seriously tried to talk them into letting me have such an outrageously powerful motorcycle -- and I knew it.
Today's literbikes, by comparison, make the old mid-80s Ninja look like a pussy cat. The newer generation of bikes is lighter and faster than ever before. For example, in the time it takes a top-of-the-line Porsche or Corvette to get to 60 mph, a new GSXR1000 or ZX10R has already exceeded 100. In fact, you don't even have to shift out of first gear to reach 100 mph on the 10R. The thought of one of these bikes in the hands of an inexperienced newby is a frightening concept, but is a daily occurrence.
I don't want to ramble-on too much with regard to this subject. You get the idea. Almost without exception, these kids have a "ride it like you stole it" mentality, and so far this season, I've seen their lack of reverence for the amenability that should accompany motorcycling cause at least a dozen crashes here in West Texas. What's even more amazing is that these kids have no concept of personal responsibility for their actions, always trying to blame their crashes on other factors besides their own lack of skill and poor decision-making.
"A stupid car pulled out in front of me and I crashed," says the squid, who was going 105 mph down a residential street. "It was the auto driver's fault."
These kids are the future of America. Lord help us.
Monday, July 19, 2004
Mid-Ohio is literally anyone's race amongst the factory boys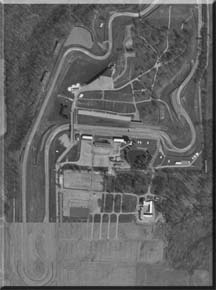 I have a feeling that the coming weekend's double-header at the Mid-Ohio Sports Car Course could very well turn out to be two of the most exiciting rounds of the 2004 AMA season (so far, anyway).
When you look at the recent history of the AMA series at Mid-Ohio, it becomes readily apparent that many of the significant racers in the current field are proficient there, five of them having won one or more superbike races apiece at the historic track. Mladin, DuHamel, Eric Bostrom, Picotte, and Yates have all been victors there.
This year's grid also includes a gaggle of hungry privateers who could very well end up on the podium, if nothing else. The names Hayes and May come to mind off hand.
Highly regarded by many of the Superbike guys as a fantastic track, Mid-Ohio seems to inspire not only confidence, but a willingness to push the limit. Combine that with the current dynamics and close points race of this year's series, and you have a formula for excitement.
Friday, July 16, 2004
Just what you wanted to read: Another article on the Bostrom/Ducati situation

It's predicaments like the one Eric Bostrom is currently in that clearly illustrate how life as a superbike racer can sometimes be a righteous bitch.
As we enter the back stretch of the 2004 AMA season, Eric and his Ducati Austin team have certainly experienced a few moments that were the best of the best (victory at Pikes Peak and a lap record at Daytona), but the rest of the time they've been dealing with the worst of the worst (uncharacteristic crashes, poor qualifying times, and a bike that seemingly can't be sorted-out mechanically) in a topsy-turvy year of racing that has apparently shattered Eric's confidence. I could cite a dozen or more other articles to bolster this observation, but
this article
by Dean Adams and
this one
by Chris Martin provide the gist of things well enough. In summary, Eboz is visibly shaken and his team is quietly unhappy.
The last time I saw Eric face-to-face was at Pikes Peak in 2003, a racing season that saw him take multiple victories in Superbike and stay within a stone's throw of the points lead on an arguably inferior bike to the exotic 999 he's been struggling with in 2004, the Kawasaki ZX-7RR. At that time, he was his normal, relaxed, confident self. And as is his usual M.O. at PPIR, he kicked major ass with an awe-inspiring, walk-away win. Were it not for a bonehead move by Aaron Yates that took Eric out for the remainder of the season at Laguna, I still maintain that Bostrom could've pulled off a championship that year. He had momentum, he had his mind right, and the Little Green Bike That Could seemed to be set up perfectly almost every time he got on it.
So what happened? Well, any current set-up problems aside, I have my own theory as to why Eric is struggling this year. Not a single other moto writer I know of has postulated on this idea, so I'm probably totally wrong, but indulge me for a minute. Here's what I think: Eric's trouble is 90 percent mental, and it all started when he was taken out at Laguna last year.
There, I said it.
Maybe it's a stretch, but let's take a quick inventory of what Eric has had to endure since that moment in time:
1. Get out of my way, dammit! I'm Aaron Yates!
Eric was immediately extracted from the 2003 points race (a championship he could've conceivably won) by the aforementioned Yates incident, which signified the third consecutive season in which Bostrom had gotten aggravatingly close to becoming champion, but couldn't quite pull it off. If you've ever been with one of those girls who is kind of wild, but will only go so far, you can probably empathize with the frustration such a situation creates. Eric scored a home run with the Supersport harlot in 2001 and then promptly kicked her out of bed to exclusively pursue the homecoming queen that is Superbike. But his subsequent courting has gotten him little more than a wink and a grin from her. Instead, she seems to have the insatiable hots for a certain guy named Mladin.
2. So long, and thanks for all the fish
. As Eric was still healing from his Laguna injuries, Kawasaki Factory Racing announced during the off-season that it was pulling out of Superbike for the 2004 season. Team Kawasaki would concentrate on Superstock and Eric was subsequently released from his contract as a result.
3. The mad dash for a factory ride
. In an instant, one of the best motorcycle racers in North America was without a mount. And while we'll probably never know the full details of Eric's fielding of offers and shopping for a contract, it had to be an extremely stressful experience, especially considering how much he had admired and respected his now-lost Kawasaki team.
4. The sad wings of destiny
. Before the ink on the Bostrom/Ducati contract was even dry, tragedy and loss struck Eric's new team. Just a week prior to Daytona, Ducati Austin crewchief Vic Fasola was forced to resign his position. Fasola's wife Teresa, whom had been battling a long illness, was worsening. Sadly, she passed away in March.
5. New tires, new bike, new team, new sponsors, new pressures.
Fresh off a WSB championship with the new 999 and ready to shake its so-called "curse" in American racing, Ducati set an ambitious schedule of goals for Eric to assist them in accomplishing during 2004. Now, whether a racer or not, virtually any motorcyclist worth his salt can appreciate the sometimes drastic paradigm shift that comes with getting used to a new bike. The same goes for tires. Combine all of those factors in a superbike setting with new team personalities, sponsor demands, and entirely different corporate motivations, and it seems silly to expect anything other than the current situation. There are only so many adjustments a racer can make at a time and still stay focused and productive.
My prediction is that when Eric gets things put together mentally once again -- and he will -- he'll instantly start to feel the bike more and will become comforable on it quickly thereafter. Once that happens, it's just a matter of dialing in the right settings.
Eric, assuming I'll ever be lucky enough for you to read one of my articles, I want to wish you all the best. You have at least one fan who understands that it takes more than a single season to sort out so many drastically different factors.
Hang in there, buddy.
As for everyone else, I'm out of here until Monday. See you next week.
Wednesday, July 14, 2004
I'm pretty sure that Dave at Mojo Racing is single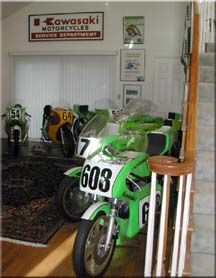 You can laugh if you want to, but there's not one of you guys out there who wouldn't do the exact same thing
if you could
. Hell, I know I would.
A tip of the hat goes out to Ryan at
Odessa Sportbikes
for posting this gem on the message forum.
Wow, an entire
house full of sportbikes
. I'm totally jealous. Totally.
That's a bold statement, man

I think this qualifies as the
bizarre news quote
of the day:
"Lt. James Hoekman from the Minnehaha County Sheriff's Department said, 'Unfortunately with motorcycles not much protection with a motorcycle and when involved with motorcycle car or motorcycle anything accident unfortunately riders of motorcycle takes brunt of injuries.'"
Word.
And no, the article is not translated from Japanese.
Tuesday, July 13, 2004
Ben comes out of the woodwork and Yoshimura Suzuki kicks itself in the gut -- what a weekend!

I was pleasently surprised to see Ben Bostrom win not one, but two races last weekend, one of them being the Superbike race.
"I could hardly remember what it was like to win a Superbike race," Ben told SuperbikePlanet.com. "I'm just glad to be back."
I should say so. Sunday's red-flag-assisted victory was Ben's first in AMA Superbike since 1999, just before he went to World Superbike for several seasons.
Second-place finisher Mat Mladin was, as usual, a superfluous spigot of remarks and opinion after the Superbike race. Surprisingly, Mladin's latently-angered cycnicisms were directed at his own teammate, Aaron Yates, who allegedly held Mladin up for several laps after the restart.
"That's good team spirit right there," Mladin sarcastically said, according to superbikeplanet.com.
Heh-heh. I'd normally be all over Mladin for such comments, but in this case, he gets a pass. There's little doubt in my mind that Yates was indeed in Mat's right of way. It's what the guy does.
Friday, July 09, 2004
Going to Laguna this weekend? If so, make sure to drop by the PitBull tent!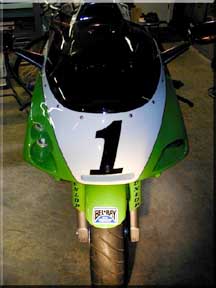 Usenet denizen and all-around motorcycle fabrication guru Larry Lovisone will be showing off one of his latest projects in the PitBull area this year -- a one-of-a-kind ZX7R based on the championship superbikes ridden by Scott "Mr. Daytona" Russell and Doug Chandler.
Larry provides links to more photos of the bike in
this Usenet post
. Excellent work, Larry. I wish I could be there to see it in person.
Everyone have a fun, safe weekend. I'll see you on Monday.
Thursday, July 08, 2004
So, do you think Kenny Roberts, Sr. is cringing or rejoicing right now?

Malaysian-owned Proton, Asia's largest auto manufacturer and venturing counterpart with ProtonKR Racing (the Roberts GP effort), announced in a press release today that it has purchased control of Italian sportbike manufacturer MV Augusta. Hmmmmmmmmm.
I can't help but wonder what, if any, effect Proton's grabbing of the reins at MV will have on Kenny Roberts, Sr. and his fledgling, seemingly curse-ridden MotoGP team. Specifically, I wonder how much of the R&D technology that has been developed via the KR bike is ultimately the property of Proton, and is it possible that the ProtonKR effort could end up boiling in the same pot with MV? Time will tell.
Wednesday, July 07, 2004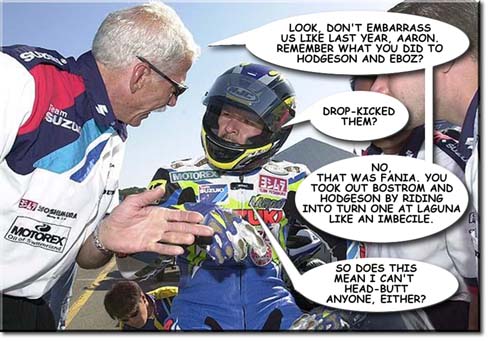 World Superbike Weekend kicks off in just a few more days. Here's hoping AMA Pro Racing doesn't end up with egg on its face again this year.
Is it just me or does "Two Wheel Tuesday" lack focus?

Speaking as one of those guys who'll watch just about any TV show or movie that has motorcycles in it, I really shouldn't complain about the subject matter being offered up lately by Speed Channel's
Two Wheel Tuesday
. I definitely like the show and I think Greg White does a good job. But I'm really put off with how much airtime the show has been giving to things like trials competition, cruiser-style bike rallies, and various other off-the-beaten-path motorcycle topics -- all while we're right in the middle of roadracing season.
On last night's edition, for example, they did a full 10-minute segment on some motocross magazine for kids that was so dull I simply had to change the channel. During a previous segment of the same episode, they did a long story on the Americade Rally -- a subject that had already been beaten to death on a recent epidode of
Corbin's Ride On
, which airs after
Two Wheel Tuesday
on Speed Channel.
Look, I know the show has to be somewhat ecclectic to attract other viewers besides the sharply-focused sportbike crowd, but it's racing season, for goodness' sake. C'mon Speed Channel, how about producing at least one in-depth episode of
TWT
this year that is dedicated solely to everything that's going on in roadracing?
Friday, July 02, 2004
Guess what I'll be doing all weekend -- if you said "riding motorcycles," you are correct

The weather forecast here in West Texas is predicting temperatures in excess of 100 degrees (F) over the holiday weekend, so most of our riding will take place after sunset and late into the night. That's how we do it in the desert, folks. There's just nothing quite like watching 20 or 30 sportbikes approaching from the darkness. It's very cool.
I'm getting a few things buttoned-up at work today and will be taking the next three days off. I won't post again until Tuesday, July 6th, so everyone have a great holiday and be careful. I'll see you next week.
Thursday, July 01, 2004
Seemingly immortal Rossi admits he's working harder than ever before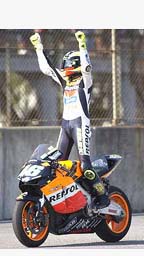 Defending MotoGP champion and all-around motorcycle diety Valentino Rossi explained in a press release this week that he's having to push his mental and physical limits harder on his Yamaha than in previous years with Honda (when he was greedily winning GP titles like a schoolyard bully collecting milk money).
Perhaps that's more a simple observation than a revelation, but before you utter a loud, sarcastic "duh," think back to some of the epic battles Rossi had to fight against Max Biaggi to secure wins during the last few seasons. The fact that he's in the points lead at all (on a totally different mount that is arguably an inferior platform) is impressive enough. But that the kid hadn't yet peaked on the ability scale in years past is downright awe-inspiring. My guess is that he'll continue to blossom.
"When I was on the Honda I always pushed to the limit, but I could afford to wait for a while and then go," Rossi said. "Now I have to push from the start to the end. I knew Sete would be strong, but he has been very, very strong. I am on top of the championship now but there is a long way to go."
Rossi referred to his current points battle with Sete Gibernau, who seems to be replacing Max Biaggi this year as Valentino's primary pain in the ass. Personally, I'd like to see Edwards or Hayden take that job, but so far, no dice.
Kawasaki's "Hayes Line" and Honda's full-force attack on Yoshimura Suzuki

While reading
this Evan Williams article
at superbikeplanet.com, I started to ponder upon whether the winds of change are blowing once again in AMA roadracing. Josh Hayes, the talented, satellite-supported privateer on the new ZX-10R is currently leading in points over several factory riders, forming the dreaded "Hayes Line" that you definitely don't want to be behind unless you're also a privateer. At the same time, American Honda seems poised to finally dethrone Yoshimura Suzuki with their outstanding new CBR1000RR (piloted by riders such as Zemke and DuHamel). All in all, 2004 is shaping up to be a much more interesting year than anyone thought. Heck, Ducati even won a race this year.

Magnificent Seven, Brainerd-Style
by evan williams [superbikeplanet.com]
Wednesday, June 30, 2004

1. Jake Zemke, Erion Honda -- Jake got his first career Superbike win at Brainerd, emerging victorious in the controversial race after finishing in second place six times this year. Zemke came up huge to win pole in Superbike despite only a handful of laps due to a crash and was a close second in FX.

2. Jamie Hacking, Yamaha -- Hacking led every practice and qualifying session he was in at Brainerd and won the Superstock race to ease his points lead back to a healthier margin. Hacking wasn't able to capitalize in Superstock after choosing the wrong tire during the red flag and was passed by Jason DiSalvo for third in the last corner of the final.

3. Tommy Hayden, Kawasaki -- Tom consolidated his Supersport points lead with a tight win over his brother and teammate Roger Hayden. Tom said he wasn't going to break until after Rog did the final time through Brainerd's turn ten, even if he couldn't make the move stick on the way out. The result was a win.

4. Josh Hayes, Attack Kawasaki -- Hayes was very tough at Brainerd, leading a Superbike session, and qualifying fifth in Superbike. Hayes qualified and finishing second in Superstoc, having proved to be the toughest competitor to Hacking on Sunday despite not having a factory machine.

5. Miguel DuHamel, Honda -- Miguel closed the gap further to Mladin and now the Superbike points race is down to 6 points with seven races to go. Miguel won Formula Xtreme at Brainerd and finished second in Superbike. Some thought it should have been a win, given the red flag on the final lap of the race and the language of the rulebook.

6. Jason DiSalvo, Yamaha -- DiSalvo was on the podium in both Superstock and Supersport. It was his first podium in Superstock for the young rider in his second year with Yamaha.

7. Mat Mladin, Suzuki -- Mladin came into Brainerd outgunned again but in better shape than he was at Elkhart. Like at Road America, Mladin lost points to the Hondas but minimized the bleeding by pushing hard through turn one and two, plus the infield. The result was Mladin retains the points lead after three Nationals at Honda tracks because he finished a close third.

World Superbike Weekend approaches, and I refuse to call the raceway anything other than "Laguna-Seca"

Don't get me wrong, I do understand the need for corporate sponsorship in motorsports. But I can't seem to get used to saying "Infineon Raceway" or "Mazda Raceway at Laguna-Seca" and therefore, I won't. It just doesn't sound right. C'mon, these are historic racetracks were talking about. Sadly, it seems even the great road courses of America are going the way of American Airlines Center and Erickson Stadium.
I promise not to badmouth the current sponsors of these tracks, but if I open the paper some morning and find that they've changed Watkins Glen to "Wal-Mart International Sportscar Course," I'm going postal.