Sunday, November 15, 2009
With no particular place to go

I scheduled almost all of my October weekends to be free for motorcycle riding, and man, I didn't waste any of it. Dingo Sanctuary and the Tim Kreitz Band took a break except for two local performances and I spent the rest of the month having some pretty excellent Autumn motorcycle adventures with friends. There was the Three Sisters ride, the Davis Mountains (our Verhalen run), Iraan, Robert Lee, and the list goes on.
Those rides were all great fun, but today I decided to just bang around Midland-Odessa and hang out a bit. After a nice afternoon of buzzing around by myself for a change, I ran into my good friend Rodger late in the day at the Starbucks over in Odessa, and we ended up riding to a local Odessa park to catch the sunset.
Rodger pulls up to my table at the Bux:
It was a bit breezy (more than I prefer), which was causing the waves on the water to whitecap at the park: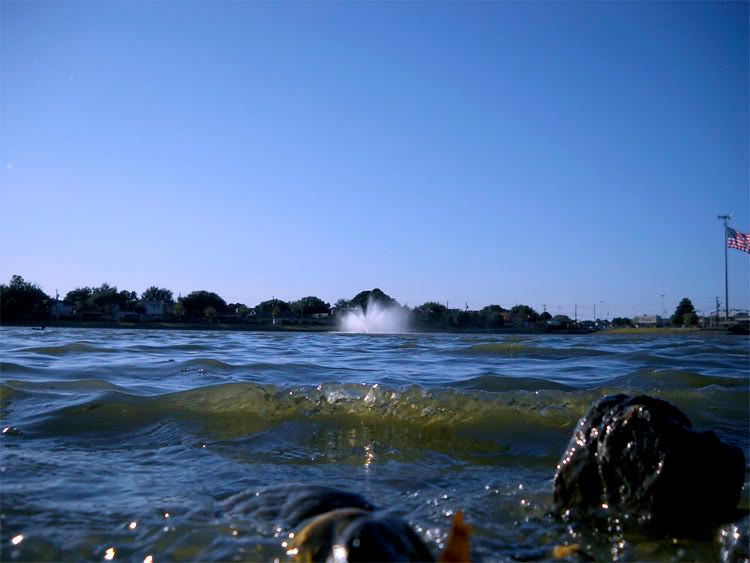 The leaves are changing and starting to fall off the trees. It makes for beautiful evenings surrounded by all the color:
Rodger's bike on top of a huge concrete drainage slab near the water's edge: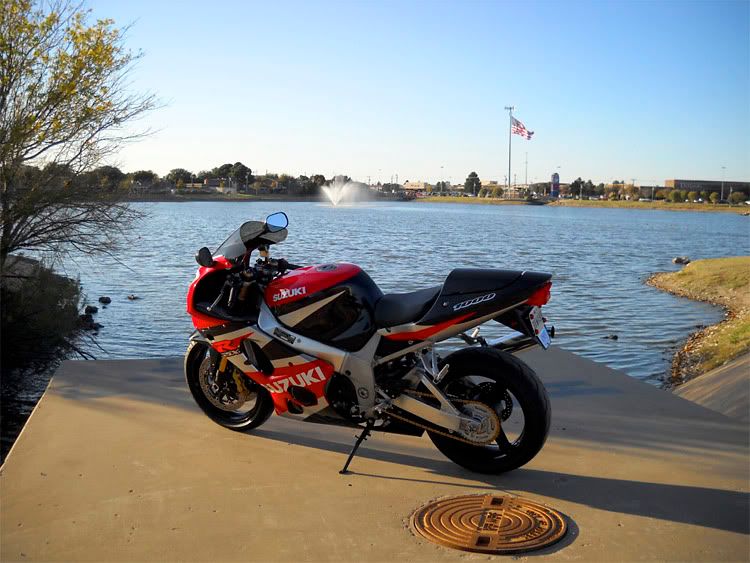 Obligatory greatness: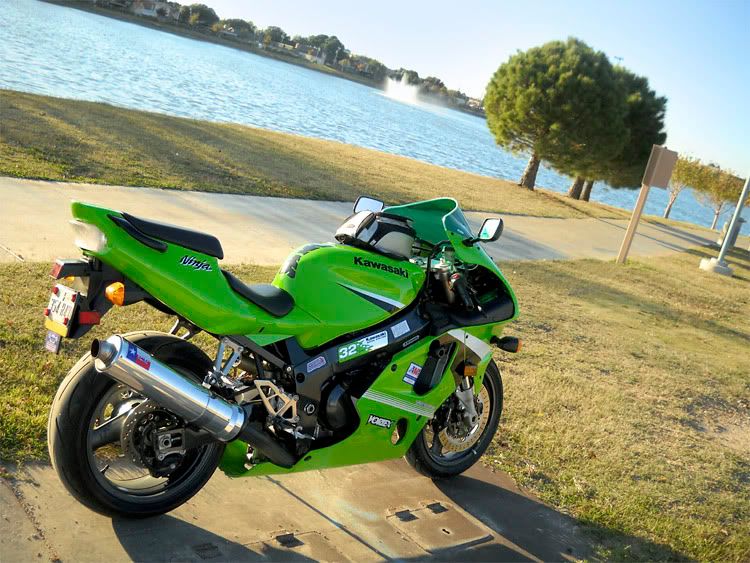 This photo is proof that you're never too old to be a troublemaker:
I don't understand why, but this park is filled with statues. Creepy ones:
There, that's better: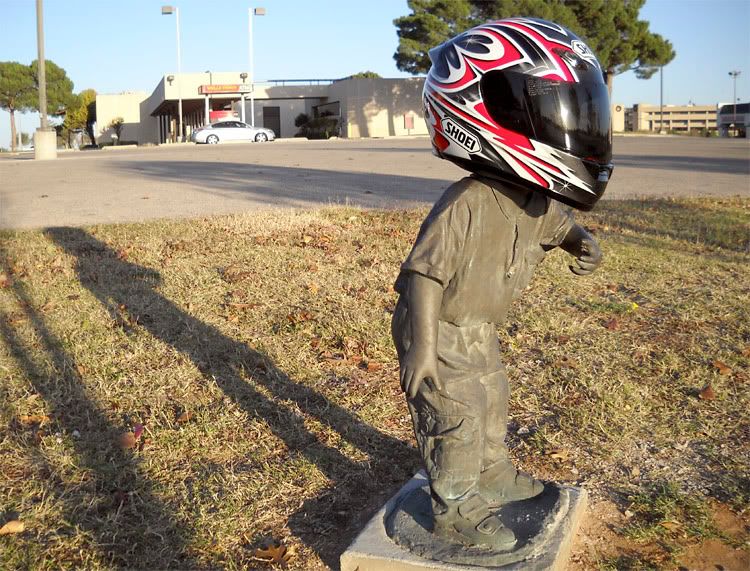 Soon thereafter, we were provided with the glorious sunset we'd come to see: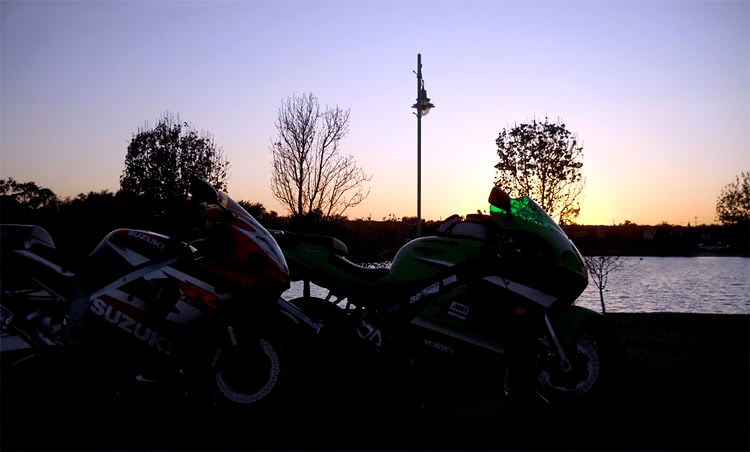 Everyone have a great week, and remember: You don't have to go anyplace special to see something astounding. God's beauty and wonder are all around you: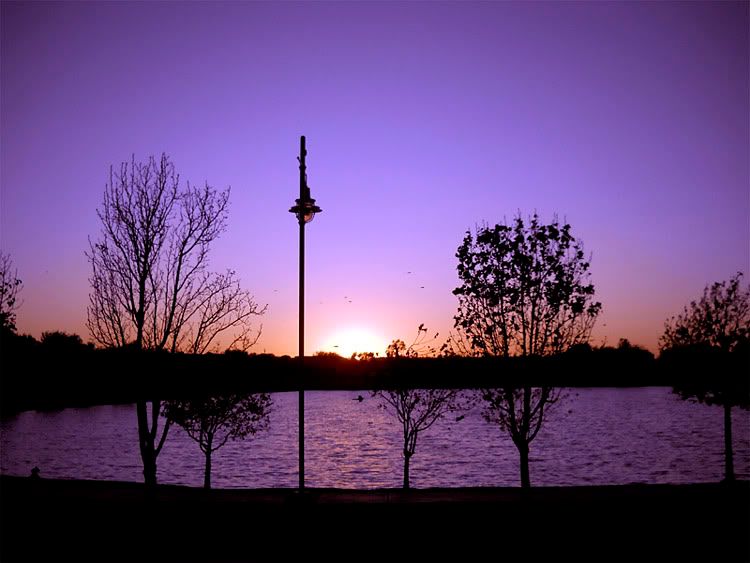 Sunday, November 01, 2009
Verhalen ride report: A barn full of vintage beauties

I got a call from my buddy Carl at the beginning of the week, asking if I'd like to take a ride to -- of all places -- Verhalen, Texas today.
"Verhalen? Why Verhalen?" I asked in a what-are-you-trying-to-get-me-into-this-time sort of tone.
For those of you who don't know, Verhalen is a little ghost town just north of Balmorhea at the northern edge of the Davis Mountain Range. About five people live there -- literally.
But I've gotta hand it to Carl. When it comes to finding vintage bikes stashed in out-of-the-way places, the guy is like a supernatural moto-medium. And when he explained that we were going to see his friend Jim Franklin's vintage bike collection, I was immediately onboard. So this morning around 11:30, Britt and I made the ride to the Odessa Starbucks, where everyone was meeting to make the trip.
Heavy Bus Racing's Marie and Carl Peterson, and Dingo Sanctuary drummer Britt Parker tanking up on snacks and caffeine before the ride: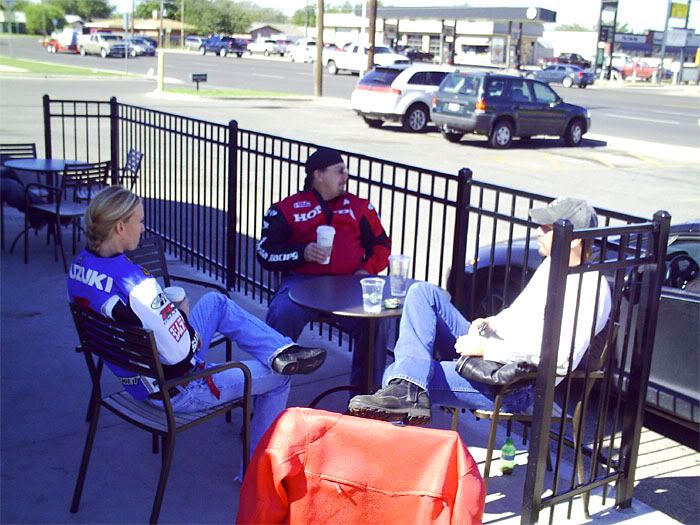 Our first stop was in Monahans, where we grabbed a late lunch: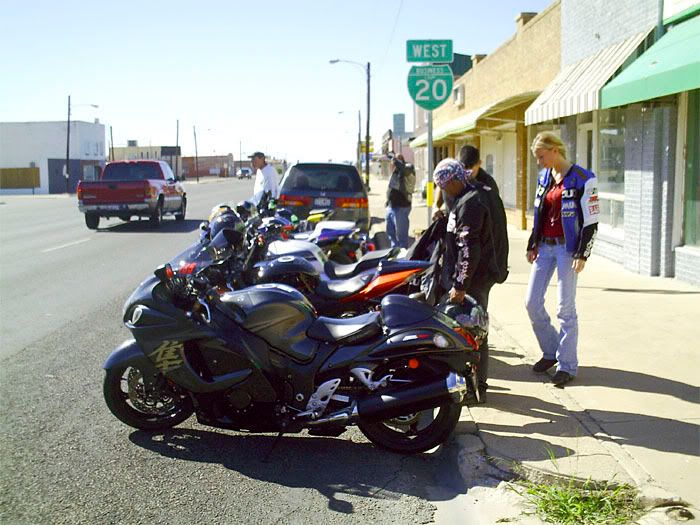 I thought I had some good shots of our awesome Mexican cuisine, but I was unfortunately using the wrong macro and none of them turned out. I did manage to get a pretty good shot of the tablecloth, however:
Our next stop was in Pecos, where we refueled and met another group of riders for the final 20-mile (or so) leg into Verhalen. The Flying J is your friend in the remote badlands of West Texas:
Not long thereafter we had arrived at Mr. Franklin's place, The Goat & Guinea Cafe:
The place is not an active restaurant as far as I can tell. In fact, it's a place right out of The Three Burials of Melquiades Estrada, and is guarded 24/7 by a rather unfriendly looking fellow next door who has a penchant for glaring at you silently while shouldering a double-barrel shotgun. You don't want to be around this place without permission, make no mistake.
We, on the other hand, were invited guests -- and I couldn't have been happier about it once we got inside. The first thing that caught my eye was this beauty: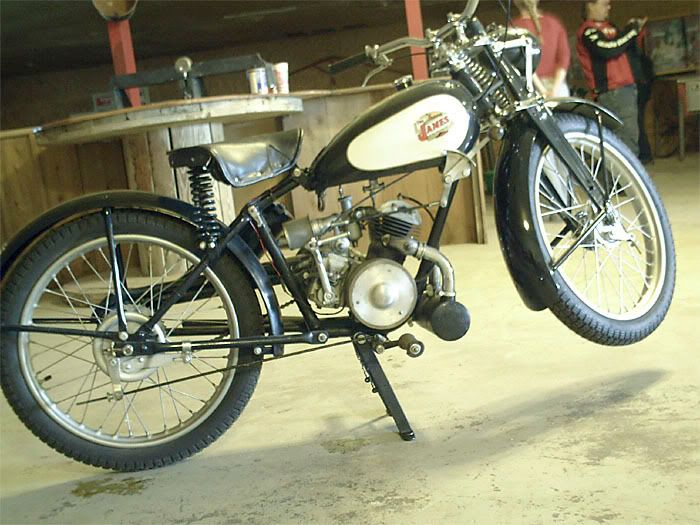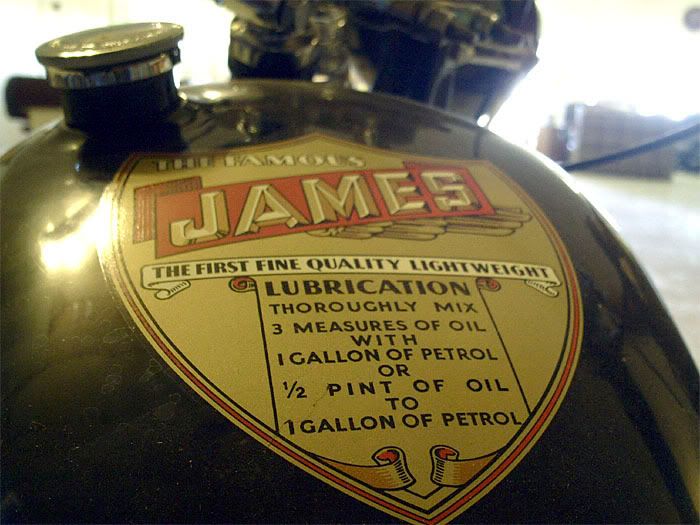 Yes, it's the real deal. A non-military variant Famous James, complete with original open speedo gear assembly:
In a side room, there is another Famous James awaiting resurrection: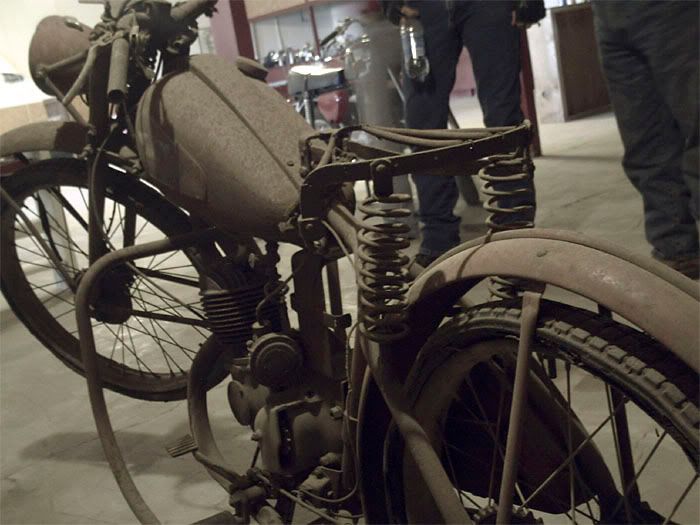 Hiding in the dark between a couple of old pinball machines, I found this:
Jim is apparently a Hee-Haw fan:
Vintage MZ, anyone?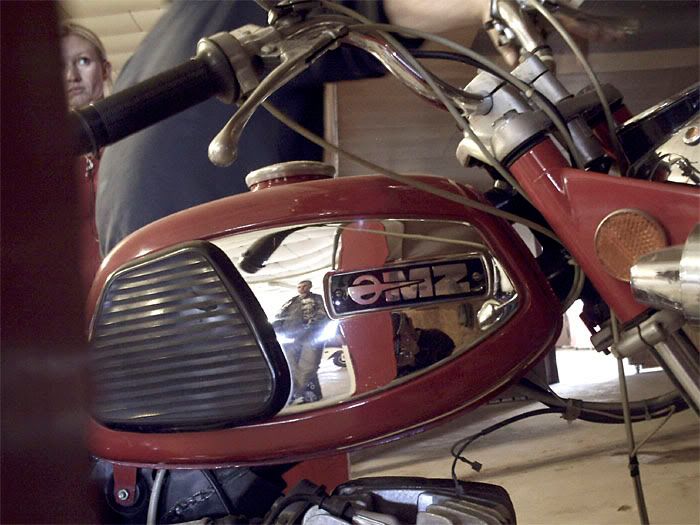 But the highlight of the visit was when Mr. Franklin said, "Let me get these old BMWs warmed up so you all can
ride them
."
'Did I hear that correctly?' I thought.
Apparently so, because before I knew it, Jim's 1973 R75 and 1980 R65 were purring like kittens and being wheeled out the front door.
Carl was the first to take the R65 for a spin: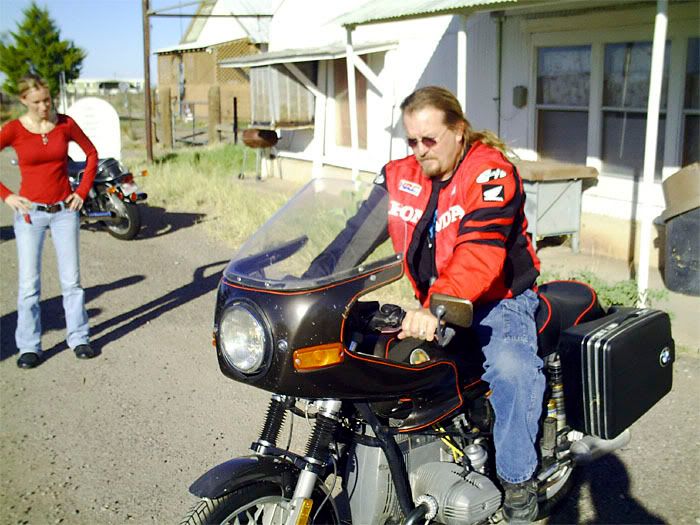 The R65 is a former road-race bike that has been put back into street trim. Turn up your volume and bass all the way, and listen to Carl make a pass on a vintage example of German greatness:
I rode the R65 shortly thereafter, and by that time, Marie and Britt had both ridden the R75, which was equally awesome in its own way:
Back inside, we explored the old building:
Britt tickles the ivories on a piano that hasn't been tuned since 1935. It wouldn't have mattered anyway. Stick to playing drums, old buddy: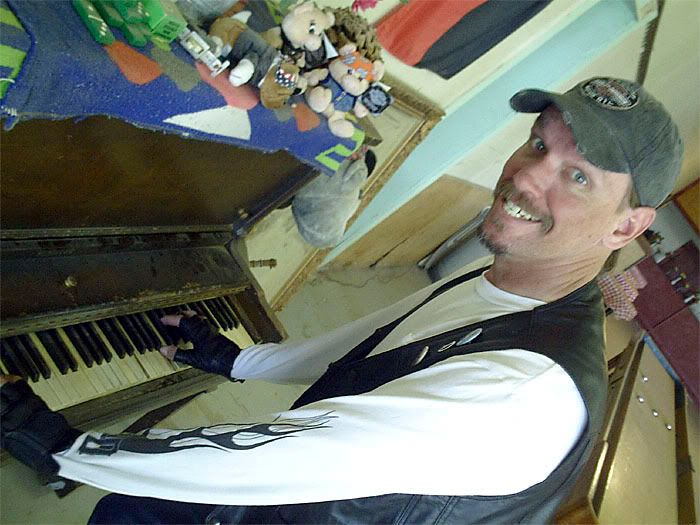 You are in:
Well, needless to say at this point in the story, we ended up screwing around a lot longer than we planned and the sun was starting to get low in the sky. It was cooling down and we had a long ride back. But as we were getting ready to go, one of the Odessa guys, Jeff, noticed that he had a leak in his rear tire. So it was off to Jim's house between Verhalen and Balmorhea to plug the tire.
By the time we were done, it was sunset. The time change, combined with poor time management throughout the day, was going to now result in a cold, dark, 125-mile ride home. I looked to the south just before we left, the Davis Mountains looming in the distance as a stark reminder of just how far from Midland we were. Suddenly, I had that strange, urgent, out-of-place feeling you experience sometimes in dreams. It was time to go:
Feeling no need to take it easy on his fresh plug and running in excess of 100 miles per hour on several occasions, Jeff's tire was unsurprisingly flat again as we entered Pecos. This held us up even longer, as we waited for him to get a bicycle plugging kit from the local Wal-Mart and re-repair the repair. Thirty minutes later, he was plugged again and it was getting cold and dark. We finally made it onto the interstate at dusk.
I arrived home under a full moon and starry sky. I was cold, tired, hungry, and ready to get off the Z-Rex. All-in-all a wonderful day, but I was never so happy to be home. I arrived just in time for dinner and a back rub from my lovely wife, so things are definitely looking much better now in retrospect.
Total mileage for the day was 255 and the weather was thankfully perfect for November. Despite the problems and late return, all made it home safe and sound. It was a fantastic experience.