Thursday, December 29, 2011
Harley-Davidson gambles on younger bikers and wins

This Reuter's article
reports that Harley-Davidson's recent attempts to lure younger riders to their brand with stripped down bobbers at lower price points, a marketing plan which was scoffed at by some H-D traditionalists, is working:
For the past decade, the Milwaukee, Wisconsin, Harley-Davidson Inc had largely been stymied in its attempt to reach a younger audience.

As it poured resources into entirely new lines of bikes, often designed to lure the 20 and 30-something crowd, or used advocates like a Victoria Secret supermodel to encourage younger buyers to feel it's cool to own a bike - Harley's core customer base of well-heeled baby boomers only got older.

But the effort is finally gaining traction under Chief Executive Keith Wandell, who took Harley's helm in 2009. He immediately began modernizing the company, from the assembly line to the dealership floor, even if it meant offending loyalists.

The effort to get younger has consumed millions of dollars worth of investment in design changes, aggressive marketing of lower-priced bikes, and a massive effort to teach thousands of aspiring bikers to operate a motorcycle.
As expensive as new sportbikes have become in recent years (for example, a 2012 ZX-6R is almost $10,500), H-Ds in general seem more affordable comparatively. Plus, given the difference in insurance premiums between a Sportster 48 and a CBR600, the new bobber-style Harleys are appealing in more ways than one to young riders.
And predictably, some in the old guard of H-D loyalists don't like the change they see going on around them:
Some of the old timers already are pushing back on the company when they see new bare-bones retro bikes that make up the hot selling Dark Custom lineup and are aimed largely at youth, said Joe Fredo, sales manager of Harley-Davidson of New York City.

"They're like, ugh, that's not a real Harley," he said.
I've seen this elitism for myself at various moto-gatherings in my own neck of the woods, especially regarding attitudes toward the newer Sportster-based models. The boomer on the 30,000-dollar custom HD bagger doesn't like the idea of some young dude buying a used, stripped down Harley for 6,500 bucks and so easily getting to be "in the club", so to speak.
The funny thing is, the Sportster line are some of the most appealing motorcycles Harley's ever built. I'd much prefer one over any of the ginormous geezer bikes in the lineup.
Every time I hear one of the older Harley guys ragging on a 48 or Nightster or XR1200, I wanna wanna walk up and say, "What's the matter, man? Are you pissed off because that bike is cooler than yours?"
But I don't, because I'm a lover, not a fighter.
I'll openly admit that I really do like bikes such as the XR1200, Sportster 48, and Nightster. They have plenty of zip and look great. And for some inexplicable reason, I'm glad to see HD gaining ground again. In our current government-decimated economy, it's sort of nice to see.
On the other hand, a new Triumph Bonneville is $3,000 cheaper than the Sportster 48 and goes just as fast with better handling. It's also equally as beautiful. That's something those interested in traditional styles of motorcycle design should keep in mind. Harley could do more to bring down the price of their motorcycles, but maybe not without getting out from under the thumb of their unions and other internal dynamics.
At any rate, kudos to Harley-Davidson. Here's wishing them many more years of success and prosperity in the good old USA.

Sunday, December 25, 2011
You know what? Screw this weather!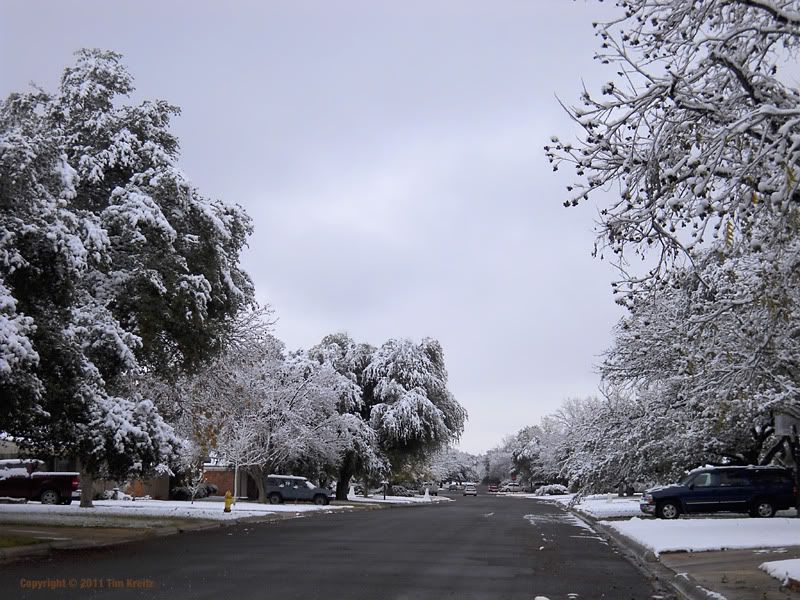 The picture at right is the street I live on in arid Midland, Texas. At least it's
supposed
to be arid. For the past few weeks it has been sleeting and snowing intermittently, with obviously lower than average temperatures. And today, Christmas Day 2011, is a white Christmas.
For most, that's something to look forward to, or so I've read and heard in song. The problem for me is that I'm never dreaming of a white Christmas, but rather a warm, sunny Christmas season when some of my time off can be spent having fun on two wheels. One of the advantages of living in the desert southwest, after all, is that we don't mothball our bikes for four months out of the year. We ride all the time, and the holiday season is usually no exception. Well,
except
this year.
But that said, after a year of the worst drought conditions on record in Texas (along with massive fires that destroyed millions of acres), I'm trying not to complain too much about the sogginess and cold we've been experiencing as of late. We need precipitation, and I'm glad it has returned. It just sucks to get all mentally prepared for the magic of winter riding in West Texas, and have your schedule reduced considerably.
All that whiney bitching aside, I will say that there've been a few bright spots this winter. We've managed a few really good day rides in very cool conditions where the use of full winter gear made for enjoyable journeys around West Texas. The picture below, from November, is a good example. It's me (pictured right) and one of my best friends, drummer Britt Parker from Dingo Sanctuary, standing on some railroad tracks between Crane, Texas and Rankin, Texas. It was a good riding day, that one, and I'll be staring at the pic fondly until another day comes when we can make it happen again. Stay warm everybody.