Tuesday, August 31, 2010
1978 Kawasaki KZ1000 Limited Project Update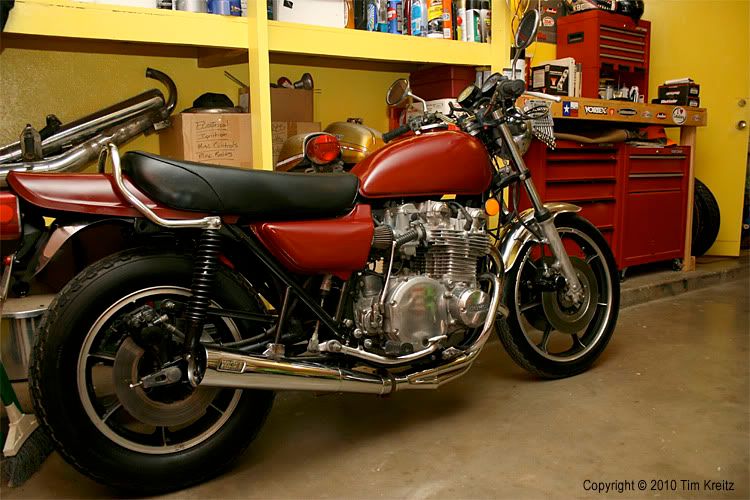 As of tonight, generally all mechanicals are properly sorted and I just have a few electrical issues left to iron out. Namely, there are no leads going to the horn and the speedo light is burned out.
So far, this is what I've done (and I solicited my good friend and expert motorcycle mechanic Rodger's help for some of this):
1. Carburetors overhauled
2. Compression check (all good)
3. Generator check (all good)
4. Various wiring and circuit repair
5. Tach drive overhaul
6. Various mechanical refurbishments
7. Frame painted
8. Partial engine polishing
9. New tubes
10. New tires
11. New fuel lines
12. New battery
Also, tonight was my first ride with which I put the bike through its paces; highway speeds; running near redline a few times; hard braking; faster cornering. It was also the longest ride I've ever taken her on. She did great.
My next orders of business will be a valve check, carb synchronization, and to replace the automatic cam chain tensioner with a manual one. Other than that, she's pretty much ready to go to paint.
One final note, and there are many of you here who will understand what I mean by this; tonight was the night that I fell in love with the KZ. It was the first time that I actually got out and really felt and experienced the motorcycle as it was meant to be experienced. For once, I wasn't doing something mundane with the bike like burbling it gently down the street six blocks to the office, or test-riding it around the block once or twice after laying underneath the thing turning a wrench all night.
To help celebrate, Rodger took his fully restored '75 Kawasaki 100 out of the garage and we tore around town, having a great time. It was really nice to have all the hard work begin to pay off.
More updates to come.

Saturday, August 21, 2010
Good-Old-Days Syndrome: I Has It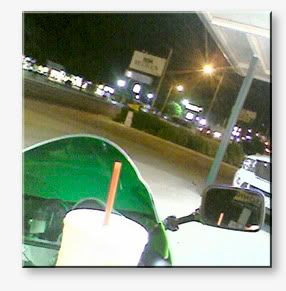 Or perhaps worse; maybe it's even the beginnings of Old-Man Syndrome. Zoinks. Either way, I got a potent dose of just how much things have changed in my hometown of Midland, Texas over the past twenty years when I went on a late-night ride tonight to meet some fellow motorcycling friends.
It all started earlier this evening when my wife, who's been sick with a stomach virus all weekend, told me to get out of the house (i.e., out of her hair) and go for a ride. No problem there. Next, I checked the local riding forum to find that some guys I know were gonna meet at 11:30 on the northwest side of town. But I figured I'd leave early for a little "me" time, riding alone before meeting the group.
So, just for the sheer nostalgia of it, I started thinking about where I would go if it was two decades or so earlier and I was a 17-year-old kid, cruising around town on my Rebel 250, looking for fun. The preferred choice back then would've been a simple one to make for a kid growing up in Midland: the "strip" on Midkiff Road between Cuthbert Avenue and Andrews Highway.
In the late '80s and early '90s, the strip would've been alive with activity on most any summer Saturday night. Hundreds of kids in hot rods and on motorcycles would've been lining the street for blocks, hanging out and having fun under the streetlights in the many shopping center parking lots on both sides of the road. They'd have been packed like sardines into the Sonic Drive-In, jockeying for the best parking spots from which to be seen and ordering cherry Cokes and chili dogs by the sackload. There would've been some pimply-faced guy with a mullet sitting at the supermarket, blasting Cheap Trick from the stereo of his '79 Camaro to the woots and hollars of big-haired rocker chicks who'd be banging their Aqua-Netted heads to 'Surrender' or 'I Want You To Want Me'. There would've been the occasional drag race, the occasional fight, the occasional flagrant make-out session between hormone-charged lovebirds. In short, it would've been great.
Twenty years later, the strip itself is surprisingly unchanged in its general appearance. The same buildings are still there. The same parking lots are still there. Even the Sonic is still there, which is where I stopped in tonight on my ZX-7R for an obligatory cherry Coke. Despite the similarities, though, one thing's very different: nobody hangs out on the poor old strip anymore. I mean
nobody
.
The pic above (taken from my crappy, outdated flip phone -- sorry) is what it looked like tonight. What was once a bustling scene is now like a ghost town; no more hot chicks, no more loud music, no more cool cars, no more life at all. Sadly, after decades of concern by the property owners along Midkiff, all the hangers-out have been run off and pushed away by police and private security, apparently for good. Now all that remains of those days are the memories of those of us who remember what it once was.
That's neither a good thing nor a bad thing. It is what it is. But in that moment (and this has been happening to me a lot lately), it really hit home that I am getting older. The only thing I'm disappointed about in life so far is that it apparently goes by so damn quickly. Twenty years ago was yesterday.
In the song 'Subdivisions' by Rush, Neil Peart talks about the discontentment of suburban youth, alluding to "lighted streets on quiet nights". That lyric popped into my head as I drank-in the silence which accompanied my now overpriced soda. The thought then led itself to yet another Peart lyric from a different song: "Changes aren't permanent, but change is."
Indeed.

Thursday, August 05, 2010
Midland Powersports to host Bike Night II

From the press release:
MIDLAND POWERSPORTS TO HOST MIDLAND BIKE NIGHT II



Midland, TX -- Midland Powersports, in association with westtexasmotorcycles.com and The Superbike Blog, will proudly host the second edition of Midland Bike Nights 2010 on Wednesday, August 18 from 7 P.M. until 9 P.M.

The event is free for everyone and will feature complimentary food and drinks, door prizes, as well as in-store specials on select motorcycling gear. Motorcycles of many makes and models will be on display for all to enjoy in a family-friendly atmosphere. In a addition, Tim Kreitz and Britton Parker of the popular Texas band Dingo Sanctuary will be on-hand signing free CD copies of their new album, A Dragon To Feed.

The purpose of Midland Bike Nights is to foster good will and friendship between motorcyclists of all genres while creating awareness of and interest in the sport amongst the general public.
I hope to see as many West Texas motorcyclists as possible at this event. Special thanks to Midland Powersports for volunteering to host.

Sunday, August 01, 2010
I must be crazy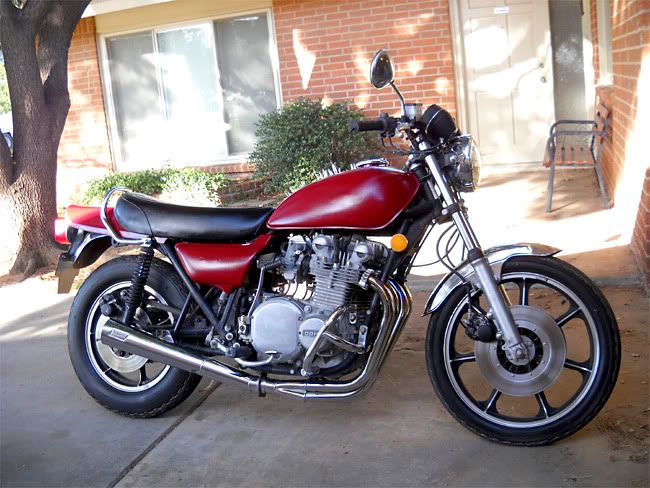 And I probably am, but I just couldn't help it. As of two weeks ago, I am the proud owner of a very troublesome 1978 KZ1000 Limited.
The photo at right shows the bike on the day I got her. She runs strong, but needed just about everything you'd expect: tires, tubes, paint, lots of engine polishing, new carb kits, some minor electrical work, and a battery. So far, I've taken care of the battery and begun the arduous task of polishing. I repainted the frame myself in gloss black, but will have the fender, tank, and side covers done professionally. All the other aforementioned parts are on order, and should be arriving over the course of the coming week. There's no such thing as getting into an old motorcycle cheaply if you intend to do it right.
So, "
Why do it?"
some would ask.
"Why put all that time and money into an ancient Japanese superbike that can't hold a candle to the burning sun of modern motorcycle performance?"
Well, if you don't understand why, it probably won't do much good explaining, but I'll give it a shot anyway.
The first thing you need to understand about the KZ is that it's one of the motorcycles of my childhood. I had an uncle, some cousins, and a father (my biological father, to be exact, whom I've not seen in decades -- long story) who were all into Z bikes at one time or another. It seems every time I turned around from the ages of five to twelve years old, someone in my family was sporting a Kawi triple or KZ. I got to touch them, smell them, sit on them, and go for rides on them pretty regularly during that time. So resultantly, there's a special place for them in my heart. In fact, the early Kawasaki superbikes are a big part of the reason I'm hooked on motorcycling today, and am strangely drawn to Kawasakis in particular. I do own
four
now, after all. Not to mention the other four I've owned previously.
Beyond that, I look at the restoration and ownership of my KZ as sort of a sacred thing. Somebody has to keep these old bikes alive and kicking. They're important. They're historical. They're just flat-out awesome pieces of motorcycling's past.
I'll keep you all posted with regular updates on my progress with the KZ. As with all old-bike purchases, you never really know what you're getting into until you're in the thick of things, and so I'm hoping for no surprises. Wish me luck.