Monday, November 06, 2017
Exploring a ghost town that's hanging on to life

Matt and I visit the small, unincorporated town of Gail, Texas on an autumn motorcycle ride. It's almost a ghost town, but a few great people are dedicated to keeping it alive. Check out some historic ruins and enjoy the trip with us.

Tuesday, October 24, 2017
Traveling alone on my Triumph Bonneville in the Trans-Pecos Badlands

This was one of those days when I woke, hopped on my motorcycle, picked a direction, and just rode to see where I'd end up. To near the Mexican border and then into the Trans-Pecos region, join me for some rural ghost town exploration in Grandfalls and Coyanosa, Texas. Near the end, I rendezvous with Matt on his ingress homeward from a weekend trip to the hipster-infested community of Marfa.

Tuesday, October 10, 2017
Let's ride to a massive solar farm​ and talk green energy

Clif and I visit a giant solar farm in the trans-Pecos region of West Texas. Is this form of energy production green or just politically correct? Enjoy some breathtaking footage of an amazing facility as we discuss solar energy's questionable efficacy.

Monday, October 09, 2017
This is the time of year when all I wanna do is ride

As many motorcyclists in other parts of North America are dealing with the first onset of winter weather, mothballing their bikes and bracing for snow and ice, we here in West Texas are getting our first break in months from the 90-plus degree heat. The first significant cool front of the fall is blowing through as I write this article, and we are thankfully and at last embracing mild weather and refreshing temperatures. This is the best motorcycle riding of the year for us, hands down.
For me, the changing of the seasons from summer to autumn is a bigger relief than usual this time around. That's partly because a combination of life changes and the summer heat really got to me in 2017. I won't bore you with the minutia, but suffice it to stay that I shut down one of my businesses, took a great full-time job offer, and subsequently found myself in the midst of a pretty significant paradigm shift. As a byproduct of that stress, I rode less during the hot months. In fact, if you're a regular follower of this blog and my YouTube channel, you've likely noticed that such is reflected in the smaller volume of Tim Kreitz Adventures episodes. It wasn't that I didn't want to ride as much; I was just elsewhere mentally and the scorching heat seemed to make it all worse. I even passed on my annual California ride, which as you all know is a big deal.
But with an almost perfect timing, the arrival of this year's cool weather has coincided with a bit of a calming for me. I'm settling nicely into the changes I've made for myself and I'm ready to mentally relax a bit and enjoy autumn riding to its fullest. In fact, it's about all I can think of right now. That's a good thing, because it's an emotional signal that I'm returning to normal. In that regard, I'm always astounded at how motorcycles are such an active catalyst for m​y​ peace of mind and contentment. I don't know that motorcycles can make you happy in and of themselves, but they can make your happiness happier​,​ and therein lies one of motorcycling's true blessings.
That contentment seems to extend to every aspect of my motorcycling life. Even cleaning up my bikes, changing their oil, checking tire pressure, or making small adjustments in the driveway as the autumn air surrounds it all is a bit of a spiritual experience. Robert Pirsig summed it up best when he said, "Working on a motorcycle, working well, caring, is to become part of a process, to achieve an inner peace of mind. The motorcycle is primarily a mental phenomenon."​ ​​Combine that mental phenomenon with the beauty of autumn and you have an almost perfect experience every time.
I​ know there are only a few months left in 2017, but I feel like there are going to be plenty of Tim Kreitz Adventures installments to come between now and then. I have a few new rides and locations in particular I'd like to film as the leaves turn, and I'm anxious to revisit a couple of familiar locations as well. I'm really looking forward to it and I hope you are, too. It's great to be this fired up again. ​
​So h​ere's to fall and here's to bikes. Let's ride.

Thursday, September 21, 2017
Exploring Abandoned Places | Texas Ghost Town Ride No. 22

Exploring the abandoned ruins near the Texas ghost towns of Hadacol Corner, Texon, and Best via motorcycle (Yamaha FZ-07/MT-07 and FJR1300). Aerial footage shot with the DJI Spark drone. Other off-bike footage shot with Nikon DSLR and mirrorless cameras.

Monday, September 11, 2017
Living in desolate West Texas | Share Your World Challenge

Could you live in the badlands of West Texas? It's rugged, desolate, dry, and hot. This land was settled by the toughest of the tough, and you still need to be that way today. This is my answer to the Show Your World Challenge, which I was tagged into by my YouTube buddy SJBali.

Monday, August 21, 2017
Motorcycles In The Mountains | Cloudcroft, NM Dream Ride

My wife and I meet up with Clif, the geezers and the scalawags to ride the incredible motorcycle roads in and around Cloudcroft, New Mexico. Along the way, we visit Silver Lake, the National Solar Observatory, Timberon, and much more. Join us for the funnest motorcycle trip I've taken all year.

Saturday, August 05, 2017
Exploring Old West Ghost Towns | The Tale of Laura Bullion

Clif and I head to Spring Creek and the nearby towns of Mertzon, Sherwood, and Knickerbocker in West Texas to check out some ruins, explore ghost towns, and contemplate the story of Knickerbocker native Laura Bullion, one of the baddest outlaw dames in Butch Cassidy's Wild Bunch gang.

Saturday, July 29, 2017
Why is my channel dying? Is YouTube broken or am I?

Is YouTube broken or do I just suck? In any case, this is a vlog where I go buy motorcycle parts for my ZRX1200R and complain about YouTube the whole way there. Enjoy.

Wednesday, June 28, 2017
This Geocache Is Gonna Make Me Famous!

Clif and I ride to an undisclosed location in West Texas to check on Matt's geocache and add a few things to it. Along the way, we enjoy an astounding West Texas sunset on a warm summer night.

Wednesday, June 14, 2017
DanMoto XG-1 Baffle Mod on Yamaha FZ-07

It's out with the old and in with the older as I re-install the DanMoto XG-1 full system onto my Yamaha FZ-07 and modify its baffles as an experiment. The MT-07 is arguably the best-sounding motorcycle ever to roll the streets of planet earth, which makes the result of this modification all the more interesting.

Sunday, May 14, 2017
Southeastern New Mexico | This Place Is Weird

Clif and I traipse around Southeastern New Mexico on our Yamaha FZ-07 and FJR1300 in search of the little-known ghost town of Bennett. We end the day in the small oil town of Jal and contemplate what the Permian Basin would be like without petroleum.

Tuesday, May 09, 2017
On metaphysical quality, motorcycles, the late Robert Pirsig, and me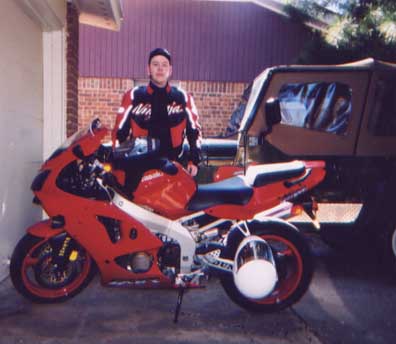 The passing last month of iconic writer and philosopher Robert Pirsig, author of 1974's
Zen and the Art of Motorcycle Maintenance
, is currently resonating throughout both the motorcycling and academic worlds. As you may know if you've followed this blog with any frequency over the past 13 years, I have often fancied myself a bit of a thinker and lay philosopher, one who has repeatedly used motorcycling as metaphor, both in my writings and videos. With that in mind, I feel compelled to compose a bit about how the book has affected me in different ways over the years, and to explore motorcycling as metaphysical quality in a way that Pirsig would've hopefully not completely hated.
I first became aware of Zen and the Art of Motorcycle Maintenance in college during the '90s. My speech professor, with whom I had developed a personal acquaintance, recommended the book to me after learning I was a rider. "You should check it out," he said. "I think it would really speak to you."
But it didn't. Not at first, anyway. Honestly, I struggled to get through Zen the first time around, abandoning the book a couple of times and then eventually dragging back to it. It was tedious to me, often meandering conceptually in ways that left me mostly frustrated. As a young man, I simply wanted the book to teach me how to increase my experiencing of beauty through motorcycles. And while Pirsig did write very profoundly about motorcycles and motorcycling at times, that payoff only existed to a certain extent. Zen and the Art of Motorcycle Maintenance was about something else, too, but I just couldn't fully grasp it at the time.
For one thing, I didn't get all the deep talk about what is quality and why Pirsig maintained that it could never really be defined. Seemed to me he was defining it over and over again in many different ways throughout the book, via subterfuge and – more importantly – example. Example, after all, is the root of definition in many cases. Secondly, in addition to using the story of a cross-country motorcycle tour with his young son Chris as a figurative vehicle for these philosophical excursions, he also employed the concept of his own alter ego in the form of Pheadrus, named after Plato's dialog. I took from the book what I could back then. But aside from the parts I liked that where directly tied to motorcycles and the beauty of riding, I ruled it a brilliant mess. Pirsig was clearly a genius in his own way, but not enough of a genius to employ the necessary language, conciseness, and brevity needed to keep the attention (or move the soul) of a young non-intellectual such as me. I walked away from the book nodding in approval but shrugging my shoulders, and didn't think of it again for another decade.
Fast-forward to the mid-2000s, a period of my life when I had suddenly and inexplicably begun to suffer from near-debilitating episodes of panic. Note that I did not use the term "panic attacks". While classic panic attacks and anxiety were an occasional part of the equation, I was most often plunging into extended periods of full throttle fight-or-flight, both mentally and physically. These periods of intense panic might last minutes or days, but most often lasted for hours at a stretch. Imagine the fear and adrenaline of fighting off a bear attack for hours at a time. That's what it was like. When the episodes would finally subside, they left me exhausted and depressed. So naturally, I was trying anything and everything to figure them out and make them stop. Doctors had no idea what I was talking about when I would try to explain what was happening. Stupidly and invariably, they would always blow me off, usually suggesting strong anti-depression/anti-anxiety medication. The answer was always to write me a prescription and send me on my way. Of course, the meds never worked because they weren't formulated for what I was going through. I've never liked drugs of any kind and stopped taking the stuff pretty quickly. I also stopped going to doctors.
Several things did provide me limited relief, though, and one of them was riding motorcycles. It was during that time, with my mind racked by always being in survival mode, that I began to experience motorcycling (and being around motorcycles) in more the sense I now think Pirsig did. But perhaps oddly, I only began to truly connect the dots after noticing a copy of Walden by Henry David Thoreau on the shelf in a book store. I remembered Walden having been referenced several times in Zen and the Art of Motorcycle Maintenance and it got me thinking about Pirsig. So I went home, dug through a few old boxes for my copy of Zen, and then spent some time online reading about Pirsig. What I found was the key to better understanding the book, Pirsig, and even myself.
I discovered how Pirsig had been the textbook definition of a tortured soul throughout his entire life. In my lack of comprehension during the first reading of Zen, I hadn't truly arrived at that knowledge of him. He had really been in and out of mental institutions as a young man, had been diagnosed with Schizophrenia, had been subjected to violent shock therapy treatments, and had lost jobs and a marriage over it. As I read more and more about Robert Pirsig the person, I began to grasp his philosophies a little better. I could make more sense of his alter ego character, his torturous attempts at experiencing but not defining quality, at viewing himself as his own enemy at times, and at making sense of everything while simultaneously making sense of nothing. My own struggles with panic had helped open that door; not only toward Pirsig, but toward others who suffer inside themselves for whatever reason. Before, I'd had little empathy for such things and often viewed them as pathetic weakness. I was a jerk, essentially, with no relatable experience or sympathetic emotional circuit to close for them. So with those new revelations freshly a part of me, I read over the book again. I still didn't understand certain parts of it, and still other parts I found I disagreed with, but there's no doubt that I came much closer to "getting it" than I did the first time.
Fast forward to today and another decade has passed. Either I figured out how to control the episodes of fight-or-flight along the way or that part of my brain wore out from overuse. In any case they are rarer now, and thank God for that. To this day, I still do not know their exact cause. There is still a mild chronic anxiety humming in the background much of the time, but I've learned to live with it. I guess it is my cross to bear. I would be dishonest if I said it hasn't changed me. But I accept it and am otherwise happy and healthy. The quality, beauty, and spiritual peace provided by motorcycles, being a musician, and being a freemason have most definitely helped along the way. Much more so has the love of family and friends, along with my faith in God.
Best of all, my experiences thus far – still touched often, I believe, by the Pirsig-esque concept of quality – continue to expand. For that I am thankful. It would be interesting to read Zen once again now and see if it speaks to me differently still. Life is quite good, and though I stand at its halfway point having made no fortune, having attained no influence, having acquired no power (having accomplished nothing really), I continue onward with a strange contentment I cannot fully explain. Perhaps that comes from actively seeking, constantly finding, and recognizing with appreciation some of those indefinable qualities over time. Time is a funny thing, after all. It's job is to eventually kill you, but along the way it offers wisdom, perspective, acceptance, and a certain serenity. That too is quality, in both the practical and metaphysical senses.

Thursday, April 27, 2017
The Best Motorcycle Ride In Texas : Three Sisters & Hill Country

A four day motorcycle ride to the Texas Hill Country proves enjoyable and hilarious as Clif, Matt, and I tackle the Three Sisters and other roads in the area. Along the way, we are delayed by several hundred Polaris Slingshots on parade, make a jaunt to the Lone Star Motorcycle Museum, and have lunch at the famous Apple Store in Medina, Texas. It's three days of motorcycles and buffoonery in 20 minutes. Tune in and enjoy.

Thursday, March 30, 2017
Featured Guest Tim Kreitz : Red One Radio

It was an honor to be featured by Red One, one of my favorites in the online motorcycle community. Press play and enjoy the show.

Wednesday, March 29, 2017
Triumph Bonneville Ride to a Secret Indy Car Test Track

I take a ride to a little known private track that was once the site where Indy and Can-Am race cars were built and tested. I also talk about my dad's weird connection to Mr. Dazed and Confused himself, Matthew McConaughey, and how it all fits together in one small rural area of West Texas.

Monday, March 20, 2017
Let's Ride to the Studio • Tim Kreitz Band Performs

I ride my 2013 Triumph Bonneville to rehearsal, where we film and record a little ditty for you. In case you didn't know, Britt Parker and Matt Vann aren't just my motorcycle riding buddies, they are my band. Enjoy!

Monday, March 06, 2017
The Haunted Baker Hotel

Matt, Clif, and I visit the ruins of the abandoned Baker Hotel in West Texas, which has long been purported to be haunted.

Wednesday, March 01, 2017
Near the Real Midnight, Texas | Yamaha FJR1300 & FZ-07 Ride | Sweet Berry Wine

Clif and I have our most random adventure yet when a motorcycle day ride lands us in the small West Texas town of Fort Stockton amidst it's unusual surroundings. I bet the real Midnight, Texas is somewhere close by.

Sunday, February 12, 2017
FZ-07 & FJR1300 Ride: Dan Blocker Museum | Ghost Town of Soash

Join Clif and I as we explore the town of O'Donnell, Texas and visit its museum partly dedicated to Dan Blocker, best known as Hoss Cartwright on the legendary TV show Bonanza. From there, search through spooky ruins with us in the nearby ghost town of Soash. Let's ride!
ADDITIONAL NOTES ON THIS EPISODE
One of the unfortunate aspects of the motovlogging genre is that there is an unspoken time limit for each installment. At eleven and a half minutes, this one will be considered long by many in the audience demographic. The optimal length for viewer retention is about seven to eight minutes according to my analytics. Beyond that, the percentage of those willing to watch from beginning to end begins to drop. So for me to edit this video at the finished length presented tells you what a good time I was having on this ride. In fact, I left out a lot of really cool footage for the sake of brevity, as the video could've easily been twice as long. Still, I'm proud of this episode because, like so many others, I find it to be an enthralling documentation of my riding life, interests, and friendships. I hope you feel the same.
Part of the appeal of this episode for me is that I love little towns like O'Donnell. When I am in such places, I feel at home, and a piece of me longs to live in some similarly quiet little spot; a place with a main street still cluttered with turn-of-the-twentieth-century buildings and where the traditional charms of small-town life survive. It is a way of life that is dying at the hands of urbanization and modernization, and I often wonder if every small town in West Texas will someday be dead and abandoned as the population centers claim their denizens.
In the meantime, I'll continue to preserve these places on video when I can. They are, after all, Americana. Cheers and best wishes until next time.