Tuesday, April 08, 2014
I finally bought a new Bonneville

I've been threatening to do this since 2010 or so, as many readers of this blog are aware. A few weeks ago, the deal and the bike I wanted finally fell into line, and I took the plunge. Here she be: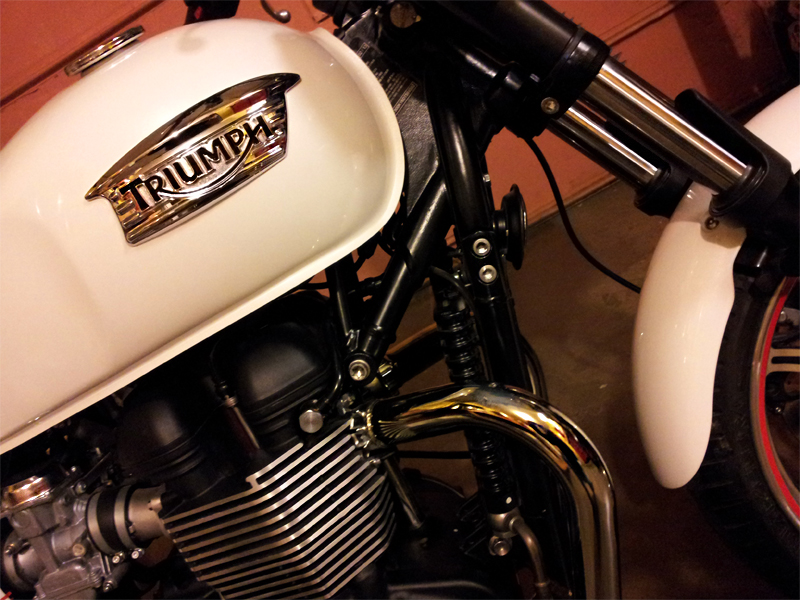 It was a 2013 holdover with one mile on the odie. It hadn't even been serviced. For $7099, I simply couldn't say no.

The first thing I realized upon test riding an identical demo bike before I made the purchase was that all the nonsense talk about the 865cc twin being underpowered and sluggish was just that; nonsense. The Bonneville is crisp, responsive, and rolled up to 85 miles an hour without the least bit of protest. Between the excellent comfort and fit, surprisingly quick handling, and peppy, smooth engine, I was sold.

Being patient got me a killer deal, but I can't believe I waited so long. I couldn't be happier.

Now for the shocker. My 1978 KZ1000 and 2003 ZX-7R are gone. The dealership wanted both bikes, and gave me well above retail value for them. In the end, the Bonneville only cost me about two grand, which I cut a check for on the spot.

So why did I let the Green Machine® and KZ go after so many years, you ask? Well, it came down to practicality.

The ZX-7R had always hated ethanol-laced fuels, and keeping it running right meant constant jet cleaning and replacement, as well as the replacing of other bits. Frankly, I was weary of dealing with it. Also, the 7R was much more fun to ride when I was 32 years old than at 44.

The KZ was always a pain. It fouled plugs constantly, leaked oil, leaked fuel. It was just a very typical 36-year-old UJM. And as soon as you'd fix one leak, another would pop up. This, too, I grew weary of dealing with. In addition, the KZ, too, wasn't particularly fond of ethanol. I'm touring as a full-time musician so often now that I don't have the time to deal with three motorcycles, especially when two had become temperamental. So I shed a tear, got it all out of my system, then put on my Big Boy Pants® and made the trade.

So far, no remorse. Ride reports to come. I replaced the stock pipes pictured above with a nice-sounding set of baffled Emgo bell-ends, which really brought out the deep trademark exhaust note that only a Bonneville can produce. If I've done my mod and tuning calculations correctly, the bike is making about 70bhp on the big end.

Oh, and one last thing: Yes, I still have the Z-Rex and will continue to for the foreseeable future. Some bikes you just don't part with. Peace.


__________________
Thursday, August 29, 2013
A decade with the ZX-7R and the lost AMA article found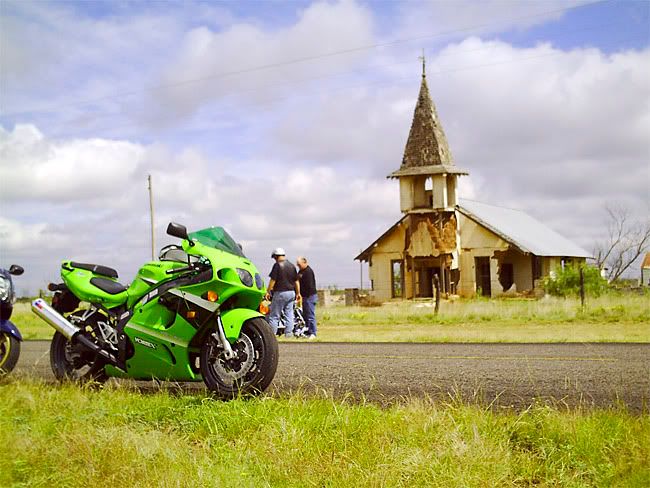 Amidst the events of a nonstop Summer 2013 of touring and working on the new album, it suddenly occurred to me last week that I let the tenth anniversary of purchasing my ZX-7R go unnoticed. The momentous occasion (to me, anyway) went by in a blur one day last month.
Ten years with the ZX-7R is significant to me for several reasons. Firstly, I have held on to the 7R for longer than any other streetbike. In a library of owned motorcycles too long to list over the past 30-plus years, the ZX-7R is the one that has had the most profound affect upon me, making the most striking impression in my heart and mind. If you've ever ridden one and experienced its sound and feel, you know what I'm talking about. Not to mention the fact that the ZX-7R is still the single sexiest, best looking sportbike ever built. Period.
Secondly, I've been noticing more and more in recent years that the ZX-7R is becoming a rare bike. It was always produced in small numbers, so between those 7Rs that were dedicated to track duty and the ones that were mindlessly destroyed by stunters since the late '90s, not many remain on the street. At least every other time I take the ZX-7R for a ride, someone stops me down to ask what it is.
Thirdly, the final configuration of the ZX-7R (1996-2003) represents to me the end of an era, both for race bikes and sportbikes. Shortly before production of the ZX-7R ended, the superbike racing class was changed to 1000cc engines. This effectively killed the 750cc class of bikes on the street, and saw the proliferation of 600s as supersports. The 750cc sportbike, once arguably the most popular and prolific, has now become somewhat of a relic.
For these reasons and more, I feel like the 7R is a motorcycle worth hanging onto, and have no plans to sell it at this time.
I've gone out of my way to take exceptional care of my 7R over the years. It gets ridden the least of all the bikes in my stable now, partly because it isn't entirely practical for day-to-day use, but also because I'm interested in preserving it. It gets ridden 1,000 to 2,000 miles per year these days. I take it to the twisty roads of the Texas hill country and Davis Mountains a few times per year, make the odd ZX-7R day ride, and show up with it at quite a few bike nights. Otherwise, my ZRX1200R and KZ1000 handle the bulk of my routine daily commuting.
In true Kawasaki fashion, it has been a very dependable bike, but a few issues have emerged regarding maintenance of the ZX-7R. Primarily, the bike absolutely hates ethanol-laced fuel. I've been through the motorcycle's carburetors twice since 10-percent ethanol petrol was forced upon us here in West Texas. The alcohol content is highly corrosive and literally eats carburetor jets, rubber carb boots and diaphragms. This issue has been a definite challenge. I've even been tempted to phase-separate my own fuel to keep ethanol out of the ZX-7R's fuel system altogether. Hopefully another solution can be found, but I'll do what it takes to keep the bike running properly.
In the meantime, I continue to enjoy life with my old 7R. I know I probably won't keep it forever, but at this point in my motorcycling life, it's still pushing all the right buttons. Most importantly, it takes me back in time a bit, and reminds me of all the life adventures I've had in the past decade. Gordon Keith once said that we are the custodians of our own history. To that end, the ZX-7R helps me keep touch with everything I've been through since the turn of the 21st century, and gives me a sense for the season of life I'm currently traversing in my early forties. That counts for a lot to a nostalgic guy like me.
Finally, as promised in the headline, I present to you the long-lost article I wrote for the AMA regarding my purchase of the ZX-7R in 2003, and of Kawasaki's then recent decision to discontinue the bike. The piece made it to the AMA editorial staff too late to be included in print, but they apparently featured it on their website, which led to the article going somewhat viral. From Wikipedia to various moto-sites to blogs to Kawasaki USA themselves, this article has been quoted again and again. Here it is in its entirety. Best wishes and blessed riding to all:
An Era Ends: Farewell ZX-7R (A.K.A. "Appreciating Older Sportbikes")
Kawasaki ends production of its legendary 750 superbike
By Timothy V. Kreitz, circa August 2003


"Hi, it's Tim," I announced over the phone to my good friend Rodger, a riding buddy. I had called him during work hours at his place of business, the local Kawasaki dealership.

"Hiya, Tim," Rodger replied. "What's goin' on, man?"

"I was wondering if you guys still have that green 2003 ZX-7R I was looking at last week."

"We sure do," he said. "Come on over and take another look at it. We'll make you a good deal if you decide to buy it. We've gotten some hints from our Kawasaki representative that the ZX-7R won't be manufactured next year, so if you want a new one, now's probably gonna be your last chance."

It was June and I had just gotten back from Round Five of the AMA Superbike Series at Pikes Peak International Raceway. A long-time loyalist of Team Green, I'd been contemplating the purchase of a new Kawasaki for a little over a year. I had looked at every available 2003 Kawasaki sportbike and liked them all. I'd even gone so far as to test ride a ZRX1200R and a Z1000. But after watching Eric Bostrom and his punched out ZX-7RR dominate the PPIR superbike race, I was suffering from a mild case of win-on-Sunday-sell-on-Monday fever. I had never owned an example of Kawasaki's now-iconic, sub-liter superbike, but had always wanted one. So upon my return from the AMA festivities, I was ready to seriously consider the possibility of becoming a ZX-7R owner.

Like any good devotee, there were already two Kawasakis in my garage; my much loved 2000 ZX-6R and my old workhorse, a 1992 ZX600R. The 600R had been a good and faithful servant, but was worn out and in dire need of replacement. I had entertained thoughts of supplanting the 600R with one of Kawasaki's new naked bikes. But hanging out with Eric Bostrom and his team at Pikes Peak made me realize that what I really wanted was another fully fared sportbike with lots of sexy lines and attitude. This led me into long ours of contemplation and meditation over the history and significance of the ZX-7R.

It seems a little hard to believe in this modern age of super-light, ultra-powerful motorcycles, but the comparatively heavier and somewhat tankish 7RR was the unquestioned king of the AMA for the better part of the 90s. The bike brought Kawasaki into an era of awe-inspiring dominance at the hands of riders such as Scott Russell and Doug Chandler, whose combined efforts resulted in an amazing four AMA championships over a period of seven years. Russell also took the 7RR to the World Superbike Series, where he silenced all the critics with his historic 1993 WSB championship. The 7RR, for the greater part of the decade, was the quintessential high-performance motorcycle. It's impact on racing and even modern culture was so great that, even to this day, most sportbikes -- Kawasaki or not -- are referred to as "Ninjas" by the general public.

Times change. With the introduction of the 1998 model GSX-R750 and its bigger, liter-sized brother a few years later, Suzuki dumbfounded the racing world with sportbikes that were lighter and faster than ever before. For the next five years, the ZX-7RR would struggle, undergoing a cylinder bore to keep it competitive and barely managing two second-place points finishes as Suzuki's "Gixxer" became the new king of the mountain. In case you've been living in a cave for the past few years, Yoshimura Suzuki's Mat Mladin has become an unheard of four-time AMA Superbike champion atop different variants of the newer-generation GSX-R.

I considered waiting another year for the opportunity to buy Kawasaki's hopeful answer to the GSX-R1000, the much-anticipated 2004 ZX-10R. The rumor for well over a year had been that the arrival of the 10R, along with class and rule changes by the AMA, would bring about the 7R's end. So at surface level, my ego begged me to hold out for a 10R. But the more I thought about it, the more I didn't want the bike (or any other 'big bore' 4-cylinder sportbike, for that matter) at all. I am a skillful, formally trained rider with lots of piloting prowess and strategic talent on the street. In short, I am a damn-good motorcyclist. And while I may not be so humble, I am at least aware of my limitations, which I always consider when the time comes to purchase a new bike. With that in mind, I realized that getting a 1000cc hyperbike wasn't the right thing for me to do. I knew I'd never be able to ride the ZX-10R anywhere near the edge of its performance envelope (either on the street or on the track), which made justifying the increased insurance premiums and 11,000-dollar price tag impossible to do.

The more I thought about it, what I wanted was the ZX-7R. Perhaps I wanted it for reasons of nostalgia. Or perhaps it was simply because the bike has a sexy character and overall look that the sharply chiseled R1s, GSX-R1000s, and CBR954RRs sacrifice for the sake of aerodynamics.

Whatever the reason, I bought the ZX-7R. I got the bike for $7,560 (US), which is below cost. Considering that MSRP was $9,399 no one can argue that I didn't get an excellent deal, even for an "outdated" motorcycle, whatever that means. Since June, I've been having an absolute blast on the thing. It handles wonderfully, has much more power and torque than my ZX-6R (which has been sitting alone in the garage a lot lately), and growls and screams like nothing else on the planet. Everyone comments on how incredible the bike's exhaust note is. If there was any question in my mind about whether or not to buy the bike, I can't even remember it now. It may not be on the cutting edge anymore, but the ZX-7R is one of the best sportbikes of all time.

So while it will come as no surprise, it is with much sadness that I report having just received word that the ZX-7R is officially motorcycling history. No 2004 models will be manufactured. And while examples of it will undoubtedly be rolling the streets for decades to come, 2003 is significant in the motorcycling world, for it marks the last year of the ZX-7R/RR.

Behold, an era has ended.

Thursday, June 27, 2013
Old video find offers a blast from sportbiking's past

Being one of those guys who noses around the Internet at every opportunity for anything remotely related to motorcycles, it's always nice when I find something vintage I've never seen before. I've done just that this week. Jackpot. I give you, "Street Smarts", a bonafide low-budget jewel from the height of the VHS era.
Being a video guy myself, and a fan of niche motorcycle stuff, I was surprised that Street Smarts (1990) had somehow slipped under my radar all these years. Once discovered, I found it in pieces all over YouTube and a few other video sites. Not being able to find it for sale from the original production house, I gathered it up, put it all back together and reposted it in its entirety.

Street Smarts was apparently one of the first independently produced how-to motorcycle safety titles of the 1990s. And while horribly flawed in some of its instructions (for example, it advises the viewer to never use a motorcycle's rear brake and to not do a full head-check, among other wildly incorrect assertions), it still contains a modicum of good information. But more importantly, if you can get past the poor on-camera presence of some of the so-called "experts" and the sometimes questionable things filmed on the street in order to demonstrate what not to do, you'll enjoy an hour of great classic motorcycles from a quarter century ago. Honda Hurricane alert!

In the process of re-assembling the video, I also found its sister titles Street Smarts II and Street Smarts III, which I didn't bother messing with since they were pretty tedious, filled with even more bad info than the first edition, and generally unwatchable by my tastes.

At any rate, here it is in all its late '80s glory. Enjoy.


Thursday, May 23, 2013
A Month of Sundays: Day riding to the relics of West Texas

With summer just around the corner, there's arguably no better way to enjoy the warm weather than by hopping on a motorcycle some Sunday and experiencing the wide open spaces of West Texas under epic blue skies. Though our area of the Lone Star State does take a bad rap at times for its arid features, virtually any motorcyclist in this neck of the woods can attest to the beauties of springtime here in the badlands; the scent of wildflower and Ocotillo in the air, the sun on your face, the road in front of you. It's an experience no rider tires of. But where to go in one day of riding? Well, if you're tired of just banging around town on your day off, here are four great day riding destinations to some interesting West Texas ghost towns and ruins that'll satisfy your spring fever for riding and still have you home by suppertime.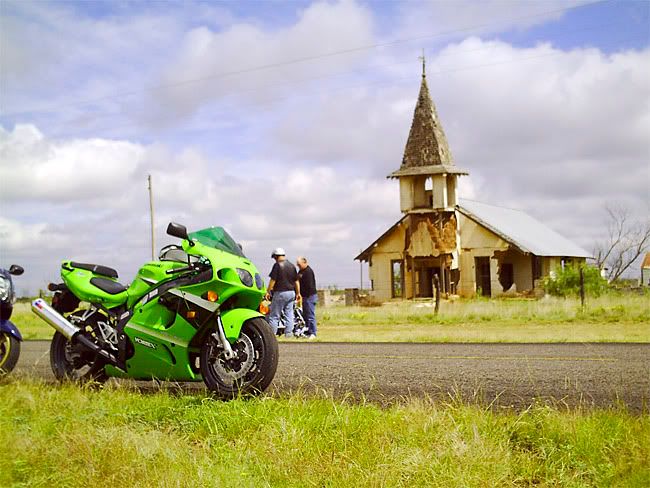 The Trail of Tears
From Big Spring, head south on Highway 87 and make the turn onto FM821, which is the first leg of the so-called "Trail of Tears"; so named because its sweeping, multi-camber curves have landed more than a few embarrassed bikers in the ditch over the years. Don't sweat it, though. Take your time, ride responsibly, and you'll have lots of fun. The second leg starts with a turn onto FM 2183, ending at Highway 163 just northeast of Sterling City. Along the way, be sure to stop and see the remains of the old church at the ghost town of Hyman (32.138472,-101.134956).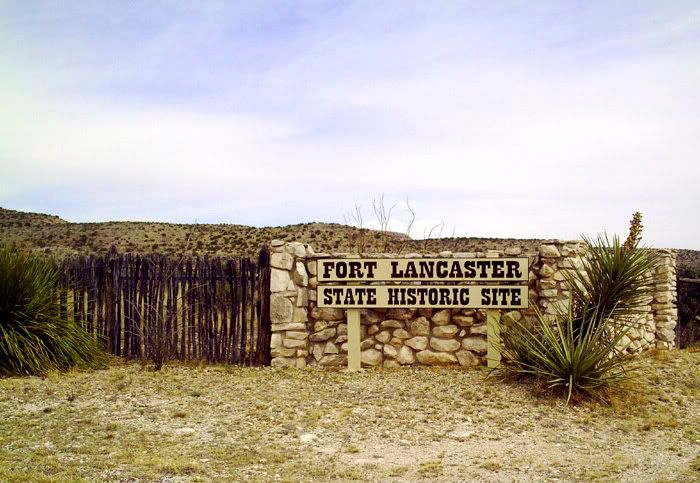 Fort Lancaster
The ruins of Fort Lancaster are located east of Sheffield along Highway 290, just east of the Pecos River. The fort's interesting story and unusual remnants make for an enthralling look into the first attempts at settling and bringing establishment to the area. After spending some time at the fort's State historical site, ride a few minutes east along 290 to the observation point at the top of Old Government Road (30.678816,-101.672806). It offers a spectacular view of the rugged valley below, and is a great spot for sighting large birds of prey and other wildlife.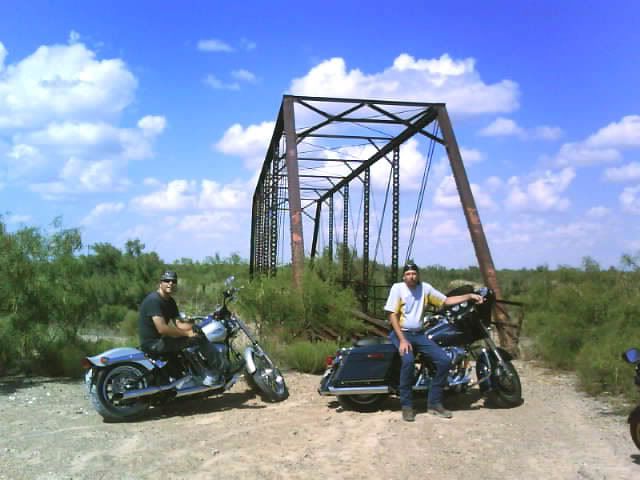 Fifi's Bridge
Just north of Horsehead Crossing along the Pecos River near Imperial sits an abandoned trestle bridge referred to by many as "Fifi's Bridge" (31.265912,-102.599098). The structure got its name from Odessa teenager Fifi Murphy who, in the early 1970s, met with a tragic and untimely demise, murdered by her boyfriend. He buried her body near the bridge, later confessing to the crime, and leading authorities to the site. Despite its spooky past, this is a great spot to hang out when the river is running, and offers good opportunities for photography. One word of warning, though: Be prepared to ride on dirt roads for the last two-thirds mile leading to the bridge. Also note that the bridge is impassible and should not be climbed on.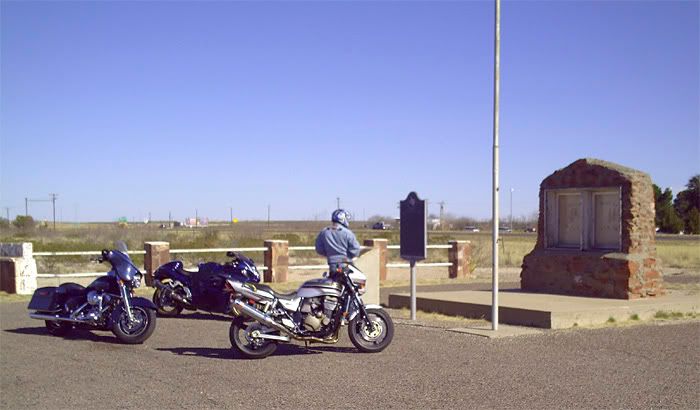 Rattlesnake Bomber Base
During World War II, Rattlesnake Bomber Base near Pyote (31.511606,-103.142495) was one of the most important military facilities in the southern US. For a time, it was even the home to Enola Gay, the B-29 bomber used to drop the first atomic bomb on Japan in 1945. The site is now closed to the public, but a historical marker and monuments are accessible at the base's original entrance, and a nearby museum is open for touring by calling ahead. The remains of the main hangar, where the "Pecos Parachute School" scenes in the classic 1985 Kevin Costner film Fandango were filmed, can be seen from the I-20 service road.
So there you have it. These destinations alone should have you putting on miles of smiles all across West Texas for a literal month of Sundays. Ride safe and be blessed as you discover the forgotten treasures of West Texas.

Thursday, April 25, 2013
Saving the Superbike Blog

I begin this entry with a statement of full disclosure: After almost a decade online, I've been seriously considering the possibility of shutting down the Superbike Blog.
Life changes over the course of ten or fifteen years, and with it, so does a person's focus. Such has been the case with me. And while I have maintained an active interest in motorcycling for the majority of my life, there's not always something new to write about in my two-wheeled adventures on a regular basis. You see, I tend to be a creature of habit in many of my activities, motorcycling included. I do the same things over and over, much to my own enjoyment. I go on a lot of the same rides repeatedly, ride with many of the same people, and travel down familiar roads again and again. I like it that way so far, and until I get bored and decide to do something different, I'll reliably stay with that plan. There's also the fact that I haven't been following motorcycle racing as closely in recent years, though I still remain a casual fan. The effective demise of AMA Superbike a few seasons back, mainly due to bad politics and policy, really made me sad because it was my favorite of all the series to write about. I haven't gone to an AMA race with a press or paddock pass in years now. On top of everything else, I haven't been actively teaching motorcycle safety courses since going back to music full time. The result of all these changes has been long stretches of time between blog entires here.
There are, however, other areas of my life which are constantly in a state of dynamic flux. For example, I've had a lot of interesting things happen in my musical career over the past few years, and that is understandably where my attention has been focused. I've also been making some really good beers over the past few years since upgrading my brewing equipment and improving my processes. In addition, I've been on many groovy trips that didn't include a motorcycle. I got back into astronomy, too. I've been blessed with many talents and interests, all of which deserve some blogospheric attention from time to time.
So here's the deal: Until further notice, it is my edict that the Superbike Blog be not just about motorcycles anymore. It will now serve as a journal of all my enthralling adventures across the solar system, two-wheeled and not. That's how I'm gonna save this little corner of the Web and keep it fresh. I hope you don't mind.
To that end, here are a bunch of the reasons I have only posted four times in the past 12 months. But I promise to post again before another three months goes by: