Friday, July 18, 2014
Tim's Motovlog #11 – Jerk Motovloggers

It finally happened: I did a motovlog
about
motovlogging. Does that make me post post-modern? In any case, kick back and enjoy nine minutes of pure existentialism. If you get tired of my voice, just concentrate on how awesome the bike sounds.

Monday, July 07, 2014
Motovlog #10: Scenic Mountain, Big Spring, and chicken sounds!

A friend and I take a ride to Scenic Mountain Park and Comanche Trail Park, where we visit the 'Big Spring'. Along the way we fight a strong West Texas wind, make chicken sounds, and spot a couple of cougars -- errrr -- I mean leopards.

Friday, July 04, 2014
A decade ago this week, the Superbike Blog was born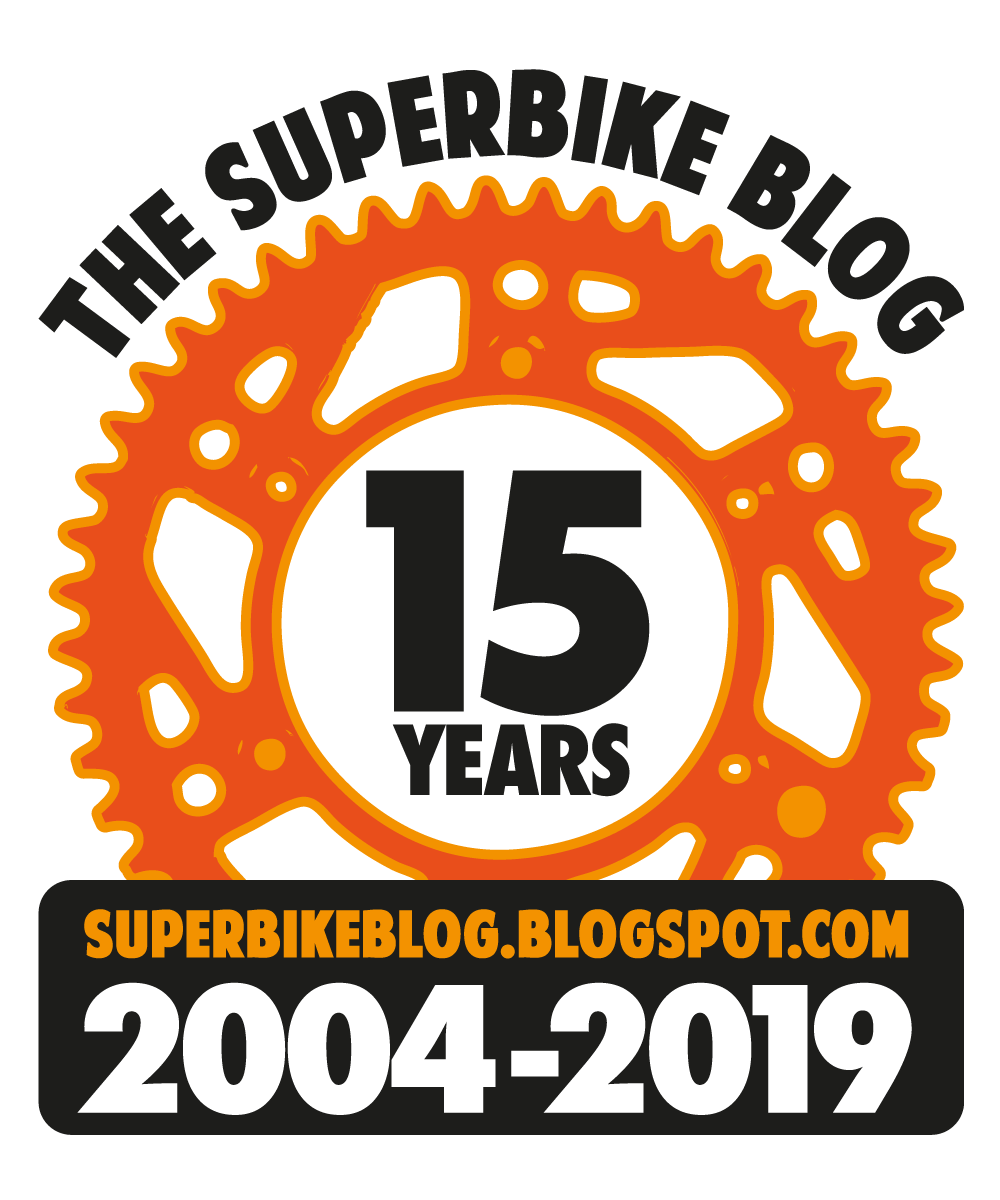 And oh so much has changed in the past ten years. I've lengthened and shortened the focus of this blog several times since July 2004, going from racing to rider rights to moto-related politics to even off-topic matters. Most recently, it has become a showcase for those silly little motovlogs I've been making. The Superbike Blog has always been, and will continue to be, a reflection of my two-wheeled whims and fancies as I enjoy a life made richer by the inclusion of motorcycles and motorcycling.
Along the way, the Superbike Blog has several times made an impact on the moto-sphere. It has been quoted and referenced by Wikipedia, Kawasaki USA, the American Motorcyclist Association, Harley Davidson, and others. It has also been an effective instrument in helping kill bad motorcycle legislation in Texas; most recently, the striking down of HB2470, a highly discriminatory anti-sportbike bill known as Malorie's Law. And while Malorie's Law eventually passed within the context of a different bill, it was only a useless and anemic namesake law in its final version. For those small victories and influences upon motorcycling, I am humbled and thankful.

Throughout the years, I have managed to stay true to my decision never to monetize this blog. I've watched closely the damage that advertiser influence has caused to the print moto-journalism industry over the past 20 years, and I always wanted to make sure I was free to express any opinion or observation herein without an ad client telling me to tone things down or amp things up. Hopefully, that attempt at some purity of heart hasn't gone unnoticed.

I've also made a few mistakes along the way. Namely, I was awfully hard on AMA Superbike uber-champion Mat Mladin during his height as a racer. Despite his unbelievable level of talent, Mat was most times a cocky, unlikeable character –– and I fed way too much on my personal dislike for his demeanor in my writings. Mat, if you're still out there (and assuming you even care), I'm sorry about how rough I was on you. In retrospect, the end of your amazing career still echoes today in the effective demise of the AMA Superbike Series. I'm not ashamed to admit that I now miss you and the old gang (Bostrom, Yates, DuHamel, etc.) greatly. There will never be another era in American Superbike like yours.

As for what the future holds here at the humble little Superbike Blog, who knows? I guess I'll see which directions the winds of the moto-world blow and hoist a sail when the urge hits me. In the meantime, thank you for a decade of attention as I continue to figure out just exactly what it is I'm trying to do here. Blessings to you all.

Thursday, July 03, 2014
Tim's Motovlog #9: Sprint Outage Woes • ZRX1200R Fun • Dog Tricks

I leave my home office on my 2004 ZRX1200R to escape a dead Sprint cell zone and find myself with over 30 messages to answer. When I get back home, my dog does some tricks for treats and I show you just how hot my garage gets on a hot summer day in West Texas.

Wednesday, June 25, 2014
Tim's Motovlog #8: Angry birds and hill country fun

I go to a friend's house for his Sunday night hangout gathering. On the way, I show you my newly installed bar-end mirrors, flash back to my hiking encounter with an angry bird, and show you some footage I shot at Dick's Classic Cars in San Marcos, TX. Enjoy!

Tim's Motovlog #7 - World Cup Soccer rant

I riff on my sickness for World Cup Soccer while running some errands on my ZRX1200R and offer a shout-out to EN187 (Neil). This is the first (and last) motovlog with the new external mic setup. As you can tell, it sucks. Thanks to ProTools, I was able to make my rambling somewhat intelligible.

Tuesday, June 10, 2014
Tim's Motovlog #6 - Sex at the park, Bonneville mirrors, and progress on the lager

I take advantage of an unexpected cool snap and go for a ride on my Triumph Bonneville through downtown Midland, Texas at night. On my way home, I spot a pickup rocking back and forth at the duck pond, then show progress on the fermentation of my latest homebrew lager. Extra points for finding the typo!

Tim's Motovlog #5 - Fiery sunset, high winds, and the 1980s

I ride around looking for a good place to watch a radiant West Texas sunset as a tempest blows in from the south. Then I head to the old strip to check out one of my high school hangouts.

Tim's Motovlog #4 - Riding in 100 degrees and brewing a lager

I run some errands in the 103-degree Texas heat on my 2013 Triumph Bonneville in preparation for a brew session, which is included in the video. Summer's here and the time is right for a Tim Kreitz German-style lager. Come along and enjoy.

Monday, June 02, 2014
Tim's Motovlog #3: Saturday Night in West Texas!

I ride from Midland to Odessa and spend the evening hanging out and riding with some friends I've been missing lately. Then I return home and end the night in the garage with a homebrew IPA and some final thoughts. Enjoy!

Thursday, May 29, 2014
Tim's Motovlog #2: IPA, a night ride, and open carry in Texas

I take some of my homemade IPA over to a brewing buddy's house, then go for a short spin around my neighborhood. Finally, I end in the garage with a short rant on open-carry demonstrations in Texas. Grab a cold one and tuck in!

Sunday, May 25, 2014
Let the motovlogging begin!

I got all geared up to do my first motovlogging trip and the skies opened up. Oh, well. Enjoy my first installment, anyway. I give you Episode #1: A thunderstorm and a shout-out.