Thursday, May 23, 2013
A Month of Sundays: Day riding to the relics of West Texas

With summer just around the corner, there's arguably no better way to enjoy the warm weather than by hopping on a motorcycle some Sunday and experiencing the wide open spaces of West Texas under epic blue skies. Though our area of the Lone Star State does take a bad rap at times for its arid features, virtually any motorcyclist in this neck of the woods can attest to the beauties of springtime here in the badlands; the scent of wildflower and Ocotillo in the air, the sun on your face, the road in front of you. It's an experience no rider tires of. But where to go in one day of riding? Well, if you're tired of just banging around town on your day off, here are four great day riding destinations to some interesting West Texas ghost towns and ruins that'll satisfy your spring fever for riding and still have you home by suppertime.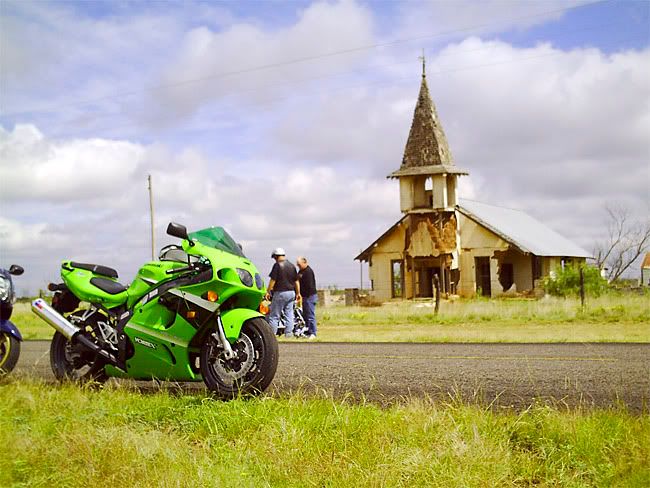 The Trail of Tears
From Big Spring, head south on Highway 87 and make the turn onto FM821, which is the first leg of the so-called "Trail of Tears"; so named because its sweeping, multi-camber curves have landed more than a few embarrassed bikers in the ditch over the years. Don't sweat it, though. Take your time, ride responsibly, and you'll have lots of fun. The second leg starts with a turn onto FM 2183, ending at Highway 163 just northeast of Sterling City. Along the way, be sure to stop and see the remains of the old church at the ghost town of Hyman (32.138472,-101.134956).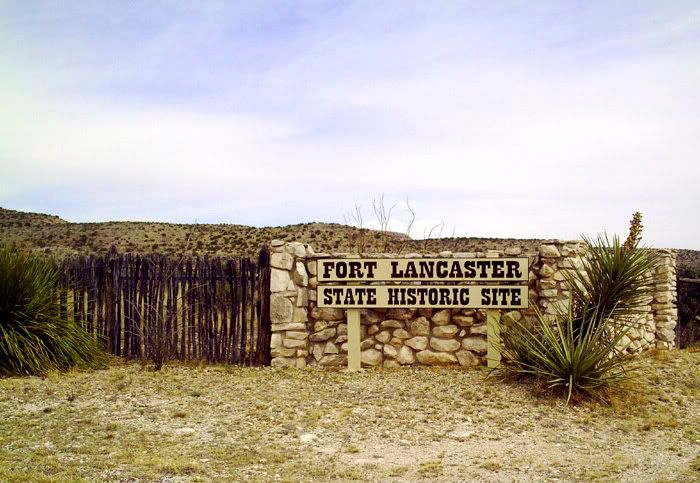 Fort Lancaster
The ruins of Fort Lancaster are located east of Sheffield along Highway 290, just east of the Pecos River. The fort's interesting story and unusual remnants make for an enthralling look into the first attempts at settling and bringing establishment to the area. After spending some time at the fort's State historical site, ride a few minutes east along 290 to the observation point at the top of Old Government Road (30.678816,-101.672806). It offers a spectacular view of the rugged valley below, and is a great spot for sighting large birds of prey and other wildlife.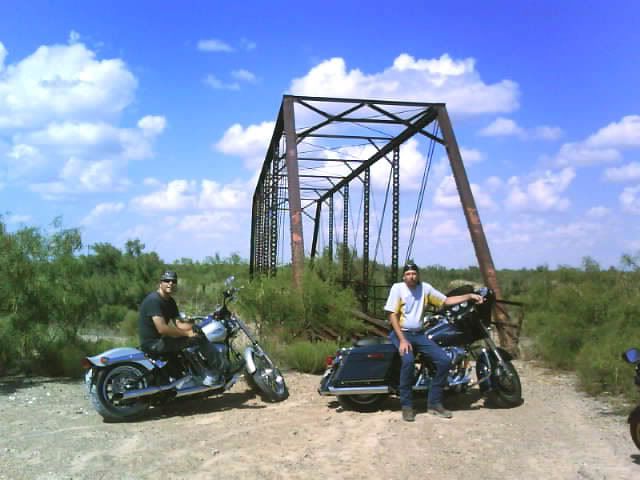 Fifi's Bridge
Just north of Horsehead Crossing along the Pecos River near Imperial sits an abandoned trestle bridge referred to by many as "Fifi's Bridge" (31.265912,-102.599098). The structure got its name from Odessa teenager Fifi Murphy who, in the early 1970s, met with a tragic and untimely demise, murdered by her boyfriend. He buried her body near the bridge, later confessing to the crime, and leading authorities to the site. Despite its spooky past, this is a great spot to hang out when the river is running, and offers good opportunities for photography. One word of warning, though: Be prepared to ride on dirt roads for the last two-thirds mile leading to the bridge. Also note that the bridge is impassible and should not be climbed on.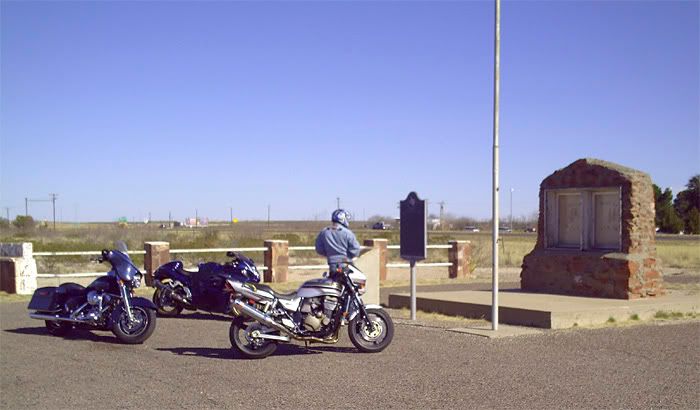 Rattlesnake Bomber Base
During World War II, Rattlesnake Bomber Base near Pyote (31.511606,-103.142495) was one of the most important military facilities in the southern US. For a time, it was even the home to Enola Gay, the B-29 bomber used to drop the first atomic bomb on Japan in 1945. The site is now closed to the public, but a historical marker and monuments are accessible at the base's original entrance, and a nearby museum is open for touring by calling ahead. The remains of the main hangar, where the "Pecos Parachute School" scenes in the classic 1985 Kevin Costner film Fandango were filmed, can be seen from the I-20 service road.
So there you have it. These destinations alone should have you putting on miles of smiles all across West Texas for a literal month of Sundays. Ride safe and be blessed as you discover the forgotten treasures of West Texas.

Thursday, April 25, 2013
Saving the Superbike Blog

I begin this entry with a statement of full disclosure: After almost a decade online, I've been seriously considering the possibility of shutting down the Superbike Blog.
Life changes over the course of ten or fifteen years, and with it, so does a person's focus. Such has been the case with me. And while I have maintained an active interest in motorcycling for the majority of my life, there's not always something new to write about in my two-wheeled adventures on a regular basis. You see, I tend to be a creature of habit in many of my activities, motorcycling included. I do the same things over and over, much to my own enjoyment. I go on a lot of the same rides repeatedly, ride with many of the same people, and travel down familiar roads again and again. I like it that way so far, and until I get bored and decide to do something different, I'll reliably stay with that plan. There's also the fact that I haven't been following motorcycle racing as closely in recent years, though I still remain a casual fan. The effective demise of AMA Superbike a few seasons back, mainly due to bad politics and policy, really made me sad because it was my favorite of all the series to write about. I haven't gone to an AMA race with a press or paddock pass in years now. On top of everything else, I haven't been actively teaching motorcycle safety courses since going back to music full time. The result of all these changes has been long stretches of time between blog entires here.
There are, however, other areas of my life which are constantly in a state of dynamic flux. For example, I've had a lot of interesting things happen in my musical career over the past few years, and that is understandably where my attention has been focused. I've also been making some really good beers over the past few years since upgrading my brewing equipment and improving my processes. In addition, I've been on many groovy trips that didn't include a motorcycle. I got back into astronomy, too. I've been blessed with many talents and interests, all of which deserve some blogospheric attention from time to time.
So here's the deal: Until further notice, it is my edict that the Superbike Blog be not just about motorcycles anymore. It will now serve as a journal of all my enthralling adventures across the solar system, two-wheeled and not. That's how I'm gonna save this little corner of the Web and keep it fresh. I hope you don't mind.
To that end, here are a bunch of the reasons I have only posted four times in the past 12 months. But I promise to post again before another three months goes by: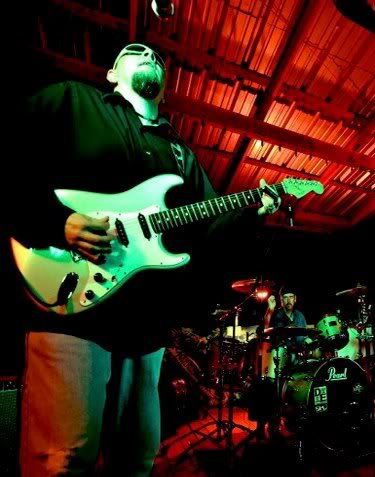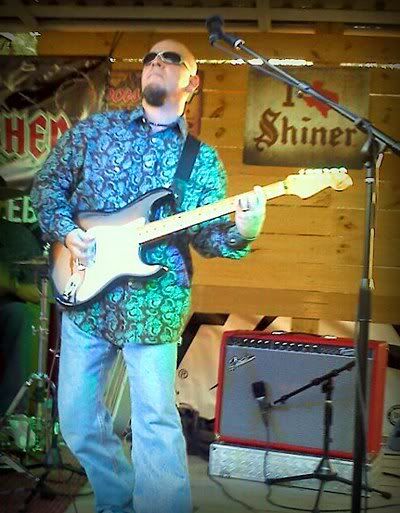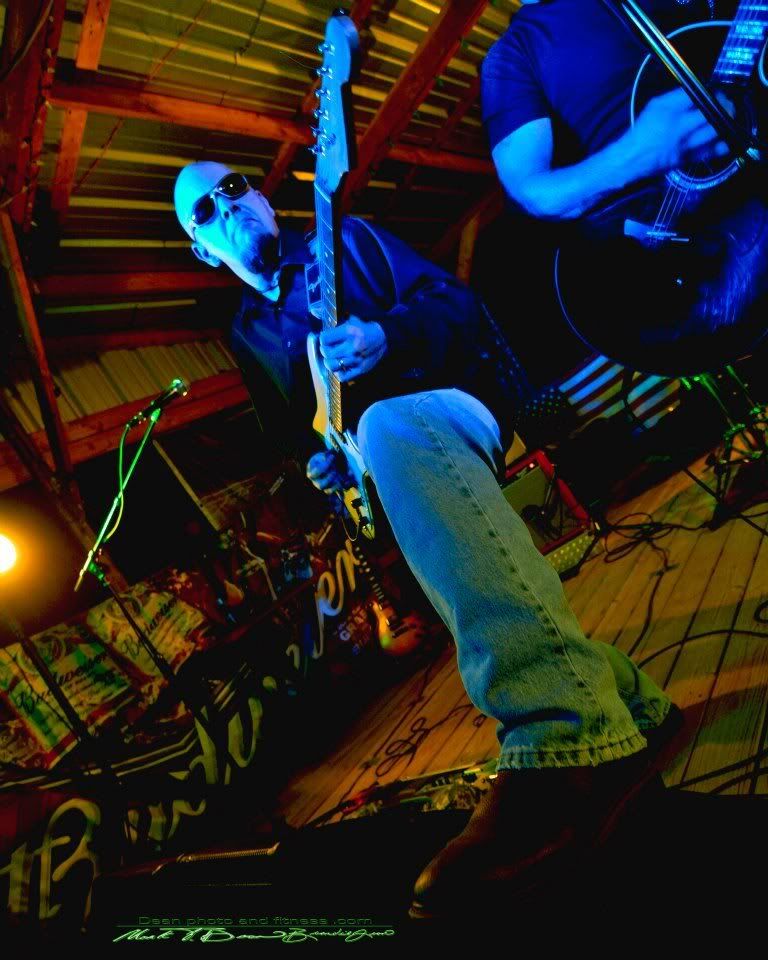 Sunday, January 06, 2013
Forty years of the Z bike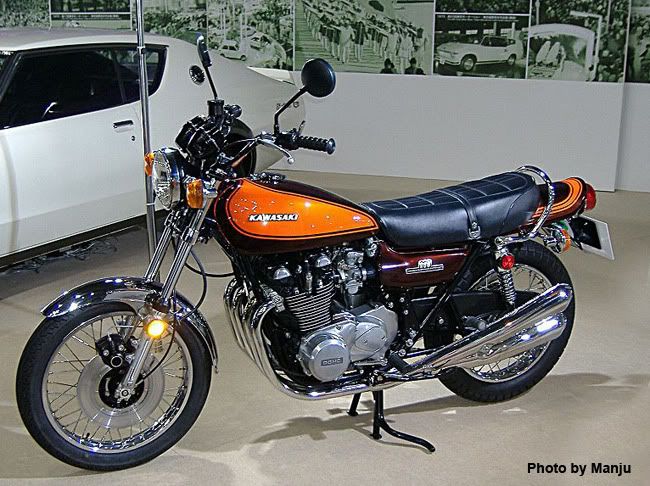 In this day and age, the word "classic" tends to get thrown around way too much in our various and sundry descriptions of modern popular culture. Much the same as equally misused and superfluously uttered terms such as "awesome", "genius", "amazing", and "unique", the word "classic" no longer strikes the imagination with any significant impact or meaning when heard or read by the average person. Like the rest of the overused descriptors in our modern, dumbed down lexicon, it has become little more than a kind of happy linguistic horse shit; what people say over and over again because they're too stupid to use a wider vocabulary.
That's a shame for many reasons. I could, for example, go on a thousand-word rant at this point about how the American public school system should be abolished and no echelon of government ever again allowed to educate the citizens of our once great country. Yes, I could do that, but I won't. This article, after all, is about motorcycles. Well, it's about one in particular; the Kawasaki Z, which celebrates its 40th anniversary this year, and is -- in the proper spirit and usage of the word -- a truly classic motorcycle. So please allow me an attempt (in the following Z bike-related paragraphs), no matter how futile, to bring some emotional and intellectual content back to the word in question.

I had my first ride on a Z around 1979, some six years after its epic debut into the world motorcycle market. I was a snot-nosed eight-year old who loved bikes, and had managed to incessantly pester my older cousin into taking me for a little spin on the back of his 1974 Z1 900. This glorious personal victory for me was achieved despite my mother's explicit instructions to my cousin that I should not be allowed onto the bike under any circumstances short of a Russian ICBM launch. (Yes, I do realize that humorous references to the cold war era in my writings are completely lost on anyone under 30. Thanks again, public schools.)

I wasn't old enough to realize at the time just what a game changer the Kawasaki Z actually was. To me, it was just a shiny, fast, fire-breathing rocket ship that scared the crap out of me -- in a good way -- whenever my cousin would press its starter button. But the reality was that the Z1, like Honda's CB750 a few years before, had turned the motorcycle world upside down. It's power, speed, looks, displacement, and handling would shape the landscape of performance motorcycling's terra for decades to come. It would push Suzuki to develop the GSXR750, which in turn would proliferate race replica superbikes for the street and change motorcycle culture itself. It would establish a reliability, performance, and functionality standard for law enforcement that would last far beyond the final iteration of KZ1000 police bikes, which were taken out of service around 2010 or so. But perhaps most significantly, it would simply endure. The Z bikes produced between 1973 and 2006 remain among the most popular vintage motorcycles on the street today. Entire cottage industries catering to Z bike maintenance and restoration thrive across the globe from Hamburg to Houston. To this day, the Kawasaki Z is still a force of nature.

On the day of my initiation into Z bike fandom, I remember my cousin strapping a cartoonishly oversized motorcycle helmet onto my head, giving me some partially informed warnings and instructions concerning hanging on, hot exhaust pipes, leaning with the bike, etc., and then telling me to get on. The next thing I remember was flying down a rural stretch of road at well over 100 miles per hour. I think my cousin may've been trying to scare me into never asking for a ride again, but the opposite affect was achieved. I was hooked, and in his irresponsible twisting of the throttle, he turned me into a lifelong motorcyclist and still occasional speed junky. I'll never forget the first thing he said when we pulled into the driveway and dismounted: "Don't you dare tell your mom about this. She'll kill me and I won't be around to take you for another ride."

These days, I get to relive those memories in the most special of ways. I am beyond blest to have my own vintage Z, which I enjoy on a regular basis. My stable just wouldn't be complete without my riding resto 1978 KZ1000LTD with various Z1 bits bolted on:

For the serious rider, life is just a series or collection of motorcycles, and the Z bike was -- and continues to be -- a huge part of mine.

Afterword: Those of you who are longtime readers of the Superbike Blog may remember this article I wrote reviewing a 2003 German documentary film commemorating the Kawasaki Z's 30th anniversary. According to this website, a 40th anniversary sequel is currently in post-production. I look forward to the opportunity to watch and review this film, and will most certainly keep my eyes peeled for its release.

Saturday, August 18, 2012
I'd swear it's 1994, because people are still using the term "crotch rocket"

As the summer of 2012 begins its downhill stretch toward the beckoning autumn, I look back on the rides, rallies, races, and runs of the past few months mindful of one very irritating observation: People are still using the term "crotch rocket" when referring to sportbikes. Seriously, it's time somebody made this an issue, and I humbly volunteer.
Call this a pet peeve of mine, but anytime I hear the term, it strikes me as the moto-equivalent of a racial slur for some reason. I know it shouldn't be such a big deal, but it is. To understand my angst, bear in mind that -- as a guy who's been riding sport motorcycles since the early 90s -- I remember the days when that term was strictly derogatory in nature. It was right up there with equally mean monikers such as "Jap crap" (with its combined negative cultural connotation) and "throwaway bike", which alluded to the presumption that sportbikes were made of plastic and therefor disposable. It was a pejorative, and signified only contempt.
Anyone who used "crotch rocket" in a sentence back then usually followed it up with gushing comments about the quality and superiority of American bikes, the importance of buying products made in the USA, the evils of importing, Pearl Harbor, etc. It was a losing battle for sportbikers, and for a good long while, we kept to ourselves.
In the early 2000s, however, things started to change for the better. Bikers on American and metric bikes of all kinds started riding and hanging out together a lot more. We all started to lay down our prejudices and learned to sincerely appreciate each other's preferences, passions, and bikes. Then something truly wonderful happened: The odd Harley guy was soon adding a sportbike or two to his stable. Likewise, the sportbiker was adding a Harley. These days, it's not uncommon to see all manner of motorcycles at rallies like Sturgis, Laconia, and Daytona, and motorcycling as a whole is better off as a result.
Still, that damn term prevails. And what's worse, it's being used ubiquitously by a younger generation of motorcyclists who are themselves riding sportbikes. It has become normalized and accepted. Seriously? Is that where we are? For crying out loud, even if you're too young to know what a reference to Pearl Harbor even means, the term still has the word "crotch" in it. I mean really, it's simply an ugly thing to call a motorcycle.
Yeah, yeah, I know; I'm being the mean old man who stands out on his lawn and yells crazy outbursts at confused passers by. I really don't mean anything by it. I'm just doing a little venting. But still, you damn kids keep the hell off my driveway, and stop calling sportbikes "crotch rockets".

Sunday, June 24, 2012
Here comes the heat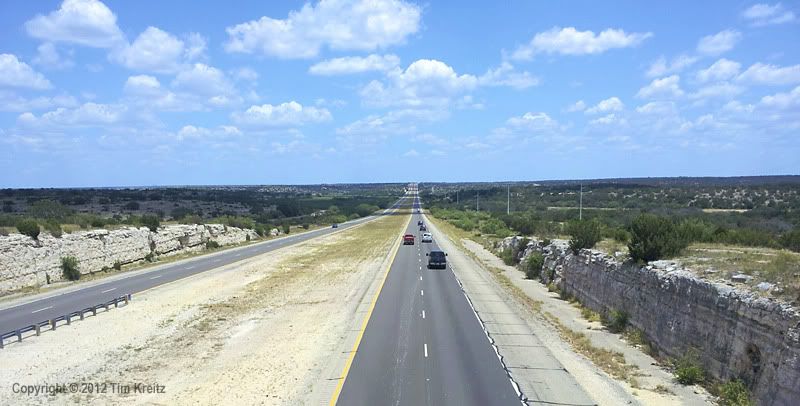 This is the time of year when those of us in the southwestern United States pay the piper for the otherwise enjoyable climatic privilege of being able to ride year-around. As of mid-June, we Texas motorcyclists have been regularly dealing with riding temperatures in excess of 100 degrees. The triple digits came a bit early this year, and show no sign of waning. Until September arrives, riding smart in the heat will be a top priority.
Below is a quick list of tips for mitigating the health risks (heat stroke, sunburn, exposure, dehydration, etc.) presented by hot-weather motorcycling. Some of these may seem like common-sense practices which need no explanation, but not a summer goes by that I don't see riders doing exactly the wrong things.
First things first: Is it too hot to ride today?
Some days it simply becomes too hot to be on a motorcycle. Granted, this factor is highly individual. The important thing to know is where your limit becomes manifest and at what point your clarity of thought and ability to practice good street skills may be hampered. Know that limit and don't ignore it. Heatstroke can literally be a death sentence. Leave the bike alone and wait for cooler temperatures in such cases. For example, don't ride in the hottest part of the day. On roads trips, try to make your miles in the morning and destinate at your next stop before the onset peak heat.
Water, water, water
Dehydration often sneaks up on a motorcyclist before he or she realizes what's going on. Keep plenty of water with you and don't forget to actually drink it frequently. Camelbacks and other similar water delivery systems are recommended. Stop riding and seek proper attention if you experience any of the following symptoms:
1. Increased thirst
2. Dry mouth and swollen tongue
3. Weakness
4. Dizziness
5. Palpitations (feeling that the heart is jumping or pounding)
6. Confusion
7. Sluggishness or fainting
8. Inability to sweat
9. Decreased urine output or dark urine
The food factor
When you drink increased volumes of water on a motorcycle ride, you tend to urinate more often. When you urinate more often, you may flush your system of salts and nutrients more quickly than normal. Keep appropriate foods with you to offset this loss. Trail mixes and energy bars can be good means of replenishment, but stay away from foods high in sugar and caffeine. This especially goes for attempting to replace water with energy drinks. Don't do it, at least not in large volumes.

Use riding gear, but use it the right way
We southern riders love our mesh jackets and pants, and they're generally great for warm days. However, once the temperature of the air entering the weaves starts to exceed our body temperature, mesh gear actually becomes a technical liability. As counterintuitive as this may sound, it's better to wear gear which breathes less in such situations. As always, use your best judgment, but remember that 112-degree air flowing through your riding attire can accelerate dehydration and various factors associated with exposure. Pay attention to your body and take note of how your gear is functioning on hot days. It may not be working the way you expect.

Take a break already
On hot days, stop more often. Find some shade, rest your muscles, take on water, and spend a few minutes relaxing. This will afford you a different opportunity, away from the noise and dynamics of the ride, to assess your physical and mental state.
When planned for and executed correctly, some hot-weather riding can be done safely. Just pay attention to nature, your bike, your gear, and yourself for the best results. In any case, have a safe, fun summer of riding in 2012.
Monday, May 14, 2012
Great bikes of the past: Honda's Nighthawk S was a middle finger to mid-'80s import tariffs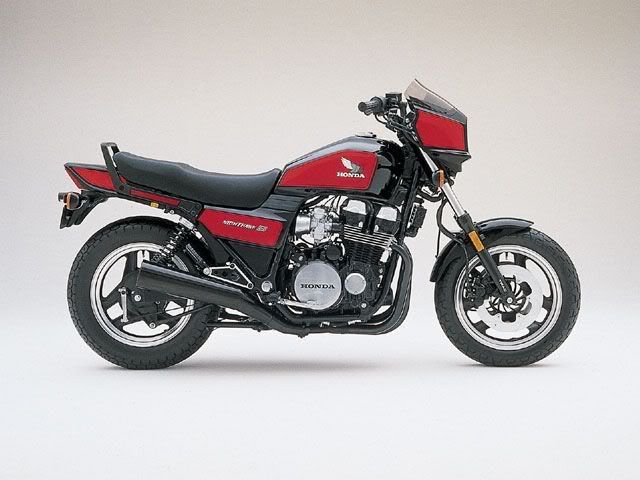 Back in 1982, things weren't going so well for our friends at Harley-Davidson. In fact, the entire company was on the verge of folding. For a variety of economic and social reasons, the domestic motorcycle market was soft and not many Americans were rushing out to buy new bikes.
This situation created several highly undesirable factors for everyone involved. The Japanese manufacturers found themselves with a huge stockpile of bikes in the US that their dealers weren't selling, which naturally drove prices down. The resultant price drops caused a general panic within the hallowed halls of H-D, which was already struggling to survive as it was. Faced with the likely tanking of its brand, Harley-Davidson came up with a plan: petition the Reagan Administration for huge tariffs to be imposed upon some imported motorcycles.
Now then, in this modern age of obscenely huge corporate bailouts and massive, market-debilitating government, such an idea doesn't seem so far-fetched. But in its day, H-D's petition for tariffs as a self-protection mechanism was bold as love. The kicker is, Harley-Davidson succeeded wildly. Partly as a result of the post-Carter-Recession political climate of the day, legislation for a five-year tariff period quickly became law. With the stroke of a pen, a new precedent had been set; one that economists are still studying today.
According to a 1987 article in the Chicago Tribune, "The International Trade Commission and the administration approved stiffer tariffs because Japanese manufacturers had shipped more than a two-year inventory of big motorcycles into a declining U.S. market, threatening Harley's survival. In the first year, tariffs on ... 'heavyweight' motorcycles rose tenfold, to 49.4 percent. Each year the level dropped, until the tariffs reached 15 percent over the last year."
'Heavyweight' being the key word. The tariffs only applied to motorcycles with an engine displacement larger than 700cc. This meant that to keep the sport motorcycle segment affordable, high-performance but small-displacement engines would need to be developed. Enter (among other tariff models of its day) the Honda CB700SC Nighthawk S.
Believe it or not, there was a day when a new high-performance Japanese sportbike wasn't too expensive. Japanese motorcycles were once the "affordable" choice for riders who wanted good-looking, reasonably priced, bulletproof bikes. With an MSRP of $3,299, which is about 6,400 bucks in 2012 dollars (try buying any brand new mid-sized motorcycle for that price), excellent handling for a bike of its day, and a willing 82-horsepower, 700cc inline four in its frame, the stylish Nighthawk S was an instant and resounding hit. The CB700SC was literally fawned over by the moto-mags of the day, many of whom used gushing verbosity and terms like "hot rod" to describe it.
Japan steamed over the tariffs, calling them "unfortunate" and "drastic", but ultimately came out on top. In the end the entire scheme backfired, arguably making Japanese motorcycles an even better product in the market than they'd already been, and setting the stage for them to grab even more market share over the next ten years.
In 1984, the Cato institute called out the tariff plan for the political boondoggle it was, writing:
"President Reagan may have feared that rejecting the ... proposal for motorcycle protection would play into the hands of those who wanted changes in the trade laws. It would fuel their argument that the present law gives the president too much discretionary authority. This concern, no doubt, was one rationale for his decision.
"Another reason for the president's decision was that if the relief had not been adopted, Harley-Davidson might have gone under immediately, with unfortunate consequences for the president's reelection chances. If Reagan had refused relief and Harley-Davidson had folded immediately, many would have seen the president's decision as the cause of Harley's demise. Reagan's difficulties with blue-collar workers, especially in the industrial Northeast, where Harley-Davidson has plants, might have been exacerbated.
"Harley does not employ many people, so Reagan's primary concern was not about losing the support of those who would have lost their jobs, but about losing the support of the many who identify Harley-Davidson as a great American company."
As an important side note to the politics of the situation, it's important to also point out that the tariffs may have actually cost up to several thousand American jobs over the five years they were in place, almost as many jobs as Harley-Davidson had employees at the time.
Still, thirty years later, consider the legacy bikes like the Nighthawk S have created. Thanks to the innovations begun in the tariff years, we now ride in an era of compact, ultra-light motorcycles that can turn a buck fifty on 599 cc's or less. This philosophy joined with racing technology in a kind of symbiosis that peaked with bikes like the GSXR superbikes, which dominated American racing for the better part of a decade, during which the likes of Harley-Davidson left competition altogether.
In closing, I feel compelled to emphasize that this article isn't about bashing H-D. In fact, I love Harley-Davidson, admire their bikes, and wish them unprecedented successes, both now and in the future. This article is about the consequences of government manipulation of markets, which are almost always unintended, though rarely unexpected by the likes of critical-thinking people. In the case of H-D's mid-'80s tariffs, the results were a mixed bag; a bag from which some fantastic, small-displacement bikes emerged –– the Nighthawk S definitely being one of them.

Friday, April 06, 2012
This is the way to spend Good Friday

This is how I spent a few hours on Good Friday. Yep, it was just me and my KZ. If it wasn't a perfect day off, then it was darn close. I'm very thankful that such simple things have the affect of being able to make me so incredibly happy. Just look at that sky. Happy Easter.

Thursday, April 05, 2012
It's time to re-adopt some "bad" motorcycling habits from years past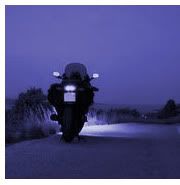 There was a time, 16 or 17 years ago, when my life's primary and most anticipated goal during any given summer month was to spend a Friday night or two riding motorcycles into the early morning hours out in the middle of nowhere here in West Texas with friends.
What do you mean, "Then what?" That's it. The purpose was to be on a motorcycle on a warm and starry night, hanging out with your motorcycling mates and otherwise experiencing -- in vivid, wonderful sensations -- what it's like to truly feel alive.
What do you mean you don't understand?
Okay, okay. For those of you who can't relate, here's how a typical night would play itself out for me: 1.) Get home from work on Friday afternoon and, by 5:30 p.m., be fast asleep on the couch enjoying a nice, long nap of two to three hours. 2.) Awaken refreshed and ready for an evening of fun, grab some dinner with the wife, and maybe take her for an ice cream. 3.) Later, as said wife gets ready for bed (usually around 10:30 p.m. or so), pick out a bike from the stable, put on my riding gear, and head out to a predetermined meeting spot where other motorcyclists with my proclivity for night riding are assembling. 4.) Ride aimlessly around West Texas as a group, with no particular place to go, stopping every so often for coffee and fellowship. 5.) Return safely home somewhere around 3 o'clock in the morning. 6.) Wake up around lunch the next day feeling lots better about life in general. 7.) Possibly repeat steps 1 thru 6 on Saturday night.
Now then, I know what you're thinking; night riding on a motorcycle is considerably more risky than riding during the day. After all, visibility is reduced, there are more critters out and about, more drunks are on the road, and motorcycles are harder for other drivers to see at night than a car or truck. I don't dispute those points at all. Furthermore, I'm a aware that in certain parts of the country -- specifically where deer are populous -- the risks are further increased by riding at night.
The Permian Basin of West Texas, however, is a little different. Out here, there are very few deer. The roads are long and straight, improving visibility and vanishing points when an entire group of headlights is illuminating the riding environment. But most importantly, nighttime is about the only time during the summer months when riding is truly enjoyable. If you've ever tried to ride for three hours on a 105-degree day with the sun slamming you like a jousting lance, you may have a better understanding than most as to why night riding is so cultural out here in the badlands. Sure, it may still be 85 degrees or more on summer nights in my part of the world, but once you're moving through the night air at highway speeds, the experience is often times a downright pleasure, bugs on your headlights and faceshield notwithstanding.
The important thing about riding safely at night is remembering to utilize the "see and be seen" factor. Extra lighting, retro-reflective decals and clothing, along with other high-viz gear can go a long way toward mitigating the added risks. Slight changes to riding style are necessary, too, but nothing so drastic as to sap the fun from the experience.
Anyway, with all that said, I've admittedly gotten away from regular night excursions over the past six or seven years. The group I trusted to ride within kind of fell apart for a variety of reasons, I'm usually busy playing a show somewhere on the road now, and I've certainly learned to appreciate sleep more and more as I've entered my early forties. This year, however, I've decided it's time to relive the past a bit and make a few more night rides than usual. Some of the people I used to enjoy such evenings with have begun to reform the old squadrons, and I'm starting to get invitations again. In short, I miss it and there's no good reason not to do it a bit more often.
So here's to the summer of 2012. Let there be safe night riding for all, and I hope to see you out there.

Thursday, February 02, 2012
As of right now, Harley-Davidson is doing everything right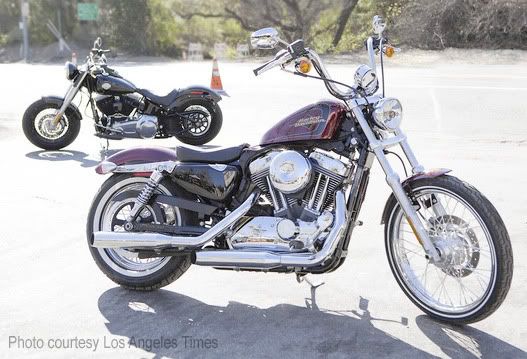 Here at the Superbike Blog, I've been writing quite a bit lately about Harley-Davidson and its seemingly very successful attempts to reinvent itself in the face of a changing American motorcycle demographic. It has repeatedly gone roughly against the grain with the older, mostly baby boomer traditionalists who've been its lifeblood in years past to produce stripped down, retro-modern interpretations of its classic styles which appeal strongly to a new generation of riders, most of whom grew up in the direct influence of metric cruisers and sportbikes.
Over the past few years, H-D's Dark Custom line of motorcycles, including the Sportster 48, Crossbones, and others have breathed new life into the Motor Company®, and this year they pull no punches with two new Dark Custom additions aimed at the same 30-something demographic, as well as Latinos.
This week in California, Harley-Davidson introduced the Sportster 72 and Softail Slim for 2012 (pictured right), two more minimalist pieces of irresistible eye candy that should sell like hotcakes.
The Softail Slim harkens back to the post-World War II Army surplus Harleys that gave birth to modern American biker culture. The more expensive of the two new bikes ($15,499 for the base model), the Softail is essentially a low and lean factory bobber with strong styling references to the WLA.
The 72, on the other hand, is all about lowrider homage. It's whitewall tires, metal-flake paint, ape hanger handlebars, slim spoke wheels, and narrow mid-section are clearly designed for the urban rider who wants an unmistakable '70s-style chopper. And at $10,499 for the base model, the price is about as right as it can be for a new Harley.
Both bikes, let's face it, look great and feature the latest in available Harley technology. My guess is that they'll sell well and help H-D continue to increase its market share at a brisk pace.
Congrats once again to Harley for getting it right from the design, business, and marketing perspectives combined. If they stay on the right track, this could be their new golden age.

Tuesday, January 03, 2012
Fiddling around with the Contour ROAM action cam

I took a ride with a friendly group of motorcyclists called the Stonegators on New Year's Day, and took the opportunity to try out my new Contour ROAM (Model 1600) HD action camera, which I attached to my helmet. Over all, I'm generally pleased with this small, idiot-proof video device, which you can fasten to pretty much anything and record your adventures. I had the camera set to 720 in the video below, which was put together with the latest trial version of Media Edit. The camera, I recommend. The editing software, I do not. Anyhow, enjoy the video. More adventures to come.