Wednesday, March 30, 2005
Motorcycle misinformation rampant in the media as riding season begins

Get a load of
this
:
"Warmer weather means more motorcycles on the road and that means more
chances for accidents."
What a loaded statement. Warmer weather also means more skateboards,
skydiving, and convertibles -- but I don't see those factors being
written about as inherently dangerous. What a bunch of sensationalized
nonsense. I bet the journalist who wrote this drivel has never even been
on a motorcycle.
"Experts recommend that motorcyclists take a safety course and brush up
on the basics. They say bikers should always wear helmets and be aware
of cars around them."
Okay, I'm on board with that paragraph. But just wait until you read
which "expert" they chose to get their information from.
"'You've got to be totally defensive,' said Jim Ramsey, general manager
of L and D Suzuki in Dover. 'Always expect the worse from what's in
front of you. You should always look for an out and exit.'"
That's right, folks. They went to a
motorcycle dealer
for safety advice. These are the same guys who send out 19 year-old noobs on Hayabusas. Not that I'm against free market sales, but the fact that Mr. Ramsey was quoted as a safety expert further exemplifies the writer's ignorance.
"Ramsey said bikers should also obey the speed limit."
Absolute gold. Any motorcycle safety expert worth his salt will be the first to tell you that unwavering compliance with the posted speed limit can get a motorcyclist killed.
"There were two deadly motorcycle crashes just last week in lower
Delaware."
So what? What were the circumstances? Who was at fault? What does that
sentence even mean?
Arrrrrrgh!

COMMENT ON THIS ARTICLE
Tuesday, March 29, 2005
Another crooked cop busted for mistreating a motorcyclist

FORT LAUDERDALE, Fla. (AP) -- A Florida police officer is being punished for handcuffing and ticketing a doctor who was speeding to deliver a baby.

Dr. Anthony Chidiac was driving his motorcycle 10 miles over the speed limit last March when he was pulled over in Fort Lauderdale.

According to police records, when the doctor said he was on his way to a delivery, the officer replied, "What are you delivering, pizza?"

The doctor delivered the baby 15 minutes after he got out of the handcuffs and was ticketed.

The officer has agreed to a 16-day unpaid suspension rather than being fired. A citizen board will review the case April 11.
Good God, it's the 1970s all over again. Deep within the festering bowels of law enforcement departments all across the United States, the unholy command is being issued:
"Put as much pressure on bikers as you possibly can. Seek them out and oppress their liberties in every available way. Let us profit greatly from the resurgent popularity of motorcycling."
Ten years ago, I could literally wheelie past a cop and incite little more than a grin and a thumbs-up from him. Now, with over a million bikes sold over the last year, motorcyclists are once again being seen as cash cows and easy enforcement targets. Hey, it beats doing
real
police work, and it pays the same.
I hope the worst isn't yet to come.

COMMENT ON THIS ARTICLE
Monday, March 28, 2005
Speed-test results: 2005 GSXR1000

Test Date:
03.27.2005
Time:
17:15:30 CST
Elevation:
2,959 ft.
Temperature:
61 degrees(F)
Humidity:
24%
Barometric Pressure:
< 29.5 in.
Wind:
285 degrees @ 12 mph (crosswind)
Bike:
2005 GSXR1000 (bone stock)
Rider Weight:
~140 lb.
Max Verified Speed:
178 mph
Observations and notes:
1. Four runs were made. The first was a low-speed pass to test the GPS receiver. The following three were full-throttle passes in sixth gear. All runs were within 1 mph of each other.
2. We believe the moderate crosswind prevented the 2005 GSXR1000 from reaching velocities in excess of 180 mph. By next weekend, the bike will have received modifications to its exaust system, and reprogrammed injection maps. If conditions are then comparable, but with lighter winds (or a tailwind), the OSB test team is confident the new Gixxer will easily break the 180 mark.
3. Note: These test results were not adjusted for optimal conditions to inflate the numbers, as is seen in many motorcycle magazines. The 178-mile per hour pass represents the exact speed of the motorcycle under the described atmospheric conditions to within one third of one mile per hour.

COMMENT ON THIS ARTICLE
Wednesday, March 23, 2005
Attention motorcyclists: Cops only care about you when they're generating revenue

LISBON, Conn. Mar 22, 2005 -- A state trooper was suspended for 15 days without pay after he was recorded on a 911 tape saying "too bad" to a caller seeking help for a man injured in a motorcycle accident...

Russell Shepard, a friend of Sawyer's, called 911, which was routed to the state police barracks in Montville. When he reported the accident, Peasley said, "Yeah ... too bad," and hung up, according to a tape obtained by WTNH-TV.

Shepard said he was shocked, believing he reached a wrong number.

Another friend made a second call. "Yeah," the officer responded. "Help will get there. Shouldn't be playing games."

A third emergency call was answered by a different dispatcher, who asked about Sawyer's condition and advised those nearby to not touch him.
Read the whole thing
here
.
He should've been fired, not suspended.
These are the same jerks who preach to you like Jimmy Swaggart at a revival meeting when they pull you over and ticket you for some mundane, frivolous offense.
"I'm just trying to keep the roads safe, Mr. Motorcyclist. I care about your well-being and that's why I'm writing you this ticket for going 6 miles per hour over the posted limit."Sure
you care about motorcyclists and motorists, great and wonderous paladin of the law. Especially when the so-called
care
you administer involves dipping into our pocketbooks to help pad your retirement account.
Any other time, it's
"Yeah...too bad. You shouldn't be riding those things in the first place."
This is exactly the same mentality that gets drivers who kill motorcyclists off the hook with minor fines and other slaps on the wrist.
Make no mistake, bikers. You are
truly
on your own whenever you ride.

Thursday, March 17, 2005
We loves us some Dave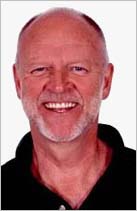 The Superbike Blog wishes to extend its sincerest congratulations to Speed Channel's legendary broadcasting personality and all-around motorcycle advocate, Dave Despain, who was recently presented with the prestigeous Dud Perkins Award by the
AMA
:
The American Motorcyclist Association (AMA) has announced that Dave Despain, well-known motorsports television personality and member of the Motorcycle Hall of Fame, is the latest recipient of the AMA Dud Perkins Award for Outstanding Contribution to Motorcycling. The formal presentation took place at Daytona Bike Week 2005, and Despain publicly accepted the award on Sunday, March 13, during his popular "Wind Tunnel" program on Speed Channel.

The AMA Dud Perkins Award for Outstanding Contribution to Motorcycling, established in 1971, was first presented to its namesake. Dud Perkins was a San Francisco motorcycle dealer who embodied tireless and generous dedication to every aspect of motorcycling, serving on many AMA committees and advancing the careers of many noteworthy professional motorcycle racers. The award is the Association's highest honor for outstanding contributions to motorcycling.
Way to go Dave. In honor of your recognition, here's a little blast from the past to show all our readers why you are so well-respected:
DAVE'S FINEST MOMENT
YYYYYYYYYES! Now
that's
quality broadcasting!

LEAVE YOUR COMMENT HERE
Monday, March 14, 2005
Bostrom hopeful that upcoming tests will end his set-up woes -- so are we

Eric Bostrom told Superbikeplanet.com's Evan Williams that he plans to make the most of a series of upcoming Ducati test sessions, after a disasterous 11th-place finish in Saturday's superbike race.
Good idea.
"We're lost but the good thing is we have three or four test sessions coming up so we have some opportunities to sort things out to get to where we need to be," he was quoted as saying in the Superbikeplanet.com
article
.
As a process of his hair-pulling qualifying effort (he placed 11th on the grid, as well), Bostrom reportedly resorted to a series of unorthodox suspension settings in an effort to sort out his seemingly untamable Ducati 999 superbike. The work was obviously for naught, however, as he failed to overtake even one of the handful of privateer and factory-support riders that finished ahead of him in the race. Combine the pitifulness of Bostrom's performance with the fact that his new teammate, former WSB champion Neil Hodgson, scored a solid 2nd-place podium spot in the very same race on the very same bike (after having led the race momentarily, no less), and even a die-hard Bostrom fan like me gradually becomes less willing to offer up the benefit of the doubt.
The whole thing makes me want to talk in my best Jerry Seinfeld voice:
"Hey, what's the DEAL with Eric Bostrom?"
I
stuck it out
with Eric last season as he struggled to get comfortable on the then-new 999 and its new rubber. I offered up every possible excuse for why he wasn't getting the job done. But a year later, he's still a disaster atop the Austin Ducati package.
Eric, we love you man, but it's time for you to get your shit together. Your Ducati is one of the winningest basic roadrace designs ever built, you are one of the most talented riders in North America, and you have more total support than a racer could ask for. Furthermore, you're young, you're single, and you have nothing but time to concentrate on riding that bike correctly. I cringe at the idea of quoting Mat Mladin, but in his own words, its time to stop making excuses and "get it done."

LEAVE YOUR COMMENT HERE
Friday, March 11, 2005
Potential good news: Texas may legalize lane-splitting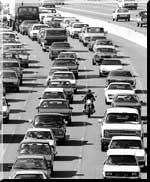 Here's hoping
this bill
passes.
From the draft:
(e)The operator of a motorcycle may operate the motorcycle for a safe distance between lanes of traffic moving in the same direction during periods of traffic congestion if the operator: (1)is at least 21 years old; (2) has successfully completed a motorcycle operator training and safety course under Chapter 662; (3) is covered by a health insurance plan providing the operator with at least $10,000 in medical benefits for injuries incurred as a result of an accident while operating a motorcycle; and (4) operates the motorcycle: (A) at a speed not more than five miles per hour over the speed of the other traffic; (B) in traffic that is moving at a speed of 20 miles per hour or less; and (C) in a location other than a school crossing zone or other than a location where the posted speed limit is 20 miles per hour or less.
Texas has needed a lane-splitting law for decades. I'm not completely on board with the way it's drafted, so I contacted the representative who authored the bill:
Dear sir,

Thank you for authoring HB1522, which would allow Texas motorcyclists to use the technique commonly referred to as 'lane-splitting' when navigating in congested traffic situations.

After reading the bill, I humbly offer two suggestions that I believe would improve it:

1. Please allow for a 10-mile per hour speed differential between a lane-splitting motorcyclist and the surrounding vehicles, rather than the 5 miles per hour currently specified in the bill. During periods of slow-creeping traffic, the relatively small difference in speed could lead to stability problems for the motorcyclist.

2. Please include language in the bill to specify that any motorist who attempts to impede a lane-splitting motorcyclist (by doing things like opening a car door or swerving a vehicle furtively) commits an offense. Unfortunately, such types of actions are sometimes committed by motorists in areas where lane-splitting is already legal. It would be nice to have those acts clarified as offenses at the time the bill goes into law.

Again, your work is appreciated. If I can be of any assistance in this effort, please feel free to contact me.

Sincerely,

Timothy V. Kreitz, motorcyclist
AMA member #[SNIP]
MSF instructor #[SNIP]
http://www.timkreitz.com
Keep your fingers crossed. Hopefully, we Texas motorcyclists will soon be able to stay safe in heavy traffic congestion without being ticketed for it.

LEAVE YOUR COMMENT HERE
Monday, March 07, 2005
Yamaha unveils new YZR-M1 package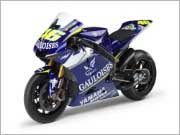 Boasting a more compact engine design and new livery, Yamaha debuted its 2005 MotoGP package in Japan today.
In a press release, Gauloises Yamaha riders Valentino Rossi and Colin Edwards expressed excitement and optimism about both the upcoming season and the new bike design:
Rossi, now in his second season with Yamaha, talked about his year so far and his goals for the forthcoming season. "We have done a lot of test runs during the off-season. Things aren't quite 100% yet, but the machine and the engine are already much better than last year. It's nice to see the M1 in its final 2005 livery. I hope I can win the title again this year on this new bike, but winning is never easy! I was very happy to win nine races in last year's Championship and I think that is a good target for this year too. I hope everyone will be cheering for me!"

Rossi's new team-mate Edwards, who recently turned 31, spoke about his return to Yamaha after a seven-year absence. "I was last with Yamaha in the 1998 season in the World Superbike Championship and I am very happy to be back. I saw how good the MotoGP team and machines were last year, so I was excited when I got the offer to come back to the Yamaha side. I am also glad that there will be a US round at Laguna Seca this year for the first time in a while. I hope to have a bit of an advantage there, but I will be giving my best shot in all the races."
Rossi and Edwards will test the new package this week at Phillip Island.