Thursday, August 29, 2013
A decade with the ZX-7R and the lost AMA article found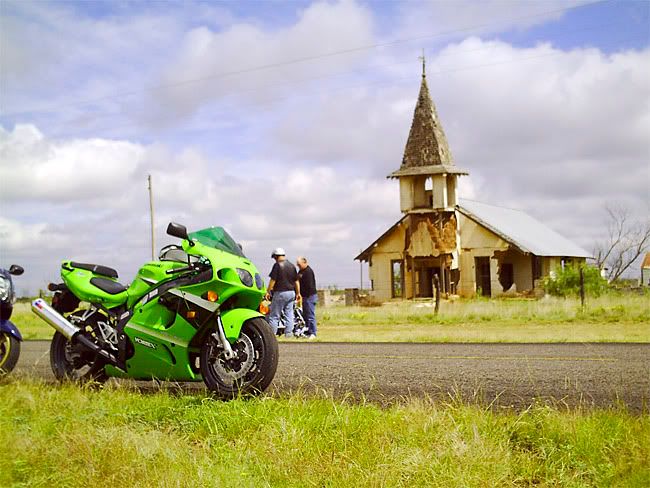 Amidst the events of a nonstop Summer 2013 of touring and working on the new album, it suddenly occurred to me last week that I let the tenth anniversary of purchasing my ZX-7R go unnoticed. The momentous occasion (to me, anyway) went by in a blur one day last month.
Ten years with the ZX-7R is significant to me for several reasons. Firstly, I have held on to the 7R for longer than any other streetbike. In a library of owned motorcycles too long to list over the past 30-plus years, the ZX-7R is the one that has had the most profound affect upon me, making the most striking impression in my heart and mind. If you've ever ridden one and experienced its sound and feel, you know what I'm talking about. Not to mention the fact that the ZX-7R is still the single sexiest, best looking sportbike ever built. Period.
Secondly, I've been noticing more and more in recent years that the ZX-7R is becoming a rare bike. It was always produced in small numbers, so between those 7Rs that were dedicated to track duty and the ones that were mindlessly destroyed by stunters since the late '90s, not many remain on the street. At least every other time I take the ZX-7R for a ride, someone stops me down to ask what it is.
Thirdly, the final configuration of the ZX-7R (1996-2003) represents to me the end of an era, both for race bikes and sportbikes. Shortly before production of the ZX-7R ended, the superbike racing class was changed to 1000cc engines. This effectively killed the 750cc class of bikes on the street, and saw the proliferation of 600s as supersports. The 750cc sportbike, once arguably the most popular and prolific, has now become somewhat of a relic.
For these reasons and more, I feel like the 7R is a motorcycle worth hanging onto, and have no plans to sell it at this time.
I've gone out of my way to take exceptional care of my 7R over the years. It gets ridden the least of all the bikes in my stable now, partly because it isn't entirely practical for day-to-day use, but also because I'm interested in preserving it. It gets ridden 1,000 to 2,000 miles per year these days. I take it to the twisty roads of the Texas hill country and Davis Mountains a few times per year, make the odd ZX-7R day ride, and show up with it at quite a few bike nights. Otherwise, my ZRX1200R and KZ1000 handle the bulk of my routine daily commuting.
In true Kawasaki fashion, it has been a very dependable bike, but a few issues have emerged regarding maintenance of the ZX-7R. Primarily, the bike absolutely hates ethanol-laced fuel. I've been through the motorcycle's carburetors twice since 10-percent ethanol petrol was forced upon us here in West Texas. The alcohol content is highly corrosive and literally eats carburetor jets, rubber carb boots and diaphragms. This issue has been a definite challenge. I've even been tempted to phase-separate my own fuel to keep ethanol out of the ZX-7R's fuel system altogether. Hopefully another solution can be found, but I'll do what it takes to keep the bike running properly.
In the meantime, I continue to enjoy life with my old 7R. I know I probably won't keep it forever, but at this point in my motorcycling life, it's still pushing all the right buttons. Most importantly, it takes me back in time a bit, and reminds me of all the life adventures I've had in the past decade. Gordon Keith once said that we are the custodians of our own history. To that end, the ZX-7R helps me keep touch with everything I've been through since the turn of the 21st century, and gives me a sense for the season of life I'm currently traversing in my early forties. That counts for a lot to a nostalgic guy like me.
Finally, as promised in the headline, I present to you the long-lost article I wrote for the AMA regarding my purchase of the ZX-7R in 2003, and of Kawasaki's then recent decision to discontinue the bike. The piece made it to the AMA editorial staff too late to be included in print, but they apparently featured it on their website, which led to the article going somewhat viral. From Wikipedia to various moto-sites to blogs to Kawasaki USA themselves, this article has been quoted again and again. Here it is in its entirety. Best wishes and blessed riding to all:
An Era Ends: Farewell ZX-7R (A.K.A. "Appreciating Older Sportbikes")
Kawasaki ends production of its legendary 750 superbike
By Timothy V. Kreitz, circa August 2003


"Hi, it's Tim," I announced over the phone to my good friend Rodger, a riding buddy. I had called him during work hours at his place of business, the local Kawasaki dealership.

"Hiya, Tim," Rodger replied. "What's goin' on, man?"

"I was wondering if you guys still have that green 2003 ZX-7R I was looking at last week."

"We sure do," he said. "Come on over and take another look at it. We'll make you a good deal if you decide to buy it. We've gotten some hints from our Kawasaki representative that the ZX-7R won't be manufactured next year, so if you want a new one, now's probably gonna be your last chance."

It was June and I had just gotten back from Round Five of the AMA Superbike Series at Pikes Peak International Raceway. A long-time loyalist of Team Green, I'd been contemplating the purchase of a new Kawasaki for a little over a year. I had looked at every available 2003 Kawasaki sportbike and liked them all. I'd even gone so far as to test ride a ZRX1200R and a Z1000. But after watching Eric Bostrom and his punched out ZX-7RR dominate the PPIR superbike race, I was suffering from a mild case of win-on-Sunday-sell-on-Monday fever. I had never owned an example of Kawasaki's now-iconic, sub-liter superbike, but had always wanted one. So upon my return from the AMA festivities, I was ready to seriously consider the possibility of becoming a ZX-7R owner.

Like any good devotee, there were already two Kawasakis in my garage; my much loved 2000 ZX-6R and my old workhorse, a 1992 ZX600R. The 600R had been a good and faithful servant, but was worn out and in dire need of replacement. I had entertained thoughts of supplanting the 600R with one of Kawasaki's new naked bikes. But hanging out with Eric Bostrom and his team at Pikes Peak made me realize that what I really wanted was another fully fared sportbike with lots of sexy lines and attitude. This led me into long ours of contemplation and meditation over the history and significance of the ZX-7R.

It seems a little hard to believe in this modern age of super-light, ultra-powerful motorcycles, but the comparatively heavier and somewhat tankish 7RR was the unquestioned king of the AMA for the better part of the 90s. The bike brought Kawasaki into an era of awe-inspiring dominance at the hands of riders such as Scott Russell and Doug Chandler, whose combined efforts resulted in an amazing four AMA championships over a period of seven years. Russell also took the 7RR to the World Superbike Series, where he silenced all the critics with his historic 1993 WSB championship. The 7RR, for the greater part of the decade, was the quintessential high-performance motorcycle. It's impact on racing and even modern culture was so great that, even to this day, most sportbikes -- Kawasaki or not -- are referred to as "Ninjas" by the general public.

Times change. With the introduction of the 1998 model GSX-R750 and its bigger, liter-sized brother a few years later, Suzuki dumbfounded the racing world with sportbikes that were lighter and faster than ever before. For the next five years, the ZX-7RR would struggle, undergoing a cylinder bore to keep it competitive and barely managing two second-place points finishes as Suzuki's "Gixxer" became the new king of the mountain. In case you've been living in a cave for the past few years, Yoshimura Suzuki's Mat Mladin has become an unheard of four-time AMA Superbike champion atop different variants of the newer-generation GSX-R.

I considered waiting another year for the opportunity to buy Kawasaki's hopeful answer to the GSX-R1000, the much-anticipated 2004 ZX-10R. The rumor for well over a year had been that the arrival of the 10R, along with class and rule changes by the AMA, would bring about the 7R's end. So at surface level, my ego begged me to hold out for a 10R. But the more I thought about it, the more I didn't want the bike (or any other 'big bore' 4-cylinder sportbike, for that matter) at all. I am a skillful, formally trained rider with lots of piloting prowess and strategic talent on the street. In short, I am a damn-good motorcyclist. And while I may not be so humble, I am at least aware of my limitations, which I always consider when the time comes to purchase a new bike. With that in mind, I realized that getting a 1000cc hyperbike wasn't the right thing for me to do. I knew I'd never be able to ride the ZX-10R anywhere near the edge of its performance envelope (either on the street or on the track), which made justifying the increased insurance premiums and 11,000-dollar price tag impossible to do.

The more I thought about it, what I wanted was the ZX-7R. Perhaps I wanted it for reasons of nostalgia. Or perhaps it was simply because the bike has a sexy character and overall look that the sharply chiseled R1s, GSX-R1000s, and CBR954RRs sacrifice for the sake of aerodynamics.

Whatever the reason, I bought the ZX-7R. I got the bike for $7,560 (US), which is below cost. Considering that MSRP was $9,399 no one can argue that I didn't get an excellent deal, even for an "outdated" motorcycle, whatever that means. Since June, I've been having an absolute blast on the thing. It handles wonderfully, has much more power and torque than my ZX-6R (which has been sitting alone in the garage a lot lately), and growls and screams like nothing else on the planet. Everyone comments on how incredible the bike's exhaust note is. If there was any question in my mind about whether or not to buy the bike, I can't even remember it now. It may not be on the cutting edge anymore, but the ZX-7R is one of the best sportbikes of all time.

So while it will come as no surprise, it is with much sadness that I report having just received word that the ZX-7R is officially motorcycling history. No 2004 models will be manufactured. And while examples of it will undoubtedly be rolling the streets for decades to come, 2003 is significant in the motorcycling world, for it marks the last year of the ZX-7R/RR.

Behold, an era has ended.