Monday, May 21, 2007
V-twins: Preferential treatment has always made them a winning design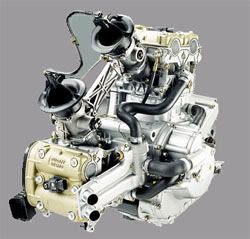 Obligatory preface: I am, always have been, and always will be a fan of any well-tuned, hi-performance, v-twin sportbike. Just the sound alone of a Ducati 998 or RC51 makes me want to go out and buy one. Furthermore, I can certainly understand why the average street rider would fall in love with all that bottom-end grunt and gobs of torque -- it's arguably a perfect design and tuning configuration for life on the street.
Now then, with that said, let's move on to the primary theme of this article: I am continually flabbergasted at the repeated historical instances of preferential treatment the v-twin has been given by various sanctioning bodies the world over. During the 1990s in both the AMA and WSB, twins were allowed an extra 250cc over their 4-cylinder competition in an effort to keep them competitive. It worked too well, as you may recall. That era of World Superbike is often remembered as 'The Ducati Cup' by those of us who saw the v-twin race bike for what it was -- unfairly advantaged. Things were similar in America, too, where in the early aughts, a young Nicky Hayden had the oomph of his HRC RC51 to partially thank for his AMA Superbike championship, a season which springbarded him into MotoGP, where he incidentally celebrated his first world championship last year.
Even the NHRA jumped on the
let's-pamper-the-twin-with-preferential-treatment
bandwagon for a while. Arguably still, even. And if you don't think the unfair advantage given the two-cylinder platform made a difference in the series, you might ask NHRA Pro Stock Motorcycle champ Andrew Hines how he likes his V-Rod dragbike. My guess is he thinks it's a peach.
But in recent seasons, things have been relatively well. All superbikes are allowed the same displacement, and with the help of some minor tuning advantages for the twin, competition has improved. The parity doesn't seem to've hurt the likes of Ducati in particular. In reference, I call your attention to the great Troy Bayliss and his dominaion of the WSB series last year.
But now, history may be on the verge of repeating itself, as Ducati has petitioned to be allowed yet another displacement advantage to the v-twin racing platform. This in an effort to acquire permission for racing the latest version of Ducati's production superbike, the 1098. Here we go again.
Maybe.
In any case, displacement parity should be the order of the day, and if the antiquated concept that is the v-twin motorcycle engine can't hang competitionwise, then let's remove it from the grid. There's a reason nobody races singles in Superbike. Perhaps it's time that same logic was applied to two-cylinder bikes.