Thursday, December 22, 2005
Merry Christmas and a Happy New Year from The Superbike Blog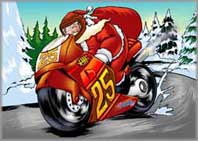 I'm taking some time off to spend with family, friends, and to go on some rides with my MC, so I just wanted to post a quick note wishing everyone a safe, happy remainder to the holiday season.
I'll have ride reports to post after Monday, and I'm also working on a few stories that are AMA- and MotoGP-related.
All the best to you and yours.

Wednesday, December 14, 2005
Can Kawasaki rise from its own ashes in MotoGP?

For the first time in almost a decade, it seems that Kawasaki may actually be setting its sights on making an impact in MotoGP, accordng to a recent article in
Cycle News
.
With a completely new-from-the-ground-up bike (powerplant included), and previously non-existent praise and blessings from its crew and riders, Team Green has been causing quite a buzz over the last few months. Since debuting its 990-cc GP weapon at Valencia at the close of the 2005 season, Kawasaki has logged several reportedly successful and impressive test sessions.
Kawasaki's senior GP engineer, Ichiro Yoda (who was the '05 GP bike's biggest critic), has confirmed that many of the problems associated with the old bike have been addressed (namely issues such as moving the bike's center of gravity farther forward and lower to the ground, shortening the chassis, smoothing-out the bike's violent power delivery, and making it more flickable).
Factory racer Oliver Jacque was reportedly blown away with the bike after first riding it in October, which is significant because it's probably the most boisterous commentary from a Kawasaki GP rider since Gary McCoy suggested Kawasaki throw their 2000 bike onto a trash heap and start again from scratch.
At any rate, it's nice to see that Kawasaki is apparently serious about winning some races in 2006, rather than just using MotoGP as a testbed for developing streetbike technology. It's still too early for the average race fan to tell exactly what's different, but there's no question that something big has changed at Kawasaki.

Saturday, December 10, 2005
And 'BOOM' goes the dynamite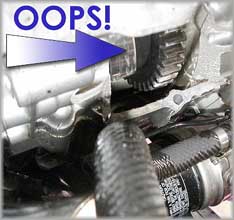 In case anyone asks, the luckiest man on earth today was Carl Peterson of the Odessa Sportbike Club, whose 1996 GSXR750 SRAD threw a rod at about 150 miles per hour. Carl (with his wife Marie riding in the pillion position) did a masterful job of getting the bike safely shut down and pulled over onto the shoulder of the road with a completely detonated engine, and an oil-soaked rear tire.
She went big. As you can see in the photo at right, the connecting rod came completely through the crank case, leaving a hole that was almost big enough for the piston to fit through.
This is something that in 17 years of street riding, I've never seen happen to a Japanese motorcycle. Little did I know until doing my own research this evening, the 1996 GSXR750 is known for throwing rods and spilling its guts all over the pavement. Unbelievable.
"I felt the motor shudder hard, bang, a smoke bomb, and it oiled the rear," Carl wrote on
OdessaSportbikes.com
. "I knew better than to grab a handful of anything besides clutch."
Obviously, Carl is currently in search of an appropriate replacement engine for the bike. Anyone who can help out can contact him on the
Odessa Sportbike Club's forum board
.

Thursday, December 08, 2005
Can you say "rigged"?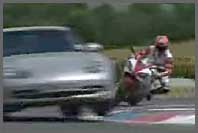 The lastest Video Du Jour being passed around the Internet by car geeks of various ilk is a segment from a British television show featuring a mid-line Porsche supposedly beating a Yamaha R1 by the slimmest of margins on a small road course.
HERE'S THE VIDEO
I have several problems with the video -- namely the fact that it's blatantly rigged in favor of the car. As you watch the video, consider the following factors:

1. The car has 4-wheel drive and is using traction control.

2. The track has only one small straightaway. The rest of the course is seemingly comprised of low- to medium-speed crankers that clearly give the effectively self-driving Porsche a huge advantage.

3. Note that both vehicles are supposedly bone-stock. That means the R1 is fitted with touring tires. What nitwit races a superbike on touring tires? No wonder the bike pilot is in the brakes so early at every turn.

4. Is it really a good idea to have a bike duking it out simultaneously with a 3,000-pound car? If I were the bike pilot, I'd be thinking that my hide was worth more than proving how fast the bike is.
These types of contests are all a question of venue. Pit the two vehicles against each other on a dragstip and the R1 destroys the Porsche. By the same token, this race would've been downright humiliating for the car had it been held at a circuit such as Mugello or Suzuka.
I know I'm sounding a little salty right now, but this video is the visual equivalent of a statistical debate. Given the right parameters and algorithms, virtually any result can be produced.

JOIN THE DISCUSSION ON USENET
Tuesday, December 06, 2005
Hale sets motorcycle track record at DTR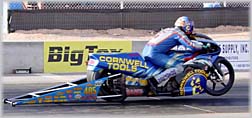 NHRA Pro Stock Motorcycle racer
Blaine Hale
set a new bike ET record at Midland's Desert Thunder Raceway on Sunday December 4, 2005, according to track officials.
Riding his Cornwell Tools Suzuki, Hale blasted through the traps with a blistering time trial of 4.76 seconds at 136 miles per hour. The run shattered the previous bike record of 5.12, and came within .14 seconds of claiming the overall track record held by Pro Alcohol Car racer Gene Hector of Big Spring.
CLICK HERE TO DOWNLOAD A VIDEO OF THE RUN
"It was a fantastic pass," said Desert Thunder Raceway announcer Rodger Gertson. "His 60-foot time was in the 1.1 range. That's fast."
Gertson speculated that, had weather conditions and track temperature been closer to optimal, Hale could've easily set the overall record.
The next race at DTR will be held on December 11. For more information, visit
Desert Thunder Raceway's official website
.

Friday, December 02, 2005
I love to see my friends succeed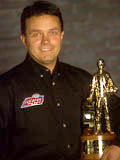 One of my motorcycling/racing/golfing buddies, Odessan Alan Bradshaw, is going to the NHRA's big show in 2006. He has been hired as the driver for the
BME/Okuma Top Fuel Dragster team
in the NHRA POWERade Drag Racing Series.
Alan won the 2003 NHRA Top Alcohol Dragster title in 2003, and is now taking the big step into premier class racing. I think I speak for all Midland/Odessa race fans when I say that we're very proud to have Alan representing West Texas in the world's fastest, most prestigeous drag racing series.
Congratulations, Alan! Kick some ass!

LEAVE A COMMENT
The slow and the curious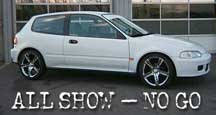 What exactly is going through the heads of these pimply-faced, 17 year-old kids when they pull up beside me in traffic at the wheel of some hilarious little compact car, wanting to race one of my sportbikes?
This has happened three or four times over the last few weeks, and is always the same scenario. I'm sitting at a red light, minding my own business, and begin to hear the intentional revving of a small-engined car with a farty sounding, coffee-can exhaust pipe. The car pulls up beside me and continues to rev. I ignore it. Finally, I look at the driver and overtly shake my head at him in disgust. The light turns green and I accelerate away at my own pace, as the little gramma car with the loud muffler does its best to impress me with a four-inch scratch and a rate of acceleration that would embarrass a ring-toed sloth.
Well, the other day, I gave in to temptation while out on the Green Meanie. As I sat at the light, listening to the inane revving of yet another Ricky Racer Wannabe® in a Dodge Neon, something snapped. I made a quick scan for cops, leaned down on the tank, held a 9,000-RPM rev, and blasted away when the light changed.
By the time I was at the top of second gear, I figured I had proven my point and got out of the gas. What seemed like 10 minutes later, the little Neon finally caught up and passed me like there was still a race going on. This brought us to the next intersection, where I promptly turned left instead of continuing to egg the kid on.
Then I started feeling stupid. I had just given the little numbskull his own personal sportbike demonstration, which is probably all he wanted to see in the first place.
Look, I know some of these little cars can be made to go fast -- and that's fine. Buy what you want and soup it up. More power to you. But unless your sport compact is capable of running a 9-second quarter mile, please don't bother trying to pick a fight with a sportbike. Most of you tuner freaks are hopelessly out of your league.

LEAVE A COMMENT