Thursday, February 02, 2012
As of right now, Harley-Davidson is doing everything right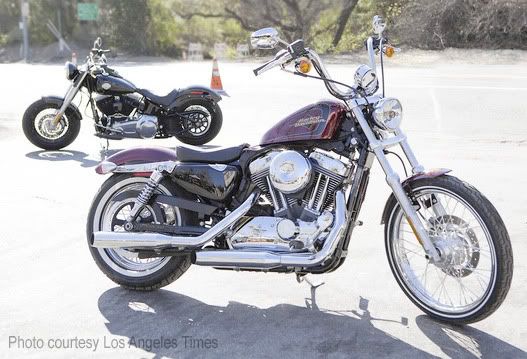 Here at the Superbike Blog, I've been writing quite a bit lately about Harley-Davidson and its seemingly very successful attempts to reinvent itself in the face of a changing American motorcycle demographic. It has repeatedly gone roughly against the grain with the older, mostly baby boomer traditionalists who've been its lifeblood in years past to produce stripped down, retro-modern interpretations of its classic styles which appeal strongly to a new generation of riders, most of whom grew up in the direct influence of metric cruisers and sportbikes.
Over the past few years, H-D's Dark Custom line of motorcycles, including the Sportster 48, Crossbones, and others have breathed new life into the Motor Company®, and this year they pull no punches with two new Dark Custom additions aimed at the same 30-something demographic, as well as Latinos.
This week in California, Harley-Davidson introduced the Sportster 72 and Softail Slim for 2012 (pictured right), two more minimalist pieces of irresistible eye candy that should sell like hotcakes.
The Softail Slim harkens back to the post-World War II Army surplus Harleys that gave birth to modern American biker culture. The more expensive of the two new bikes ($15,499 for the base model), the Softail is essentially a low and lean factory bobber with strong styling references to the WLA.
The 72, on the other hand, is all about lowrider homage. It's whitewall tires, metal-flake paint, ape hanger handlebars, slim spoke wheels, and narrow mid-section are clearly designed for the urban rider who wants an unmistakable '70s-style chopper. And at $10,499 for the base model, the price is about as right as it can be for a new Harley.
Both bikes, let's face it, look great and feature the latest in available Harley technology. My guess is that they'll sell well and help H-D continue to increase its market share at a brisk pace.
Congrats once again to Harley for getting it right from the design, business, and marketing perspectives combined. If they stay on the right track, this could be their new golden age.