Wednesday, September 22, 2004
Kawasaki should thank the Motegi pile-up participants for its first MotoGP podium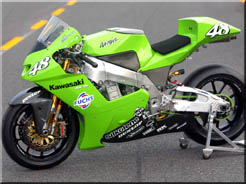 That isn't likely to happen, however. Racing is racing and we Kawasaki fans will take a podium finish almost any way we can get it.
But here's hoping that Kawasaki will join the 4-stroke revolution and come up with a competetive GP bike soon. Granted, the ZX-RR has has served its R&D purpose (it was used to help develop the current king of the literbikes, Kawasaki's ZX-10R), but now it's time to move on.
How great would it be to finally see Kawasaki win roadracing's premier class?
Alright, now I'm just talking silly.
Sportbiker given bogus ticket for going 205 mph on an RC51

What should we make of all the fools who've bought into this fairytale thus far?
Read the ridiculous story
here
.
This kid has an excellent defense, because an RC51 wouldn't do 205 miles per hour if it fell from space.
It was a major news story when Miguel DuHamel's CBR1000RR factory superbike did 196 at Brainerd earlier this year, and the RC51 was dumped by Honda in favor of the faster CBR. Considering the bike's rev limit and gearing, I doubt that even a turbo could thrust him past the double-ton. If the supersquid in the story has figured out something American Honda hasn't, there'll surely be a job waiting for him when gets out of jail. Not bloody likely.
A good lawyer should be able to get the little nincompoop off Scot-free.
Tuesday, September 07, 2004
As the 2004 AMA Superbike season winds down, I can't help but wonder what might've been

Well, it's almost over -- and thank God for
that
. The upcoming double-header weekend at VIR will put a cap on what has been, for my money, the
least
memorable AMA Superbike season of the past ten years.
Sure, there were a few exciting moments -- the rise of Jake Zemke comes to mind. But in a series where factory rider presence is anemic at best, even J.Z. himself must realize that he had it comparatively easier in 2004 than many rookies of years past. Let's face it, without the participation of Kawasaki and Yamaha, it just isn't AMA Superbike.
After having walked away with yet another double-win last weekend in Georgia, Mat Mladin will probably secure a record 5th championship in Virginia. Mladin has been an absolute machine in 2004 (as usual), and with a 42-point lead going into the final round, everyone else might as well stay home. It would take either a cataclysm on Mladin's part or a miracle on Zemke's for any other outcome to be realized. I guess all of this should be interesting in its own way, but somehow it just isn't. No disrespect intended to these great racers, but excuse me while I yawn.
In an era when AMA Superbike coverage and popularity is at an all-time high, I can't help but wonder what might've been in 2004. Had all the major manufacturers participated (and had Ducati been a factor), AMA Superbike 2004 might've had the makings of a truly exciting, highly-competitive season. Instead, it seems that another steamrolling by Mladin -- combined with the limited factory participation -- will lead history to judge Superstock as having been the better series of 2004. That's a bit sad.