Monday, January 19, 2009
Now that the chopper is dead again, Honda decides to mass-produce one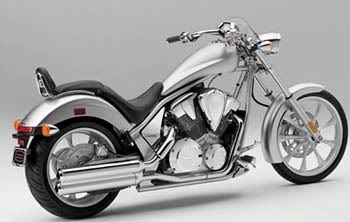 I don't get it
. Is the market for this kind of thing still so strong as to venture upon an idea like the Honda Fury?
The chopper is a fashionable item. It always has been. Like most other fads and fashions, it'll likely come back into vogue again in another 15 to 25 years, just as it returned in the early 2000s. But as for now, even
Jesse James
himself has
pronounced the chopper a dead style
.
I'll be interested to see how this thing sells when it arrives. As a friend of mine wrote, I'm afraid Honda may've shown up five years late to the chopper party. We'll see.

Tuesday, January 06, 2009
Racing pullouts rampant in 2009

Well, we're only into the second week of the year, and already, several factory race teams are announcing their decisions to pull out of competition in a variety of series. The world economic collapse is having its effect on many forms of motorsport, and motorcycle racing is no exception:

"Torrance CA: American Honda announced today that it will withdraw Team Honda from participation in the 2009 AMA Roadracing Series. This was an extremely difficult decision to make as the racing spirit reaches to the very core of Honda. The primary factor contributing to this decision is the current global economic situation and its impact on Honda. "

"Blame it on the global economic crisis. Kawasaki, which fields riders John Hopkins and Marco Melandri, are set to leave premier motorcycle racing this season. This news comes in the wake of Japanese manufacturers Honda pulling out of F1, Subaru and Suzuki quitting World Rally Championship, all due to the poor economic climate."
This situation is likely to get worse before it gets any better. Like most of us, corporations are having to tighten their belts fiscally, which usually starts with sponsorships, R&D, and advertising. Motorcycle racing is a vehicle for all those efforts.