Tuesday, August 31, 2010
1978 Kawasaki KZ1000 Limited Project Update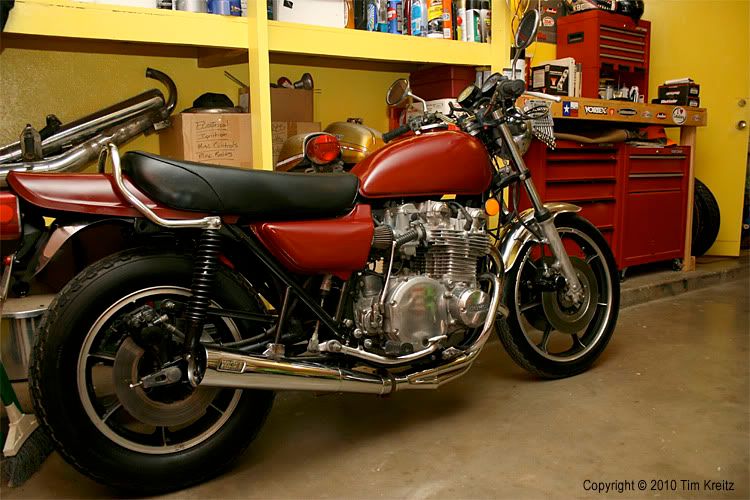 As of tonight, generally all mechanicals are properly sorted and I just have a few electrical issues left to iron out. Namely, there are no leads going to the horn and the speedo light is burned out.
So far, this is what I've done (and I solicited my good friend and expert motorcycle mechanic Rodger's help for some of this):
1. Carburetors overhauled
2. Compression check (all good)
3. Generator check (all good)
4. Various wiring and circuit repair
5. Tach drive overhaul
6. Various mechanical refurbishments
7. Frame painted
8. Partial engine polishing
9. New tubes
10. New tires
11. New fuel lines
12. New battery
Also, tonight was my first ride with which I put the bike through its paces; highway speeds; running near redline a few times; hard braking; faster cornering. It was also the longest ride I've ever taken her on. She did great.
My next orders of business will be a valve check, carb synchronization, and to replace the automatic cam chain tensioner with a manual one. Other than that, she's pretty much ready to go to paint.
One final note, and there are many of you here who will understand what I mean by this; tonight was the night that I fell in love with the KZ. It was the first time that I actually got out and really felt and experienced the motorcycle as it was meant to be experienced. For once, I wasn't doing something mundane with the bike like burbling it gently down the street six blocks to the office, or test-riding it around the block once or twice after laying underneath the thing turning a wrench all night.
To help celebrate, Rodger took his fully restored '75 Kawasaki 100 out of the garage and we tore around town, having a great time. It was really nice to have all the hard work begin to pay off.
More updates to come.