Tuesday, December 06, 2005
Hale sets motorcycle track record at DTR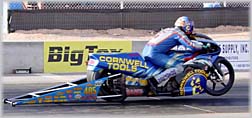 NHRA Pro Stock Motorcycle racer
Blaine Hale
set a new bike ET record at Midland's Desert Thunder Raceway on Sunday December 4, 2005, according to track officials.
Riding his Cornwell Tools Suzuki, Hale blasted through the traps with a blistering time trial of 4.76 seconds at 136 miles per hour. The run shattered the previous bike record of 5.12, and came within .14 seconds of claiming the overall track record held by Pro Alcohol Car racer Gene Hector of Big Spring.
CLICK HERE TO DOWNLOAD A VIDEO OF THE RUN
"It was a fantastic pass," said Desert Thunder Raceway announcer Rodger Gertson. "His 60-foot time was in the 1.1 range. That's fast."
Gertson speculated that, had weather conditions and track temperature been closer to optimal, Hale could've easily set the overall record.
The next race at DTR will be held on December 11. For more information, visit
Desert Thunder Raceway's official website
.