Monday, October 18, 2004
More pocket bike madness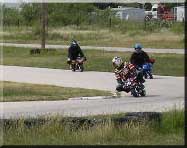 Some people say pocket bikes are silly.
And those people are right.
The sight of 20 or 30 grown men tooling around a small vehicle roadcourse at 32 miles per hour on pint-sized motorcycles was one of the silliest, most ridiculous things I've ever been a party to.
But you know what? It was extremely fun.
WTKA's
Rimrock Raceway
played host to the free pocket bike and miniGP track day yesterday morning -- a clear, warm Sunday that saw a great
turnout
.
Sessions got underway at around 10:15 a.m., with many of us making short order of the course in no time:
Pic
Pic
Pic
We all started thinking we were fast until Carl Peterson brought his
YSR50 onto the track
. He then proceded to run lap times on the order of 11 seconds quicker than anyone else.
Carl's wife then mounted the YSR and did a little pocket bike spanking of her own:
Pic
Pic
Pic
Crazy Dave tried to take attention off the YSR by
stunting
for the crowd.
When the bikes were done, the track owner and his son took their C12-fueled shifter karts onto the course. It's amazing to watch a go-kart accelerate to 75 or 80 miles per hour in less than one hundred feet. Everyone was so enthralled by it that apparently no one got a photo. We were all too busy standing around staring at the action:
Pic
Pic
Time for me to enjoy some fine Starbucks coffee:
Pic
Tanja shows off her Tribble bike, A.K.A. FURby. In the background, I demonstrate the ease of putting my pocket bike on it's centerstand:
Pic
By early afternoon, festivities were drawing to a close. No problem. After a yummy lunch it was time to find a lonely road and have fun with the big bikes:
Pic
All in all, it was a very fun day. Heat races start next week.