Wednesday, September 22, 2004
Kawasaki should thank the Motegi pile-up participants for its first MotoGP podium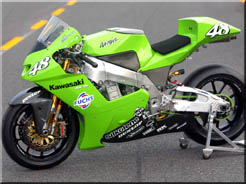 That isn't likely to happen, however. Racing is racing and we Kawasaki fans will take a podium finish almost any way we can get it.
But here's hoping that Kawasaki will join the 4-stroke revolution and come up with a competetive GP bike soon. Granted, the ZX-RR has has served its R&D purpose (it was used to help develop the current king of the literbikes, Kawasaki's ZX-10R), but now it's time to move on.
How great would it be to finally see Kawasaki win roadracing's premier class?
Alright, now I'm just talking silly.