Friday, July 30, 2004
Z1: The Movie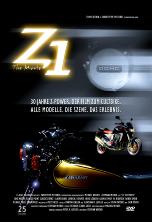 Immortalizing Kawasaki's great contribution to motorcycling
By Tim Kreitz
Since first reading about it on the Internet several months ago, I had been trying my best to get a copy of
Z1: The Movie
, the much lauded, 64-minute German documentary, but to no avail. None of my local video outlets could get their hands on it, and I couldn't find a German distributor that would ship to the United States. Though a difficult pill for a Kawasaki nut like me to swallow, I eventually gave up.
Then one day a few weeks ago, as I was reading through a copy of
Motorcyclist
Magazine, a shining light of hope and joy jumped forth from one of the pages. It was an advertisement for a company that was exclusively distributing
Z1: The Movie
on DVD in the United States. Before the magazine had even hit the table, I was placing my online order. And boy, am I glad I did.
Make no mistake, this video is an absolute, unquestionable must-have for the Z bike enthusiast. It chronicles the complete history of Kawasaki's groundbreaking literbike from a uniquely German perspective, beginning with the arrival and uncrating of the very first Z1 at Hamburg Harbor in 1973 and continuing in detail through the complete range of models to the bike's latest incarnation, the awesome 2003 Z1000. Along the way, many beautifully restored and original examples of the bike are featured and ridden through striking European settings. Technical specifications, performance data, and restoration philosophy are also covered. Attention is likewise given to the Z1's 650cc siblings, the Lawson replica, and the turbo version.
But you don't have to be a Z1 aficionado to appreciate and enjoy this movie. Any reasonably involved motorcyclist will find
Z1: The Movie
both interesting and educational. The Z1 paved the way for modern literbikes, and this film illustrates that fact in enthralling detail. The photography is excellent, the information is useful, and the historical value is more than significant.
For me, one of the most entertaining aspects of watching a film like
Z1: The Movie
is the reminder that things really haven't changed that much over the last three decades. The basic engine design of modern inline fours is still the same, as is the basic sound and feel. They just make a lot more power these days and handling is better than most motorcyclists can use -- a ponderous thought when one considers that there was a ridiculous and unsuccessful political push several decades ago in the U.S. to slow motorcycles down because they were "too fast."
Beautifully shot in digital and featuring an excellent soundtrack,
Z1: The Movie
was well worth the $24.99 I paid for it. Extra features include a "making of" compilation, additional riding footage, German and English language versions, stills, and music tracks.
Available at
http://www.americanclassix.com