Friday, October 08, 2010
Finishing touches on the '78 KZ project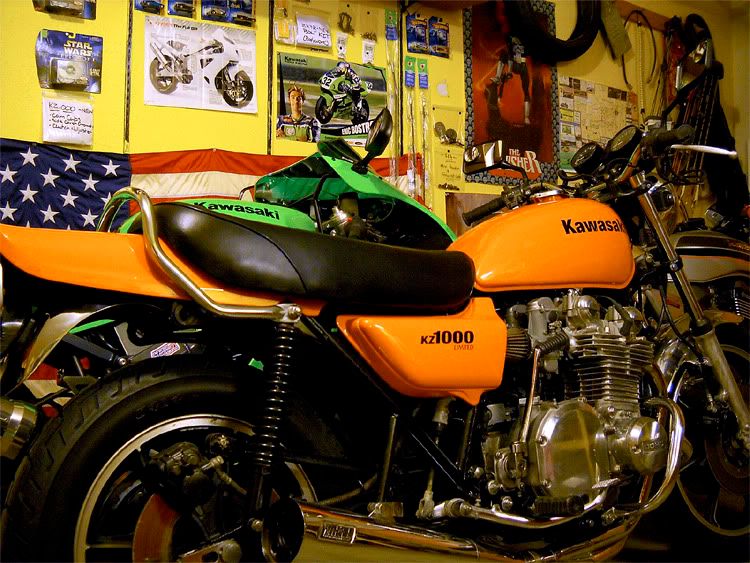 Three months and a few Grand later, I'm finally putting the finishing touches on my 1978 KZ1000 LTD project bike.
Well, I say these are the finishing touches, but the possibilities on what I could do with this bike given the time and money are virtually endless. Due to the ease and availability of parts and support, I could certainly have a hot drag motor built for it. I could go crazy and install a modern sportbike front end, racing swingarm, and suspension system. I could go all HID or LED. These bikes are still so collectible and popular that a virtual treasure trove of groovy aftermarket kit is but an Internet order form away.
Yeah, I could do a lot more stuff; a
lot
more. But I'm not gonna. At least not for now.
Anyhow, as of this week, all the electrical is properly sorted, the engine is back in proper running order, and the new paint work is finally finished and installed. Now in 1970 Superbird (Vitamin C) Orange with black custom decals I designed myself, my old KZ is looking and running great, and I'm just happy to have the motorcycle back in one piece and purring like a kitten. Now I can actually ride the thing.
Old bikes are a labor of love to be sure, but they are more than worth it. I was just a little kid in the late '70s and early '80s when these bikes were rolling off the assembly lines from Japan, but was surrounded by Z- and H-model Kawasakis thanks to various older family members who were bigtime into riding them. I've said it before, but my experiences with those bikes as a child -- the smell, the sound, the feel of riding pillion -- are all part of the reason I ride motorcycles today. Moreover, they have influenced my enthusiasm for riding old-school and retro bikes, especially since I wasn't old enough to ride back in the day and had to mostly watch all the fun from afar.
Now, my restoration focus can finally return to my poor little S1A Mach I triple, which has been put on the back burner no less than three times since last year as I set it aside to work on other stuff. I've stopped setting goals for a finish date at this point, but if the little Mach I is lucky, it might just be running by springtime.
Fingers crossed.