Monday, May 31, 2010
Memorial Day 2010: Motorcycles, airplanes, and tanks -- oh, my!

Yeah, I know, that's a stupid title. But it pretty much sums up how Memorial Day 2010 went for little ole' me out here in sunny West Texas. It was a non-stop day of fun and remembrance. I saw things, man. Cool things. Very cool things.
I think I've pretty much gotten to a point in my life where Memorial Day Weekend is now my favorite holiday of all. I'll be honest, there are some Christmases when I wish the sun would just go ahead and explode. The same goes for Thanksgiving, only without the recycled fruitcake and Pagan symbolism. Halloween makes me nervous. Valentine's Day is for suckers. And Labor Day Weekend, well, it always confuses me. I mean, rather than celebrating labor by getting some real work done for once, everybody does the exact opposite and takes time off. It's all such a beating if I over-think it, which as you can tell, I often do.
Ah, but I have no such complaints on Memorial Day. There are motorcycle rides and air shows and barbecues and genuine moments of contemplation to be had. Not to mention that Memorial Day Weekend falls right at the beginning of summer when the sky is blue and the air is warm. It's the perfect occasion by which to set the tone for the rest of the season. I've honestly grown to love it, even despite the fact that I don't always agree with what some people attempt to honor by it.
So without further adieu, here's how I spent my Labor Day Monday, complete with pictures and video.
Ride to Remember 2010
I swear, this thing has got to be the biggest organized motorcycle ride in West Texas now. I wouldn't dare a guess as to how many bikes participate in this event. I'll just say, it's a freakin' crapload. The following pics don't begin to do the ride's magnitude of number any real justice.
Lookin' low, down a row: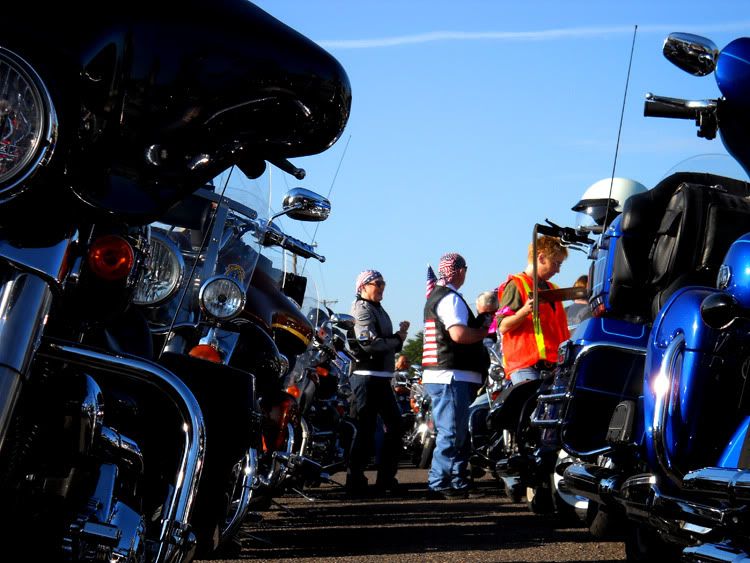 The front of my subgroup of about 100 bikes. There were at least 10 or 15 subgroups, so do the math: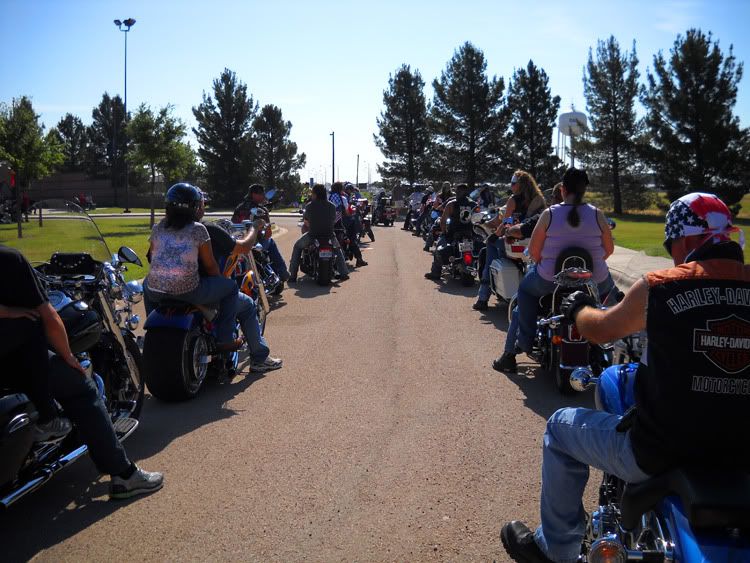 Motorcycles ahead of us in the distance as we waited to go: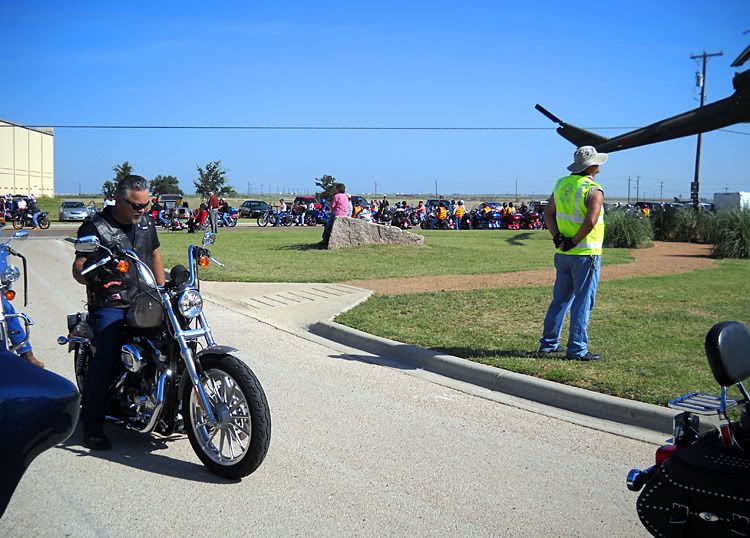 Hundreds more motorcycles waiting to leave: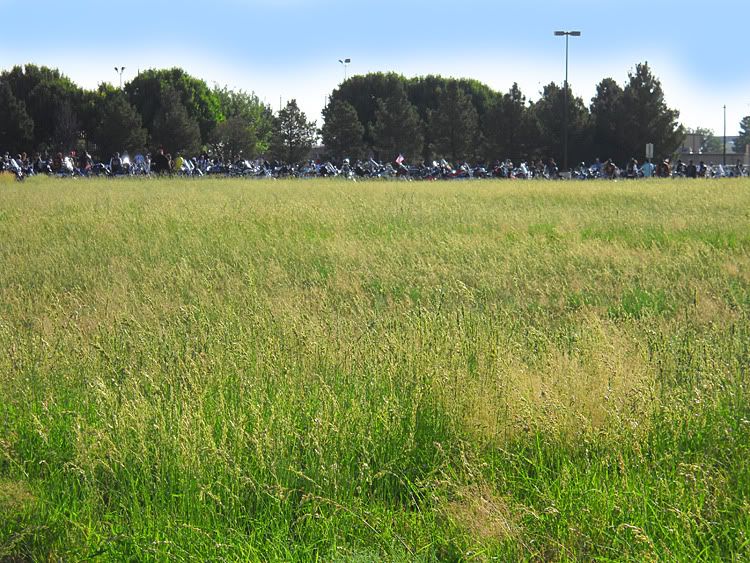 The ride itself went off without a hitch, at least from where we were positioned. My friends Britt, Rodger, Brandon, and I rode the first 45 of the event's 80 miles, then broke off to have lunch. Hats off to the organizers of the Ride to Remember. Heck, even the grammar and spelling on the instruction card was much improved over the ransom not they handed out last year. You guys did a great job. Kudos to all of you.
Commemorative Air Force Celebration
Afterward, everyone kinda broke off to ride in different directions, so I went home and picked up my wife. From there we went to the Commemorative Air Force's Memorial Day celebration. Significant at this year's festivity was the return to airworthiness of the CAF's "FiFi", the world's only flying B-29.
To celebrate, they towed her onto the tarmac and ran her new engines for the crowd:
Here's a poorly written sign in the main hangar, describing everything the CAF went through to get FiFi back into the air: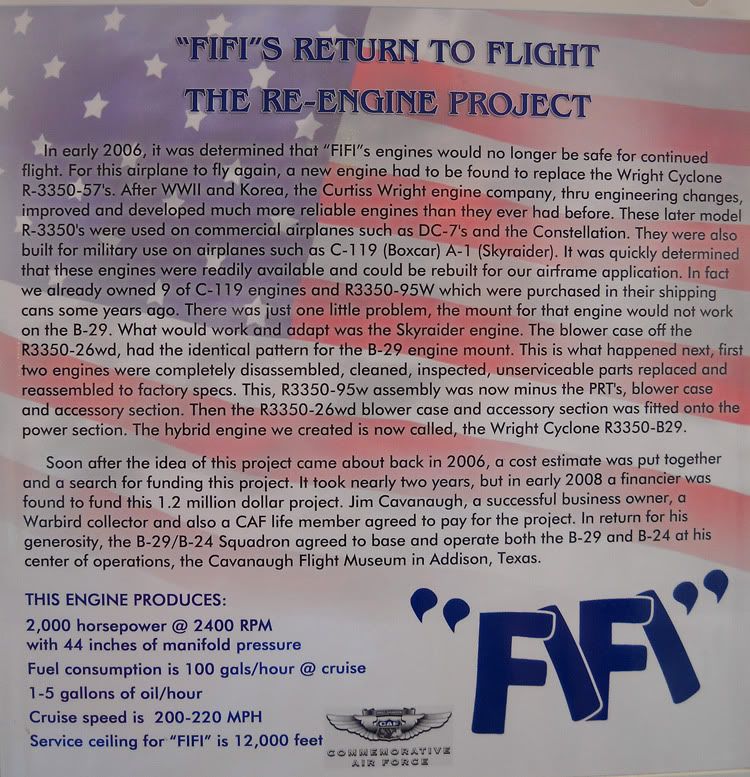 Here's an old B-29 nacelle, presumably housing one of the old-variant Cyclone engines: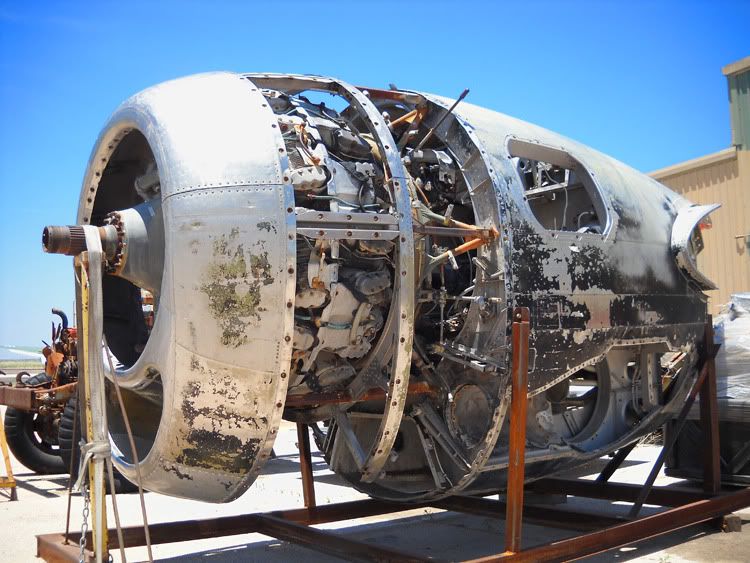 From there, we checked out the CAF's old C-46 Commando, which had been flying a few years ago, but is now quite obviously grounded: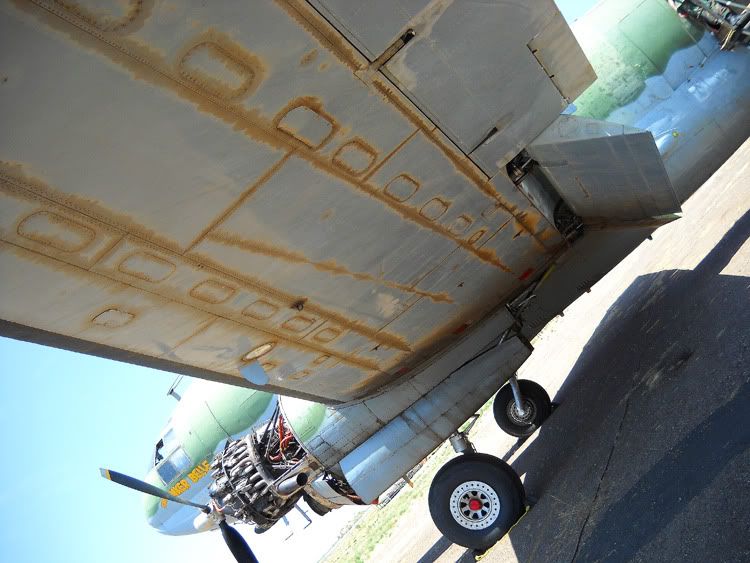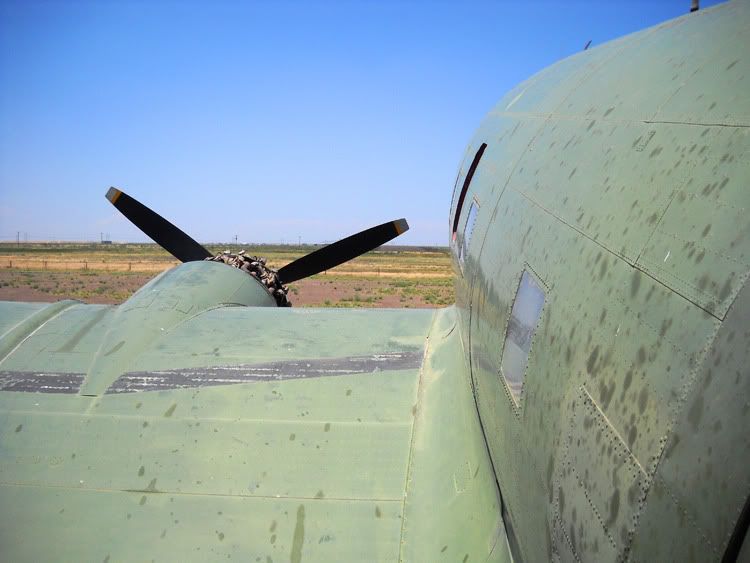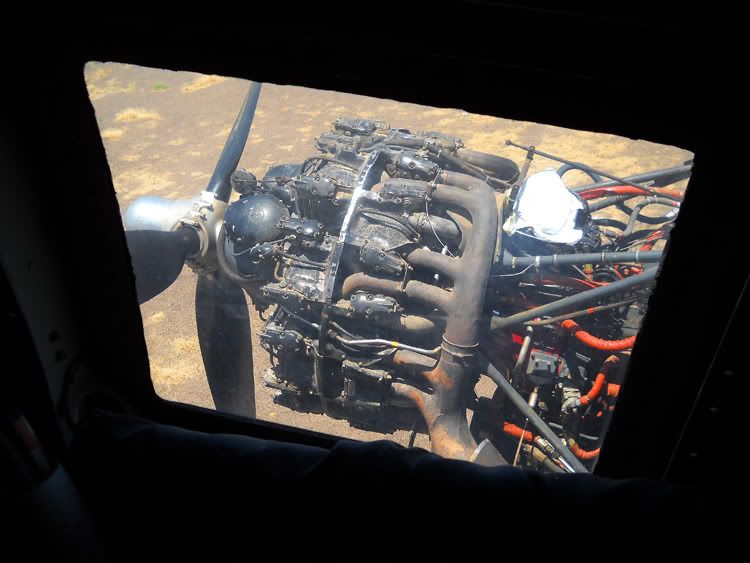 This is likely almost the exact same view new WWII pilots saw when they landed at Midland Army Airfield back in the day: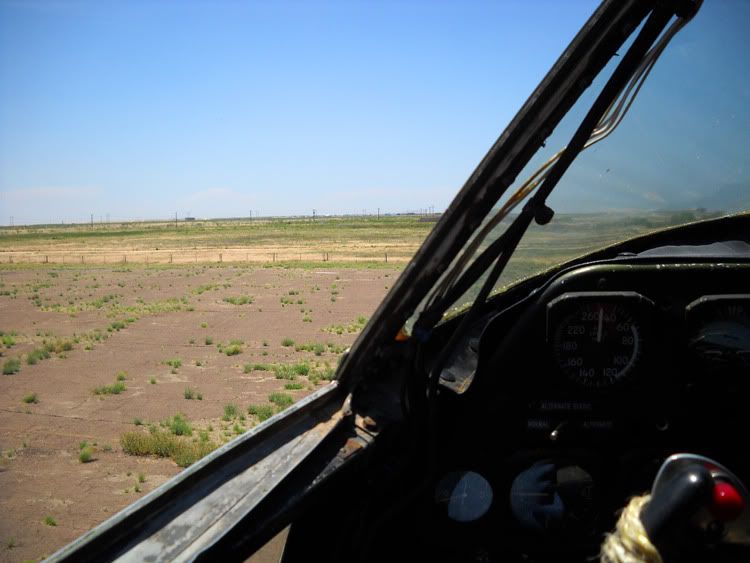 Next, we climbed into a much more airworthy C-47 (DC-3), painted in the very recognizable D-Day invasion stripes: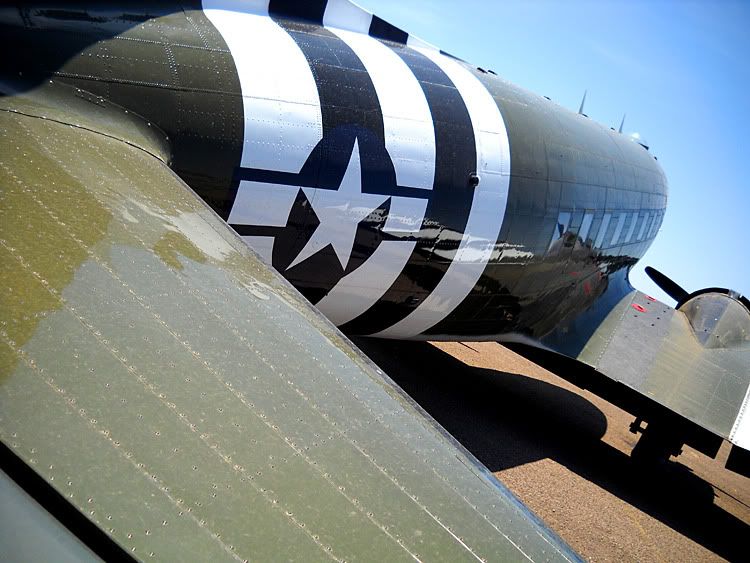 The view from the C-47's cockpit: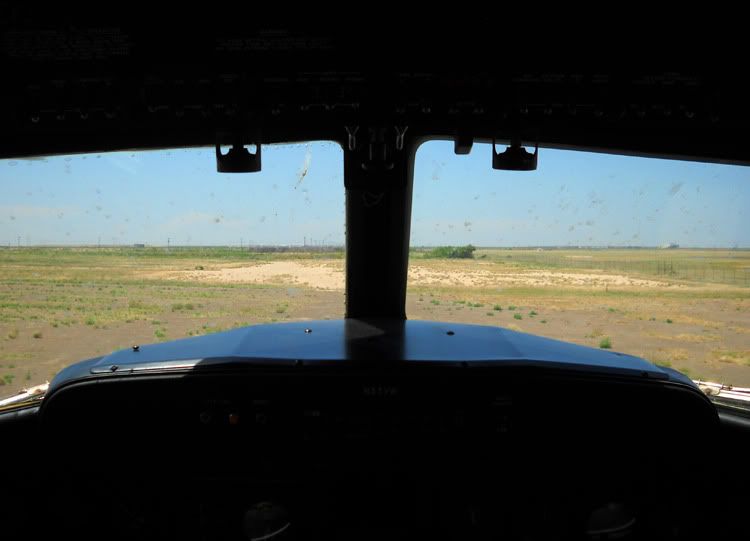 A wide variety of other aircraft were being flown or were on display: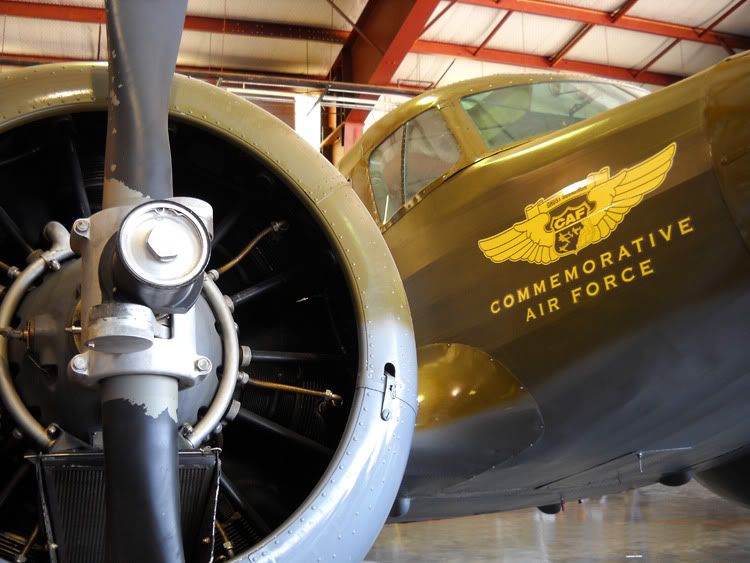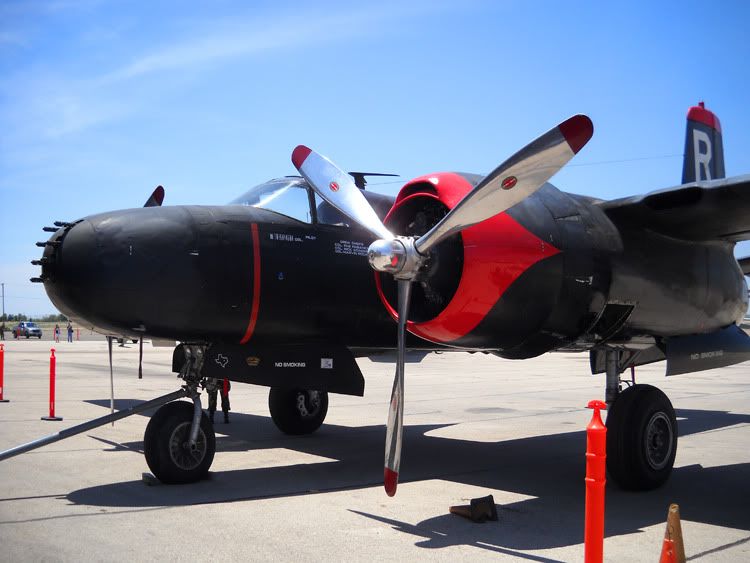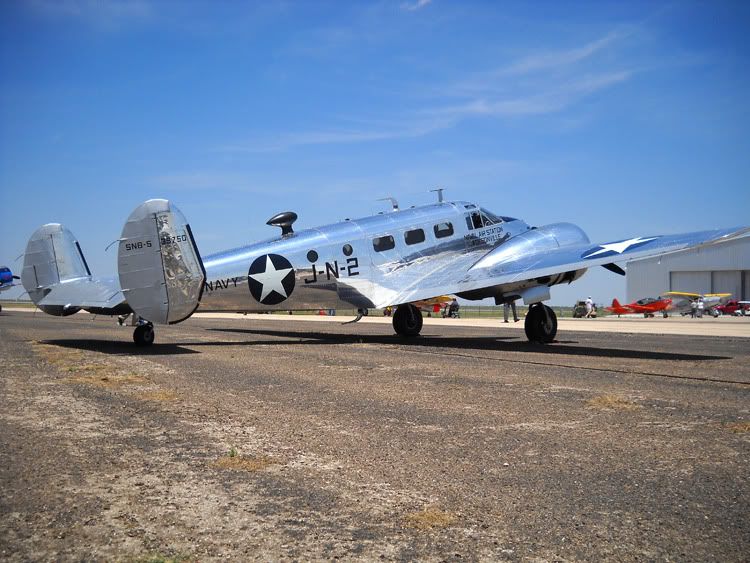 Dare me?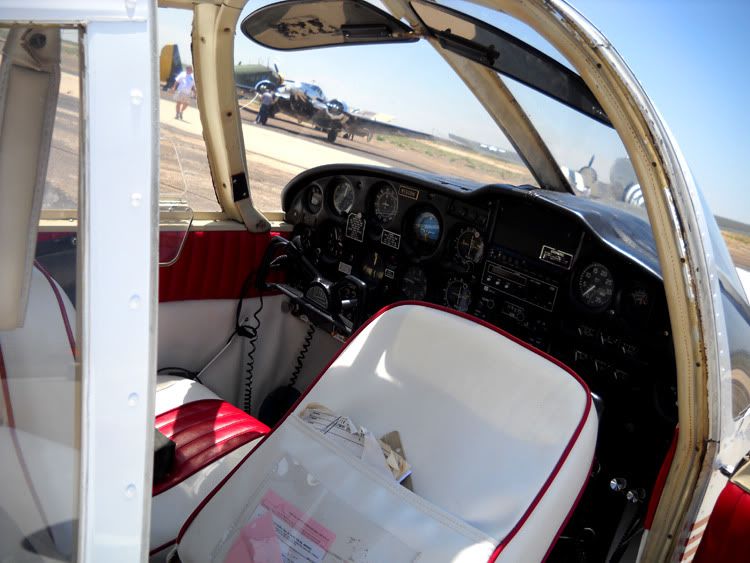 The view from CAF Hangar 2 on a perfect West Texas day: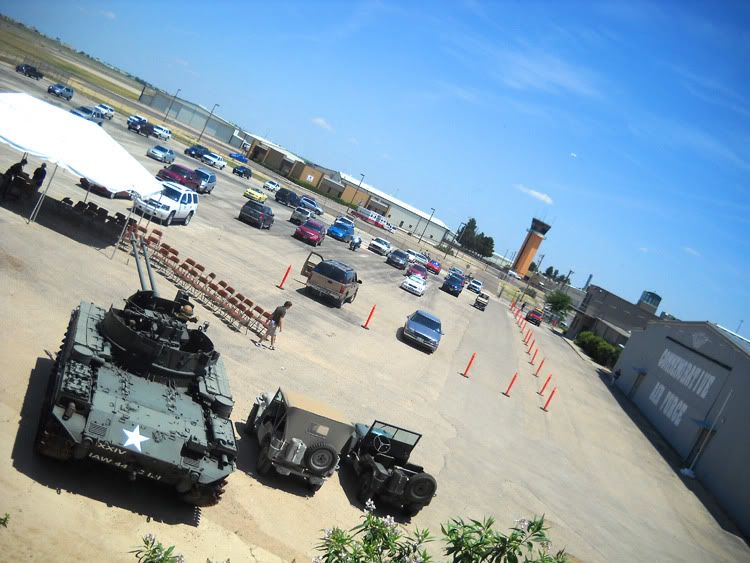 Me love Jeeps. These 'uns are my Wrangler's great-great-grandpappies: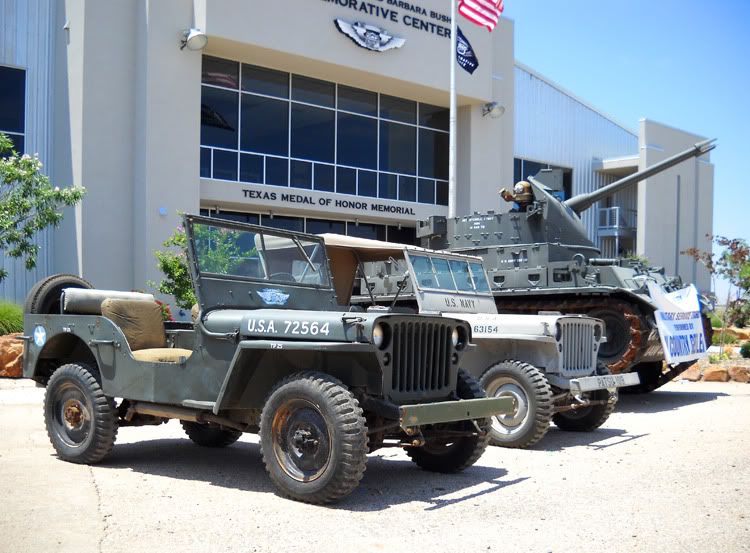 Dig the ID plate:
So after a day like today, is it any wonder that I prefer Memorial Day over any other holiday? I didn't have to buy any gifts, I didn't have to pay for an expensive dinner, I didn't even have to eat recycled fruitcake. It was just me getting to be around a bunch of the things in life I find to be extremely groovy; my wife, my friends, motorcycles, airplanes, jeeps, and tanks. So tanks a lot to everyone who made all this stuff possible today. Tanks a very lot. Everyone have a great week.