Sunday, March 01, 2009
Ruins of Rattlesnake Bomber Base (Pics & Ride Report)

My good friend Britt (drummer of Dingo Sanctuary) and I had been talking all week about making a ride to a spot in the heart of the West Texas badlands where neither of us had been in years, the ruins of the WWII-era Pyote Army Airfield, otherwise know as Rattlesnake Bomber Base. Today, the weather cooperated, and despite the facts that it was a little cool and we were a bit tired from performing all weekend, we -- along with our friend 'Busa Dave Hardy -- decided to make the ride.
I was excited about seeing the old base again, mainly because exploring ruins of any kind is something I absolutely love to do. But more so with this particular location because of the significance of its history. Just a few examples aside from its importance during the war: Rattlesnake Bomber Base was the place where Enola Gay was mothballed before being sent to the National Air & Space Museum for preservation. Also, it was the filming location of the character Truman's skydiving school in the 1985 cult-classic movie
Fandango
, which is one of my all-time favorite flicks. Our plan was simply to wander around and take pictures, so imagine our disappointment when we discovered that the gate was welded shut and displayed this sign: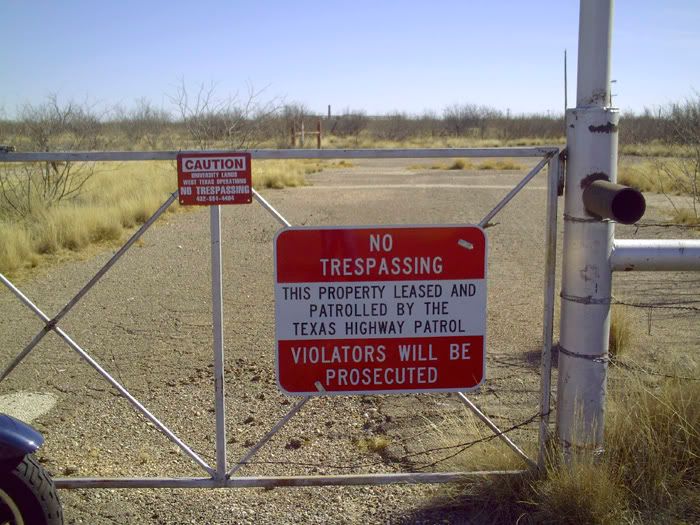 Pissed off like you can't imagine (I mean seriously, think about me and my politics, then just picture how I reacted at the sight of that sign), we decided we would go ahead and trespass anyway, but only if we could find a back way in, where the bikes wouldn't be sitting on the roadside giving us away. Unfortunately, we rode around a few times, and apparently all the entrances have been either closed off or are secured. The "West Texas State School" (fancy wording for "Youth Prison") borders the eastern edge of the property, and is crawling with guards. So we decided to ride along the prison's outer perimeter road and look for a photo op. This was the best I could do, because I didn't have nearly enough lense:
A bit dejected, but still having fun because we were riding motorcycles, we decided to cross over to the north side of the Interstate and check out the original entrance to the base. Much like everything else in Ward County, the location is in total ruin. Still, I always try to find the beauty in these kinds of relics, and I think there was definitely some there: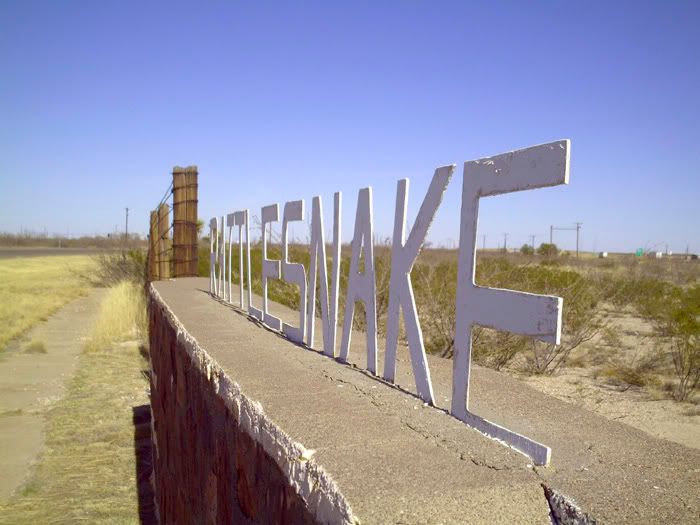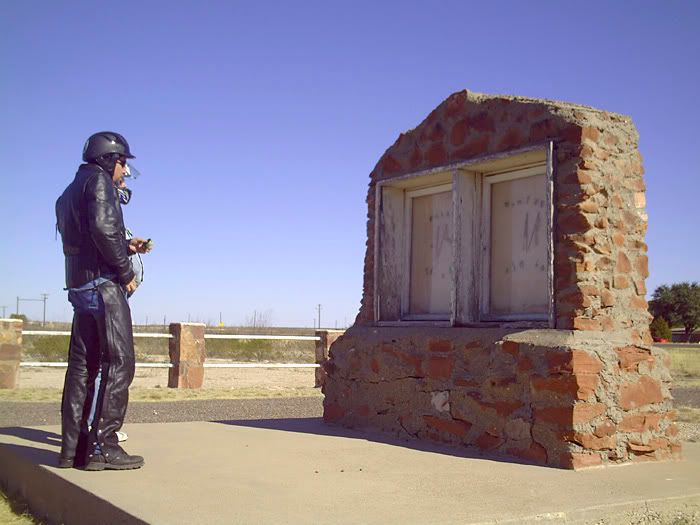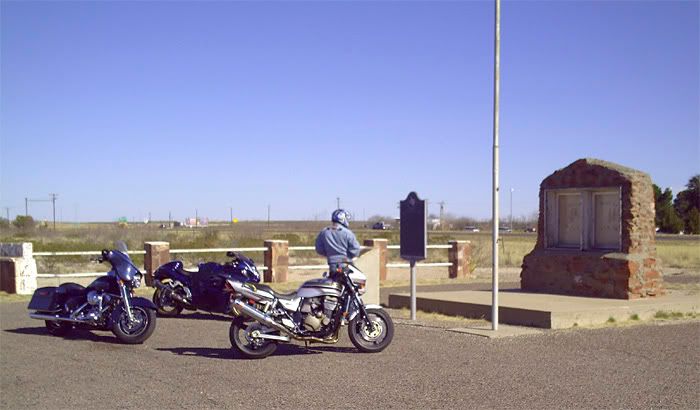 It's a far cry from what the entrance looked like in the 1940s. By the way, that lamp post is still there: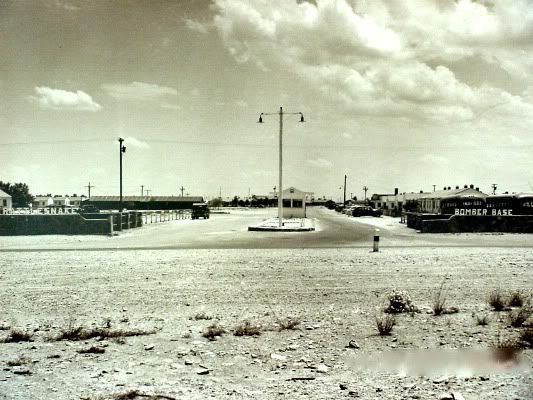 We had arrived into Pyote from the north, having traveled from Midland through Odessa, Kermit, and Wink. On the way back, Britt suggested that we go through Wickett and Monahans because he wanted to show us something. Naturally, we were game, so Britt led us to a lonely spot just northeast of Pyote, still in Ward County, that came as a total surprise to me. It was an old, decrepit cemetary where many of his relatives are buried: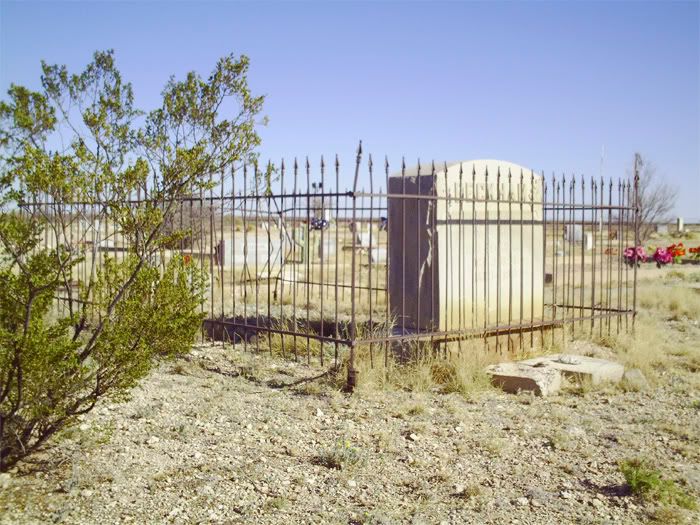 Britt's family ties in West Texas go back to just after the Civil War. This is the grave of his grandfather, who was the Sheriff of Ward County. He died long before Britt was even born:
Every other grave in this cemetery belongs to one of Britt's relatives or ancestors: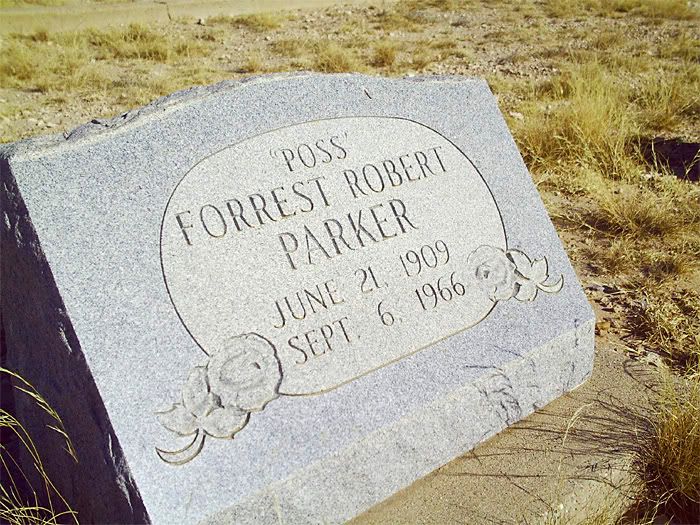 Some of the graves are almost a century old, and their gothic fencing and plots are in advanced decay:
Believe it or not, this is someone's grave marker: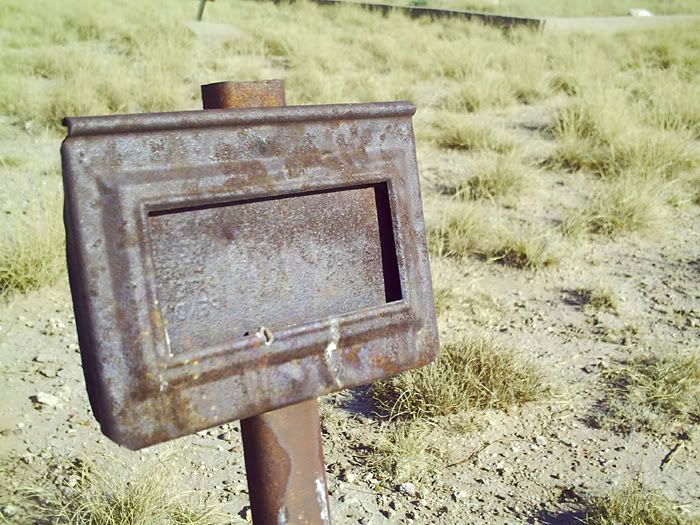 The cemetery's supply building is likewise in a state of ruin. We had a look around, but there was nothing but trash inside: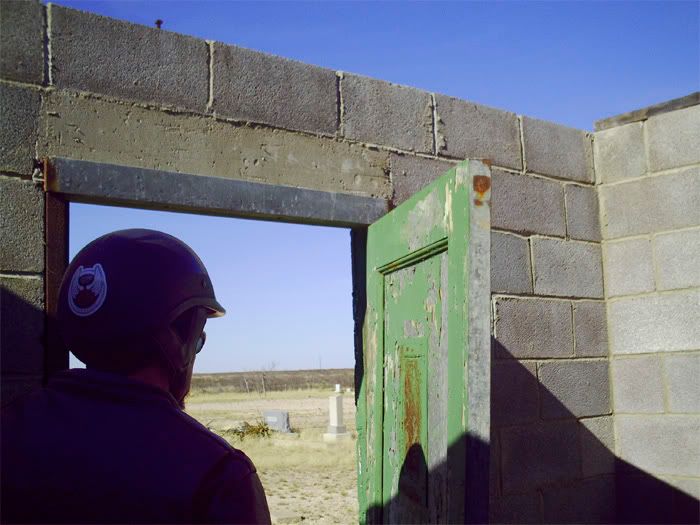 Again, I always try to find the unlikely beauty of these kinds of places, and as I walked out the door, I saw this: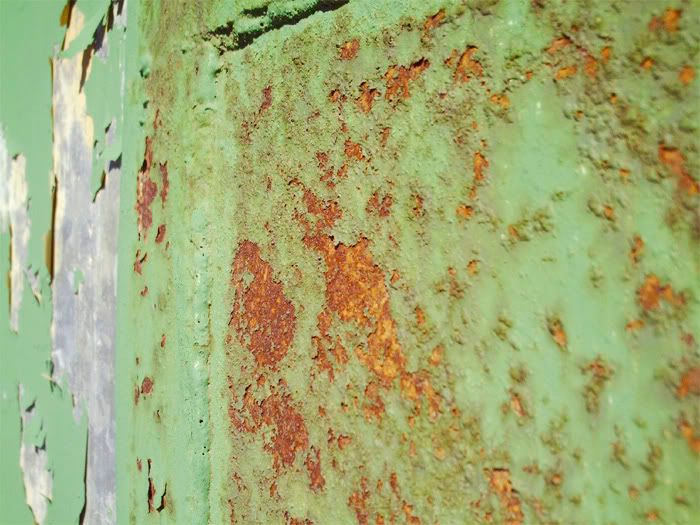 Later, I saw this: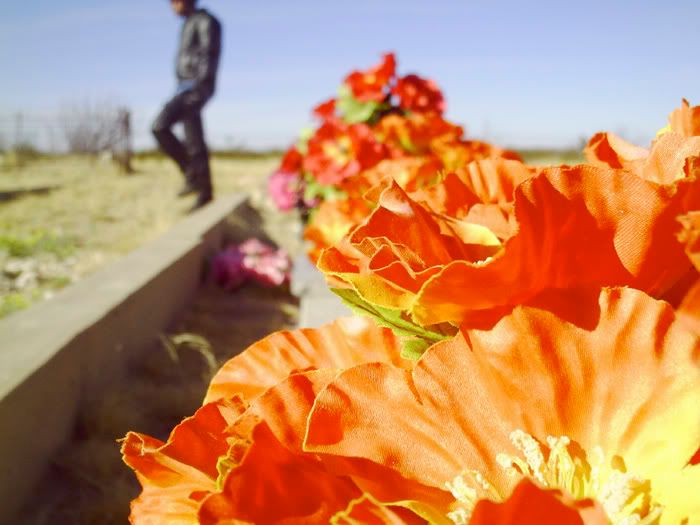 And this: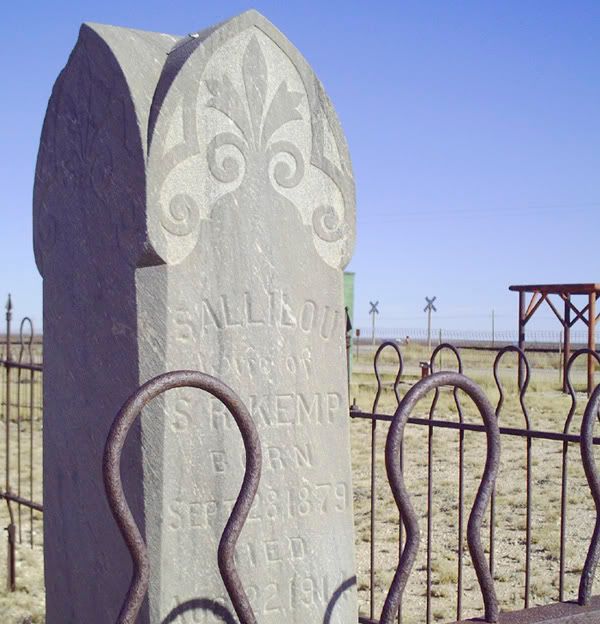 By that time, the temperature was starting to fall pretty rapidly, and we decided to head back to Midland-Odessa. We made haste, with only a short re-feuling stop in Monahans: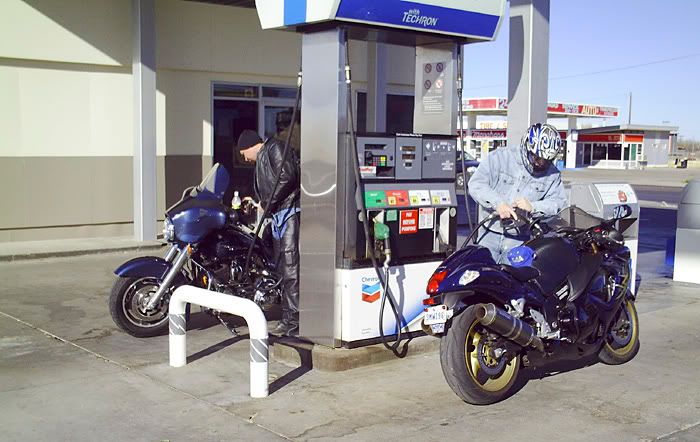 Obligatory shot of my Rex: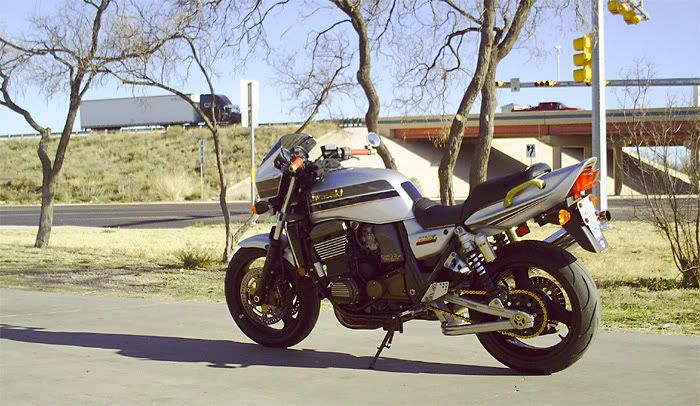 I was back home around sunset, having put a little over 200 miles on the clock. Aside from not being able to get onto the base, it was still an excellent day. I wish I could figure out a way to make a good living by just riding around and looking at stuff on my motorcycle. Man, that'd be sweet.