Monday, October 06, 2008
Ft. Davis ride this Friday (10.10.2008)

Three or four of us are taking this Friday off from work and riding to Ft. Davis for the day. All are welcome -- it'll be a combination of cruisers and sportbikes, so don't be shy regarding bike type if you want to participate.
We'll start from Midland, make an early stop for coffee in Odessa (circa 6:30am), then head onward to Ft. Davis via Pecos and Balmorhea. We'll ride the scenic loop, grab a bite, pop down to Marfa, then return to Midland-Odessa via Alpine, Ft. Stockton, and Crane.
Here's a map: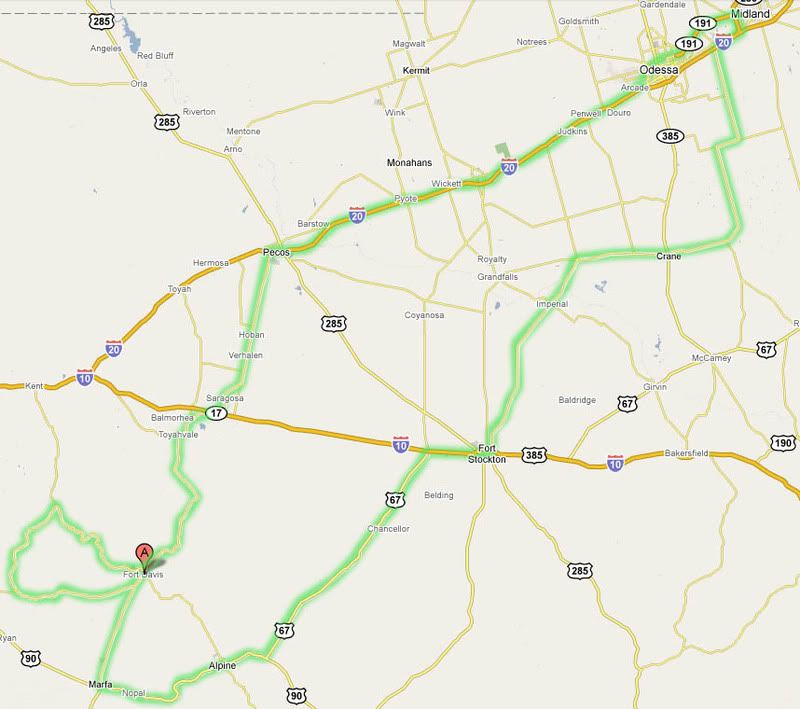 Midland riders will meet at the T&C on Midland Drive and Andrews Highway at 6:15am. Odessa riders will meet the Midland riders at the Odessa Starbucks between 6:30am and 6:45am. Be fueled and ready. We'll leave for Ft. Davis shortly after 7am.
The pace will be moderate in the main group. We'll likely split up through the scenic loop into faster and slower sub-groups. I'm taking my ZX7R, which needs some suspension work right now, but is still dialed in good enough for a brisk (albeit slower-than-usual) jaunt through the twisties.
Email me at timkreitz-at-ya-hoo-dot-kom if you need any additional info.