Thursday, December 22, 2005
Merry Christmas and a Happy New Year from The Superbike Blog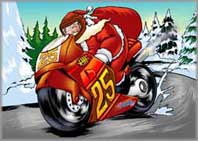 I'm taking some time off to spend with family, friends, and to go on some rides with my MC, so I just wanted to post a quick note wishing everyone a safe, happy remainder to the holiday season.
I'll have ride reports to post after Monday, and I'm also working on a few stories that are AMA- and MotoGP-related.
All the best to you and yours.