Friday, December 02, 2005
I love to see my friends succeed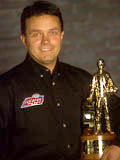 One of my motorcycling/racing/golfing buddies, Odessan Alan Bradshaw, is going to the NHRA's big show in 2006. He has been hired as the driver for the
BME/Okuma Top Fuel Dragster team
in the NHRA POWERade Drag Racing Series.
Alan won the 2003 NHRA Top Alcohol Dragster title in 2003, and is now taking the big step into premier class racing. I think I speak for all Midland/Odessa race fans when I say that we're very proud to have Alan representing West Texas in the world's fastest, most prestigeous drag racing series.
Congratulations, Alan! Kick some ass!

LEAVE A COMMENT