Saturday, December 10, 2005
And 'BOOM' goes the dynamite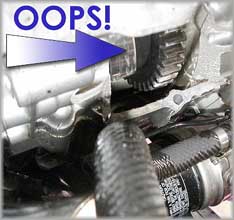 In case anyone asks, the luckiest man on earth today was Carl Peterson of the Odessa Sportbike Club, whose 1996 GSXR750 SRAD threw a rod at about 150 miles per hour. Carl (with his wife Marie riding in the pillion position) did a masterful job of getting the bike safely shut down and pulled over onto the shoulder of the road with a completely detonated engine, and an oil-soaked rear tire.
She went big. As you can see in the photo at right, the connecting rod came completely through the crank case, leaving a hole that was almost big enough for the piston to fit through.
This is something that in 17 years of street riding, I've never seen happen to a Japanese motorcycle. Little did I know until doing my own research this evening, the 1996 GSXR750 is known for throwing rods and spilling its guts all over the pavement. Unbelievable.
"I felt the motor shudder hard, bang, a smoke bomb, and it oiled the rear," Carl wrote on
OdessaSportbikes.com
. "I knew better than to grab a handful of anything besides clutch."
Obviously, Carl is currently in search of an appropriate replacement engine for the bike. Anyone who can help out can contact him on the
Odessa Sportbike Club's forum board
.