Sunday, October 02, 2005
The easiest 0.4 seconds I ever shaved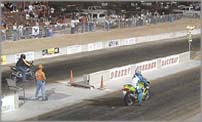 The past week, from beginning to end, consisted of one unexpected change after another. Firstly, our CD release party -- which was scheduled to happen Saturday night at Riley's -- was cancelled due to a contractual obligation that would not allow the club to cancel the band they were going to bump for us. That effectively means that we will most likely be having the party at Hot Shots on October 14 or 15. No big deal, really, because it freed up another Saturday night for racing.
Which brings me to the next unexpected change. I got a call from
The Knee Draggers
on Tuesday, telling me that the Renthal sprockets I ordered were on a one month back order. So in order to get chainwheels by the weekend, I had them drop-ship me a Vortex set. Too bad for Renthal, because the Vortexes are just as high in quality, and were cheaper. By 3 p.m. yesterday, I was regeared.
Wow, what a difference. I went up two teeth on the rear sprocket and down one tooth on the crankshaft, which shaved 0.4 seconds off my average pass. I'm 3 hundredths away from being in the 7.40s and sped up about 4 miles per hour.
I raced GSXR750s all night and only lost once when I got loose on a launch:
PIC
Oh, and here's one for Reekyite Ari Rankum, who chastised me for previously not wearing my full racing leathers. It was hotter than a biznatch, Ari, but I got all power-rangered-up just for you:
PIC
The grearing is perfect. Now begins the search for more horsepower. If anyone has a set of flat slide carbs off of a 7RR for sale, send me an email.

LEAVE A COMMENT