Sunday, September 18, 2005
Desert Thunder Raceway in Midland, Texas: Overview and Critique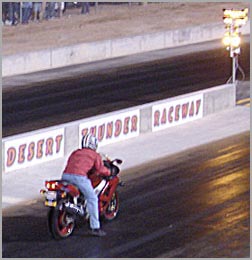 Tonight marked my inaugural racing experience at Midland's
Desert Thunder Raceway
, so I thought I'd offer up my initial impressions of the track to anyone whom has yet to enjoy the privilege of running in a test-n-tune session at the Permian Basin's newest dragstrip.
First of all, allow me express my general pleasure with the facilities as a whole. I just kind of 'ended up' there after riding around Midland for an hour or so tonight. I hadn't really planned on going at all (much less racing). But once I pulled up to the gate, I figured 'what the hell,' and paid for a race number.
As you may have gathered by now, I am very glad I did. As 8th-mile venues go, DTR has the potential to be one of the best in Texas, if not the country.
After turning in my registration card to Rodger and Matt in the tower, I geared up and got in line for a pass. I was on my smaller bike (the red ZX6R pictured at right), and was anxious to test out the newly laid asphalt against my semi-race compound Dunlops. Aside from the fact that there is not yet enough rubber fused to the track surface to achieve optimal hook-up, a sportbiker couldn't ask for a better dragstrip. By this time next year (assuming the surface is well maintained), Desert Thunder Raceway will undoubtedly be one of the best-tempered, fastest short tracks in the southwest. The surface is smooth and sticky, flat and fast. In a word: Awesome. The nearby Penwell quarter-mile track is a pathetic, sorrowful volcano compared to DTR. The difference is literally like night and day. Make no mistake: From a competition standpoint, the Penwell guys are in big, big trouble if they don't improve the quality of their facility.
My best ET on my little 600 was a 7.810 at 97 mph. My best reaction time was a .06. My best 60-foot was a 1.96. Not bad for a mostly stock, six year-old bike in high-humidity. At my next opportunity, I'll take my ZX7R to a DTR test-n-tune for some improved numbers. Until then, I urge everyone in the OSB (Odessa Sportbikes) community to support Desert Thunder Raceway. It is a true blessing to have such an excellent place for going fast, and right here in our own collective back yard to boot.
Now all we need is a local roadcourse, and the Permian Basin sportbike scene will be darn-near perfect. See you at the track.

LEAVE A COMMENT