Sunday, September 25, 2005
Another fun Saturday night, another roasted rear tire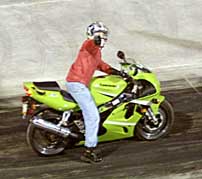 Last night marked the end of another excellent test-n-tune weekend at Midland's Desert Thunder Raceway. I ran my ZX7R on the Permian Basin's new 8th-mile track this weekend to compare it with my ZX6R, which I ran last weekend. At the end of the night, as I looked at my time slips in closer detail, several things surprised me about the way I currently have the 7R set up (namely in regard to its roadrace gearing).
Firstly, the 7R -- with its smaller than usual 43-tooth rear sprocket -- runs virtually the same ETs as my 600, but at a slower speed. This tells me that a return to either stock gearing (or perhaps even a bigger than stock rear sprocket) would easily put me over the 100 mile-per-hour mark and drop me consistently into the low 7s. I haven't done the math yet, but I'd almost certainly wager that the somewhat portly 750 would also benefit greatly from a smaller crankshaft sprocket. This will likely be confirmed in a few weeks, because I'm ordering gears tomorrow.
Secondly, the Dunlop D207 Sportmax tires on my 6R seem to be better suited to application on newer, untempered dragstrips than the Michelin Pilot Race H2s on my 7R. As strange as this may sound, I think the Sportmaxes actually hold their temperature
better
than the Michelins. I won't draw any final conclusions on that perception until there's more rubber on the track. It's getting there.
I won six of nine races, the three losses all having fallen to the same competitor: Odessan Brandon Wallace and his smoking fast, stretched, nitrous-aspirated R1. Even though my reaction times were consistently faster than his, the 6-second Yamaha always reeled me in by at least the 330-foot mark:
PIC
Here's a pic of me giving the Shooter McGavin index finger to DTR Announcer Rodger Gertson in the tower:
PIC
Those of you who remember the GSXR1000 speed test articles I wrote last spring will recognize the bike in the far lane:
PIC
There's just nothing like putting a good spanking on a supercharged corvette:
PIC
Here's a pic from last weekend of me going up against a big-bore Honda on my 600:
PIC
The night was not without drama, unfortunately. We didn't get a picture of it, but a Pro Mod Class, blown alcohol car from Big Spring set a new track record of 4.92 just before its chutes failed, sending the fire-breathing monster completely through the gravel pit and into the outer perimeter fence at over 140 miles per hour. Luckily, the driver was okay, but the car was most certainly not. It took almost 30 minutes to get the car removed and repair the chainlink.
I should also mention that NHRA Pro Stock Motorcycle racer
Blaine Hale
graced the tarmac at DTR this weekend, but he was not racing his Cornwell Tools Suzuki. He was there to be a test rider for the owner of a supercharged Kawasaki. Here's a somewhat blurred pic of Blaine just after a burnout:
PIC
So, another beautiful night of racing in West Texas goes into the history books. I won't be out next weekend, as my band
Dingo Sanctuary
is playing in Midland at our CD release Party. In the meantime I'll be regearing and probably rejetting for my next trip to DTR.

LEAVE A COMMENT