Tuesday, July 26, 2005
Midsummer reflections on AMA Superbike, MotoGP, and summer riding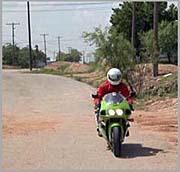 Let me begin this article by first offering my sincere apologies. I have been sorely neglecting the Superbike Blog over the last month or so, as is prone to happen at times. Unfortunately, my latest period of dereliction has come to pass at the very height of racing season. And as if that wasn't a bad enough misdemeanor on my part, several very important moments in racing history passed by without so much as a mention here. So for those of you who sent e-mails over the last month, wondering what hot opinions I had to offer, I'll now sum them up in one fell swoop:
Congratulations, Nicky Hayden
The first USGP in over a decade saw our favorite Kentuckian race to his very first win in motorcycle racing's premier class. Putting the icing on Nick's proverbial victory cake was a pole position start and blistering lap times in practice. Here's to you, Mr. Hayden. It looks like
one of my wishes
finally came true.
Eric Bostrom: Finally back in the saddle
He won at PPIR. He won at Lagna. He won at Mid-Ohio. I'm in freakin' heaven right now. It seems that the combination of new engineer, world-class teammate, and belated willingness to change his riding style are finally starting to pay off for my favorite AMA racer. Keep up the good work, Eric. I knew you could do it.
Blessed be the NART, now and forever
I know, I know. You have no earthly idea what a "NART" is. Well, NART is an acronym for
North American Reeky Tour
. Still confused? Click
here
. I participated in the NART relay last month and extend my heartfelt thanks to all the
Reekyites
who helped make it such a resounding success.