Wednesday, May 18, 2005
Plush, baby: The Tim Kreitz approach to sportbike comfort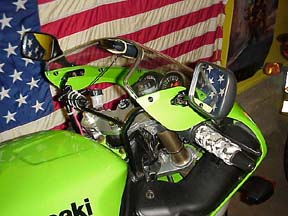 A wise man once said that necessity is the mother of invention, and anyone who rides an older model race replica knows just how true that observation is.
The obligatory need for customization and "comfortization" on many out-of-vogue, limited-aftermarket sportbikes can lead the men who ride them to do highly unorthodox and eccentric things. Take Usenet denizen Larry "xlax" Lovisone, for instance, whose crazed obsession with personalizing his very rare Honda RC45 drove him to personally
design and fabricate
everything from custom triple clamps to exhaust canisters for the now venerable HRC superbike platform.
As a ZX7R owner, I'm beginning to understand Larry's pain. Ten years ago, the 750 Ninja was one of the most saught-after bikes on the planet. These days, the average pimply-faced teenager on a GSXR1000 doesn't even know what a ZX7R is. And that lack of popularity, along with the bike's obsolescence in premier racing is reflected strongly in ever-dwindling equipment choices within the aftermarket.
So when I needed to make my 7R more comfy, I -- much like Larry -- was basically left to my own devices. No problem. I'm as eccentric as the next guy. So to increase the diameter of the handgrips, which I needed for both cush and to raise my riding position, I wrapped them thickly with bicycle grip tape, as shown in the photo above.
Modification of the 7R's stock seat was necessary, as well. I simply removed some of the seat cushioning to give the ergonomics a more upright geometry. Notice the
dip in the seat's profile
.
These two simple mods turned the bike from a mild torture rack into a fun motorcycle that I have easily done 300-plus mile days on. In fact, the grip tape trick worked so well that I
did the same thing
to my other bike, a 2000 ZX6R.
I guess the moral of the story here is to not be scared of older or less popular bikes, and that solutions to your comfort woes are never impossible to overcome. Whether the answer lies in custom milling or simply making a trip to the local bicycle shop, where there's a will, there's always a way.