Tuesday, April 12, 2005
Wood Alert: 2005 DRZ400SM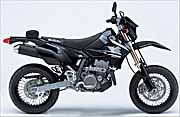 Droooooool.
I hate spring, because it's always the same thing: I go to the bike shop to buy some routine piece of gear (today I was ordering a replacement visor) and I'm suddenly bombarded with feelings of tempation, lust, and general wanting over some piece of hot new machinery.
Today was no exception. As I was leaving the dealership, I spotted the 400SM sitting there, licking its figurative lips like one of Swearengen's whores, and 10 seconds later, I was atop it. Make no mistake, the bike feels as good as it looks.
"What's this? The key is in the ignition!" I said aloud, even as I reached without hesitation to turn it. And yes, the bike lit up, fully serviced and ready to test ride.
It took every bit of self control I had, but instead of hitting the starter and asking to take it for a spin, I pulled the key from it's socket, walked it over to Rick (one of the salesguys) and handed it to him.
"Hi, Rick. You guys left the key to the 400SM in its ignition. Here ya go."
"Oh, thanks Tim," he replied. "Some guy was looking at it earlier."
My only hope is that the guy comes back and buys it before I return to pick up my visor. I'd hate for $20 to turn into $6020. What a bike.

LEAVE YOUR COMMENT HERE