Tuesday, April 12, 2005
Some call it dirty -- I call it great racing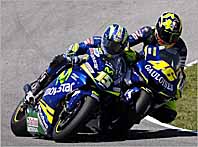 I got several e-mails this weekend asking me what I thought of the controversial final moments of Sunday's MotoGP race at Jerez, specifically wanting to know whether or not I thought Rossi was out of order in his last-minute attempt to pass Sete Gibernau. As everyone already knows, Rossi snuck inside Gibernau in the final turn of the last lap of the race (on an extremely thin slice of real estate), causing a paint-swapping, bump-n-grind moment that eventually resulted in Sete paddling his way through the kitty litter as Rossi crossed the finish line in a victorious wheelie. To make matters worse, the race's finale had been the culmination of a hair-raising series of lead changes and dog fighting that had me literally screaming like a banshee at the television.
Honestly, I was initially angry with Rossi for pushing so hard, but decided to wait a while to form my final opinion. After all, these guys race motorcycles on a level of understanding that I'll never be able to comprehend, and it would be retarded of me to try and second-guess the circumstances and events as my own adrenaline still pumped from watching the race.
So, several days and much meditation later, I have authored my official position: Rossi didn't do anything I wouldn't have done myself and, furthermore, Gibernau should've never allowed so much room on the inside with a guy like Valentino breathing down his neck. No harm, no foul. The race was fantastic, and I hope they're all as heart-pumping in 2005.