Tuesday, February 22, 2005
Chickenstrip mania!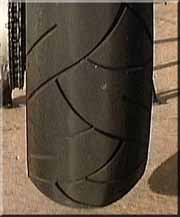 Geeez, the squids of 2005 are already starting to proliferate. They're young, they're inexperienced, and they're all riding R1s and GSXR1000s.
I went out for a short ride last night and ended up stopping by a certain Seattle-based coffee establishment which needs not be named, where I met a few of these super squids over a Breve. Super nice guys, but greener than freshly-picked ocra. The following is a basic account of how part of our conversation went:
Squid #1: "I like your bike, man. What is that?"
Me: "It's a ZX7R." [I've removed most of the decals.]
Squid #1: "It's a 750?"
Me: "Yep."
Squid #1: "I've seen a few of these around and wondered how big the engine was."
[First red flag: They don't know what a ZX7R is.]
Me: "It's based on an older superbike design that Kawasaki raced until 2003. It won a lot of championships."
Squid #2: "Really? My cousin has a superbike."
Me: "A
factory
superbike?"
Squid #2: "Mmm-hmmm. You ever heard of a Hayabusa?"
[Second red flag: They don't know what a superbike is.]
Me: "Errr. Suzuki doesn't race Hayabusas in the Superbike class. They aren't allowed. They race GSXR1000s, vaguely similar to the 600 you're riding."
[Third red flag: As I look at Squid #2's GSXR600, I notice the 3-inch wide chicken strip on his rear tire.]
Me: "I like your bike, man. You must've just bought it."
Squid #2: "yeah. I've had it for about 3 months. Why?"
Me: "Your tires aren't scrubbed in."
Squid #2: "Scrubbed in?"
Me: Yeah, you know, like mine."
[I point to my back tire, with its 2mm-wide outer penstripes of untouched cosmoline near the sidewalls.]
Squid #1: "Dude! Look at his tires!"
Squid #2: "Man, how do you turn that much?"
Me: [In full preacher mode] "Well, I've been riding motorcycles since I was 8 years old, and I've been riding on the street since I was 17 or 18. I've also had training. You guys should think about taking an MSF class, then maybe go to a racing school later on. In the meantime, guys, keep in mind that it isn't twisting the throttle that makes you a skilled rider. By the same token, it isn't just tight turning, either. I still try to learn every day. It's a constant process, which is part of what makes motorcycling so rewarding."
They seemed to understand, and I hope they'll be okay. It's just frightening at times to see these neophyte riders on such outrageously powerful machines.