Friday, December 10, 2004
Michelin kicked to the curb (no pun intended) as Ducati Austin announces it will use Dunlop Tires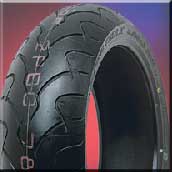 Ducati officially announced in a press release yesterday that it will race on Dunlop rubber in the 2005 AMA Superbike Series:
"The agreement means that the Parts Unlimited Ducati Austin pairing of Eric Bostrom and new signing Neil Hodgson will race their factory Ducati 999R machines on Dunlop tyres in the 11-round/18-race series...

...Ducati Corse would like to express its gratitude to Michelin, the team's partner for 2004, for their valuable collaboration which culminated in Eric Bostrom's pole position at Daytona, two second places at Fontana and a win at Pike's Peak."
The decision effectively squeezes Michelin out of the AMA Superbike series, with only a few privateers remaining on the French-made tires.
As a motorcyclist that rides on both Michelin and Dunlop street tires (D207s on my 2000 ZX6R, and Pilot Race H2s on my 2003 ZX7R), I'm extremely curious about the performance characteristics of the full race versions of these brands, and especially as to why Eric Bostrom never could seem to sort the Michelins out last season. I know there's no logical correlation or comparison to be made here, but I far prefer my H2s to my D207s.
At any rate, the addition of the Dunlop rubber, accompanied by the arrival of Hodgson to the American team should yield positive results. U.S. testing for Ducati Austin begins on January 3rd at Daytona.