Wednesday, October 20, 2004
Now that the 2004 racing season is over, here's my wish list for 2005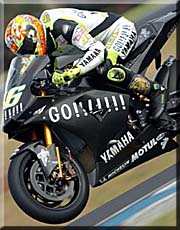 Wish #1: Anyone but Mladin in AMA Superbike 2005
I've made no bones about the fact that I'm not a Mat Mladin fan, so this wish will come as no surprise to anyone who regularly reads this weblog or my Usenet articles. I respect Mat's ability to win 5 championships, and I recognize and acknowledge the fact that he has dramatically toned down his assholishness toward fellow racers and the moto-media since mid-season, but my own admitted biases are driving this particular desire. Specifically, I want Eric Bostrom to finally win a superbike championship in 2005, but really anyone besides Mat will do. How great would it be for Jake Zemke to pull off a championship in only his second superbike year? I'd love it. It would be nice to see the ZX-10R wearing the 1-plate, as well.
Wish #2: Some MotoGP wins for Nicky Hayden
I'm not asking too much here, am I? It's not like I'm making unreasonable demands for a world championship or something, I'd just like to see the poor kid get onto the top of the podium once or twice. (It would also be nice if he'd stop hurting himself on his dirtbike.) I hope he does at least as well as my wish describes, because his bosses at Honda -- freshly shamed by the Rossi/Yamaha coup -- will undoubtedly be expecting much more than that.
Wish #3: An inline-four championship in FIM World Superbike
Chris Vermeulen came pretty close this year, and every time I start thinking about the possibility, these wonderful, nostalgic images of Scott Russell come to mind. For those of you who might not remember, Scott "Mr. Daytona" Russell took the I-4 powered ZX-7RR Ninja to FIM World Champion status in 1993. No disrespect intended to Ducati, but it'd sure be nice to see a four-banger do it again.
I could go on, but I seem to remember some archaic rule about not making more than three wishes at a time. Also, a lewd comment about having my wife rub my "magic lamp" would go great here, but I'll refrain.