Wednesday, August 18, 2004
To buy old-school or not to buy old-school, that is the question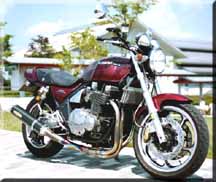 Thinking hard about adding a retro bike to the stable
Billy Lane once said motorcycles are like women, an analogy that's easy to understand. Given the means and the garage space, I'd soon amass myself a mechanical harem of two-wheeled conveyances so elaborate and excessive,
Mr. Barber himself
would be Kawasaki Green with envy. I'd have them strewn throughout the house like
Mojo Dave
, or have them packed like sardines into my garage like my good friend Rodger.
It'd be ridiculous.
Reality and practicality have a way of keeping things in perspective, however. Much like with women, having too many motorcycles can actually be a pain in the ass. There's maintenance, insurance, and atrophy prevention to consider -- not to mention custom accessories and matching gear. If you're like me and actually have to work for a living, there's simply not enough time to sufficiently ride and maintain more than one or two bikes at a time.
That said, I'm stubbornly thinking of adding another bike to my stable. I currently have
two bikes
, a 2003 ZX-7R and a 2000 ZX-6R, neither of which I'm willing to part with. But I'm thinking it might be groovy to have an older bike, perhaps a Zephyr 1100 or the like. I just can't decide if the joy of the third bike would outweigh the extra trouble and expense in the long run.
Final decision and details to come.
UPDATE (08.30.2004): I've made the decision that there will be no addition to the stable for now. Go figure.