Friday, August 06, 2004
Am I the only one who's ready for cooler weather?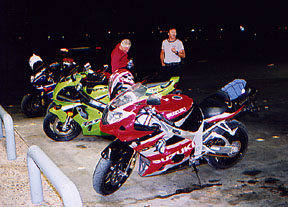 As yet another sweltering weekend approaches, I find myself longing for some cooler weather. Temperatures have been consistently near 100 degrees, which makes extended periods of motorcycle riding a bit of a beating unless it is done at night. Night rides have their disadvantages, but are generally safer than in other parts of the country, since we have no deer or big game to speak of in this area. It's fun, but temperatures generally stay in the 90s until well after midnight.
I'll be glad when fall arrives. But until then, we'll be rolling vampire-style.
See you next week.