Thursday, July 01, 2004
Seemingly immortal Rossi admits he's working harder than ever before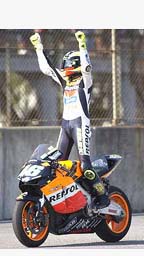 Defending MotoGP champion and all-around motorcycle diety Valentino Rossi explained in a press release this week that he's having to push his mental and physical limits harder on his Yamaha than in previous years with Honda (when he was greedily winning GP titles like a schoolyard bully collecting milk money).
Perhaps that's more a simple observation than a revelation, but before you utter a loud, sarcastic "duh," think back to some of the epic battles Rossi had to fight against Max Biaggi to secure wins during the last few seasons. The fact that he's in the points lead at all (on a totally different mount that is arguably an inferior platform) is impressive enough. But that the kid hadn't yet peaked on the ability scale in years past is downright awe-inspiring. My guess is that he'll continue to blossom.
"When I was on the Honda I always pushed to the limit, but I could afford to wait for a while and then go," Rossi said. "Now I have to push from the start to the end. I knew Sete would be strong, but he has been very, very strong. I am on top of the championship now but there is a long way to go."
Rossi referred to his current points battle with Sete Gibernau, who seems to be replacing Max Biaggi this year as Valentino's primary pain in the ass. Personally, I'd like to see Edwards or Hayden take that job, but so far, no dice.