Friday, July 09, 2004
Going to Laguna this weekend? If so, make sure to drop by the PitBull tent!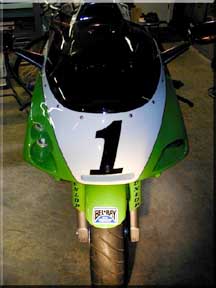 Usenet denizen and all-around motorcycle fabrication guru Larry Lovisone will be showing off one of his latest projects in the PitBull area this year -- a one-of-a-kind ZX7R based on the championship superbikes ridden by Scott "Mr. Daytona" Russell and Doug Chandler.
Larry provides links to more photos of the bike in
this Usenet post
. Excellent work, Larry. I wish I could be there to see it in person.
Everyone have a fun, safe weekend. I'll see you on Monday.